REBECCA HOWE (Actress: KIRSTIE ALLEY)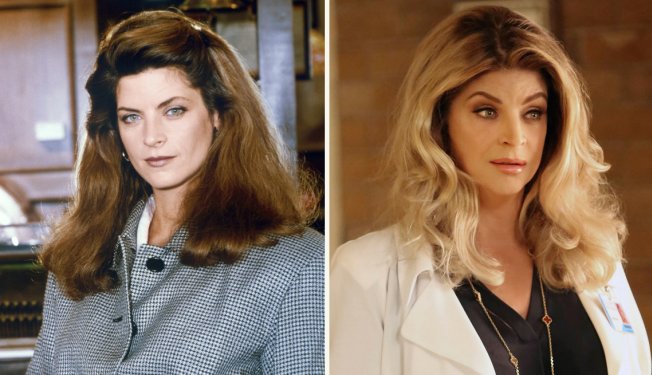 Brought in to replace Long for the start of season six, Rebecca was a tough businesswoman who took over running the bar after Sam sold it, but spent much of her time chasing after rich businessmen and trying to climb the corporate ladder.
Beneath the frosty exterior, she was prone to hilarious breakdowns as constant bad decisions led to her power schemes to fall apart and she noticeably softened as the show went on, eventually falling in love with and marrying a plumber, much to her chagrin.
Much like Diane, Rebecca and Sam have an on-off relationship while she was also involved in a relationship with one of the series more prominent minor characters, English tycoon Robin Colcord, played by award-winning thespian Roger Rees.
Kirstie Alley had some success before Cheers, making her film debut in Star Trek II: The Wrath of Khan, while she earned an Emmy Award for her portrayal of Rebecca in 1991.
It was around this time she had huge success on the big screen alongside John Travolta and the voice of Bruce Willis in the Look Who's Talking series.
Her film career stalled by the late 90s, although she had more television success in the brief hit comedy Veronica's Closet, in which she played the title role for three seasons.
More recently she has entered reality TV, competing on Dancing with the Stars in the US in 2011 and taking part in Channel 4's Time Crashers in 2015 – which challenged celebrities to complete various daily tasks from different time periods. She currently appears as Nurse Hoeffel in US comedy horror series Scream Queens.
Allie has been married twice and has two children while she is also a member of and vocal supporter of the Church of Scientology.
WOODY BOYD (Actor: WOODY HARRELSON)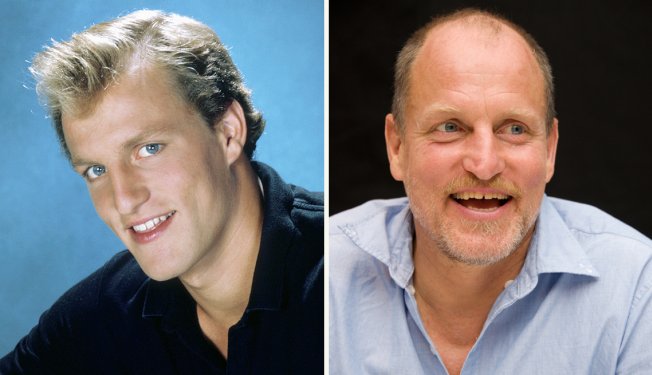 A 'pen-pal' of Coach's (they exchanged pens, not letters), Woody arrived at the bar in season four and became the new bartender and helped take the show to new heights of comedy through his dim-witted yet charming antics.
Hailing from the country, Woody was portrayed as a 'bumpkin' who was often oblivious to what was going on around him and ate up every fact Cliff threw at him with great interest. His character's good-nature also shone through, and he became arguably the most successful member of the gang after marrying the wealthy Kelly Gaines and successfully running for a seat on Boston City Council.
Despite Cheers being Woody Harrelson's first ever role, he is arguably the most successful of the cast, appearing in numerous hit films and television series, including Oscar Best Picture winner No Country for Old Men, the Hunger Games franchise and his Emmy-nominated role in HBO's True Detective.
He has twice been nominated for an Oscar for The People vs Larry Flynt and The Messenger, while his work as Woody earned him an Emmy in 1989.
Harrelson, a vegan, is also well known for environmentalism and charity work while he is also a football fan, playing in two of Unicef's Soccer Aid matches in the UK in 2010 and 2012 for the Rest of the World team.
He is a father to three daughters with Laura Louie, whom he has been with since 1987 and married in 2008.
FRASIER CRANE (Actor: KELSEY GRAMMER)
Hyper-intelligent psychiatrist Frasier Crane entered Cheers as a guest character at the start of season three to help Sam through his break-up with Diane, only to end up dating and almost marrying her, until she jilts him at the altar and leaves him in his own battle with alcoholism.
After putting his life back together, Frasier becomes a fixture at the bar and acts as the gang's conscience for the most part, although he is more than capable of making stupid and impulsive decisions himself.
He also marries Adams Family-esque ice queen shrink Lilith, whom he has a son with before they break up at the end of the series following her affair.
Kelsey Grammer made his television debut in 1982, two years before he joined Cheers, with his most notable role coming in Kennedy, a miniseries based on the life of assassinated President John F Kennedy.
His career took off with Cheers, and he portrayed his character for 20 years after spinning-off into the hugely successful Frasier, for which he won four Emmy Awards.
After Frasier ended in 2004, Grammer began appearing in more films, scoring roles in blockbusters including X Men: The Last Stand and Transformers: Age of Extinction as well while he is well-known for his voice work, notably as the evil Sideshow Bob in The Simpsons.
Grammer has been married four times and has seven children, including three with current wife Kayte Walsh, a British flight attendant 25 years his junior. He will next appear in Amazon TV's 1930's period drama The Last Tycoon as a vain Hollywood executive battling with his up-and-coming protégé.
Credits: dailymail.co.uk
Were you a fan of the show? Who was your favorite character?