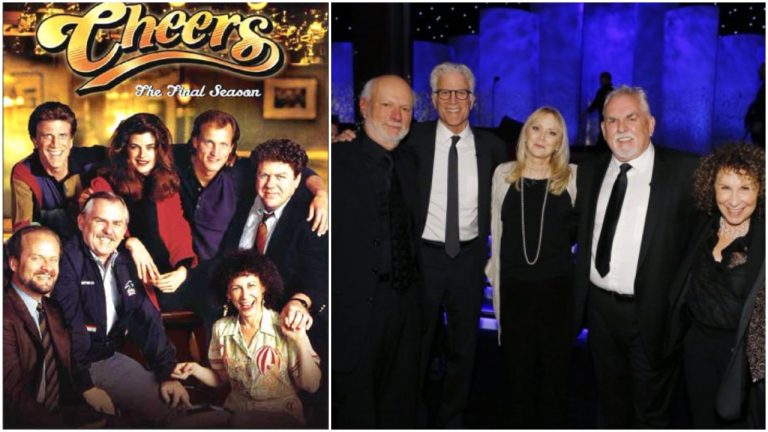 It will go down as one of the greatest and most memorable comedies of all time.
Throughout the 1980s Cheers dominated the airwaves in both the US and the UK as fans were desperate to see the crazy antics of a group of Boston barflies.
Running for 11 seasons between 1982 and 1993, it followed the fortunes of former baseball pitcher Sam 'Mayday' Malone, whose career was ruined by alcoholism and who bought a bar – Cheers – as a reminder to stay sober.
Dim-witted but successful with the ladies, his life is turned upside when prim and proper Diane Chambers happens to walk into the bar – creating perhaps the definitive 'will they, won't they' relationship in television history.
The original cast of Cheers. Pictured clockwise from top left: Nicholas Colasanto as 'Coach' Ernie Pantusso, George Wendt as Norm Peterson, John Ratzenberger as Cliff Clavin, Rhea Perlman as Carla Tortelli, Shelley Long as Diane Chambers and Ted Danson as Sam Malone.
As the years went on the cast changed, but the laughs stayed the same. Pictured from left to right are back row: John Ratzenberger as Cliff Clavin, Roger Rees as Robin Colcord, Ted Danson as Sam Malone, Woody Harrelson as Woody Boyd, George Wendt as Norm Peterson. Middle row: Rhea Perlman as Carla Tortelli, Kirstie Alley as Rebecca Howe, Shelley Long as Diane Chambers. Front row: Kelsey Grammer as Frasier Crane and Bebe Neuwirth as Lilith Sternin-Crane.
The series is well known for what is possibly the definitive 'will they-won't they?' the on-screen relationship in television history in Sam and Diane
They were surrounded by a bunch of lovable losers – lazy barfly Norm Peterson, dull postal worker Cliff Clavin, fiery waitress Carla Tortelli and sweet-but-simple bartender Coach Ernie Pantusso – who brought laughs aplenty to television screens around the world.
After a brief struggle to find an audience in its first season, the show went from strength to strength, even surviving the loss of key characters such as Diane and Coach, replacing them seamlessly with Kirstie Alley's non-nonsense businesswoman Rebecca Howe, and Woody Harrelson's country bumpkin Woody Boyd.
An incredibly talented team both on and off-screen kept the show hilarious and relevant for more than a decade, despite usually limiting the action to the same location each week – a dusty old bar.
Cheers left a huge legacy too in the form of Frasier – a spin-off following psychiatrist Frasier Crane – which also ran for 11 seasons.
Now more than 30 years since it first aired, Cheers still brings laughter to homes in the UK on repeat, while DVD box sets continue to fly off the shelves in shops.
The gang, pictured with former Cheers director James Burrows (far left), may not have the same fresh faces you recognized in the 1980s, but they are still very much recognizable as the characters you loved in that Boston bar.
Take a look at what happened to the cast after they called last orders at the bar NEXT…