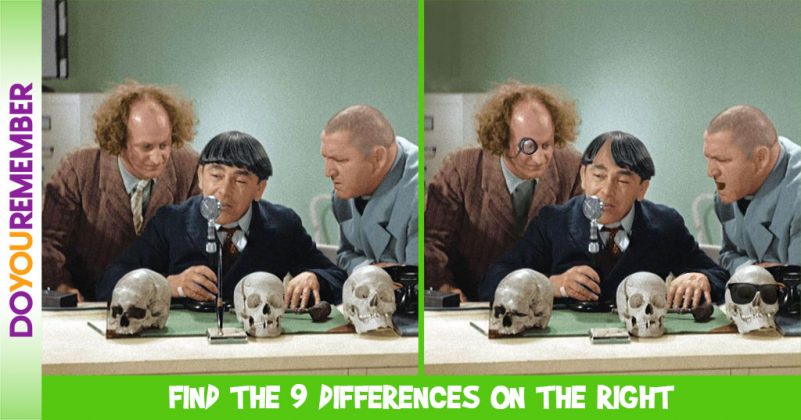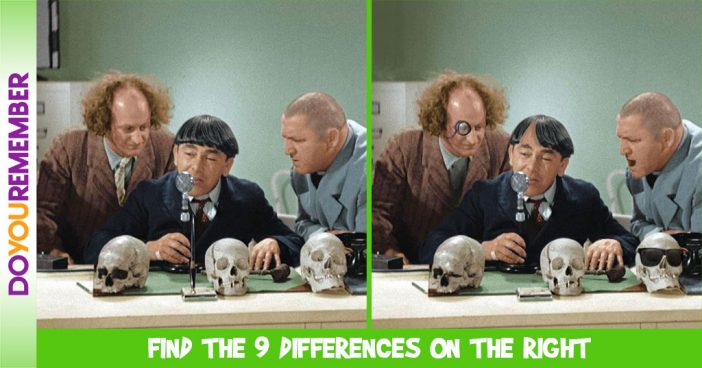 Try to Find all 9 Differences on the Right!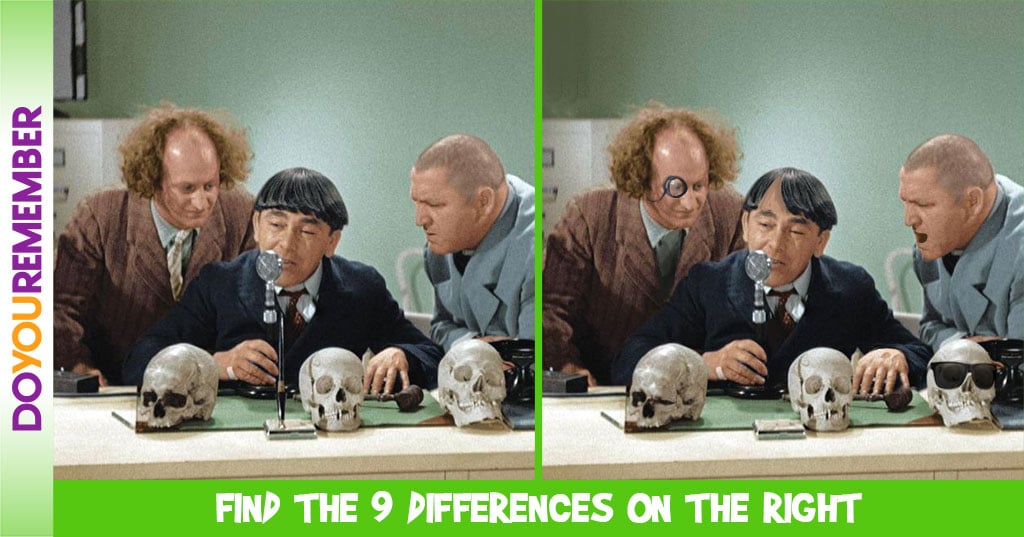 The Three Stooges
The Three Stooges were an American vaudeville and comedy act of the mid–20th century, best known for their numerous Columbia short subject films that are still syndicated on television. Their hallmark was physical farce and slapstick. In films, the Stooges were commonly known by their first names of "Moe, Larry, and Curly" or "Moe, Larry, and Shemp" (among other lineups, depending on the particular film). There were six active stooges with only three in the act at any given time, five of whom performed in the shorts. Moe and Larry were always present during the film era throughout the ensemble's run of more than forty years.
The act began as part of a mid-1920s vaudeville comedy act, billed as Ted Healy and his Stooges, consisting of Healy, Moe Howard, his brother Shemp Howard, and Larry Fine. The four made one feature film, Soup to Nuts, before Shemp left to pursue a solo career. He was replaced by his younger brother, Jerome (Curly Howard), in 1932. Two years later, the trio left Healy and signed on to appear in their own short subjects for Columbia, now billed as "The Three Stooges".
Curly suffered a debilitating stroke in May 1946, and Shemp returned, reinstating the original lineup, until his death of a heart attack in November 1955. Film actor Joe Palma was used as a temporary stand-in to complete four Shemp-era shorts under contract (the maneuver thereafter became known as the term of art "Fake Shemp"). Columbia contract player Joe Besser joined as the third Stooge for two years (1956–57), departing in 1958 to nurse his ailing wife. Columbia terminated its shorts division and released its Stooges contractual rights to the Screen Gems production studio. Screen Gems then syndicated the shorts to television, and the Stooges became one of the most popular comedy acts of the early 1960s.
Comic actor Joe DeRita became "Curly Joe" in 1958, replacing Besser for a new series of full-length theatrical films. With intense television exposure, the act regained momentum throughout the 1960s as popular kiddie fare, until Larry Fine's paralyzing stroke in January 1970. Fine died in 1975 after a further series of strokes. Attempts were made to revive the Stooges with longtime supporting actor Emil Sitka in Larry's role in 1970, and again in 1975, but this attempt was cut short by Moe's death in May 1975.
Credit: Wikipedia

SEE IF YOU GOT ALL OF THEM
1. The File in the Back is Gone
2. Larry Has an Eye Piece
3. Larry's Tie is Gone
4. The First Skull is Winking at You
5. The Pen is Missing
6. Moe's Forehead is Showing
7. Moe Has Grown an Extra Finger
8. Curly's Mouth is Open
9. The Skull on the Right Has Shades
How many did you get right? Please post your results in the comments.
If you have any suggestions for new games please let us know in the comments. We're always looking for new ones and sometimes our best games actually come from our amazing fans. If we use your game, we'll make sure to credit you. Thanks for playing!