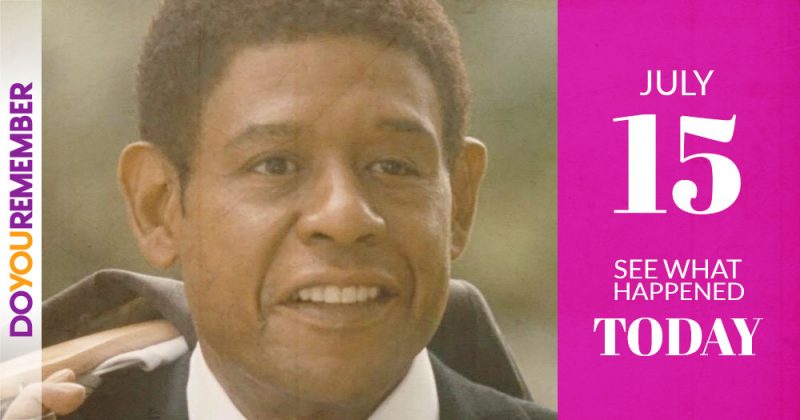 "Born Today"
Willie Aames (55)

Tristan Wilds (26)

Taylor Kinney (34)

Laura Benanti (36)

Travis Fimmel (36)

Lana Parrilla (38)

Gabriel Iglesias (39)

Diane Kruger (39)

Jim Jones (39)

Evan Marriott (41)

Brian Austin Green (42)

Scott Foley (43)

Beth Ostrosky Stern (43)

Eddie Griffin (47)

Adam Savage (48)

Brigitte Nielsen (52)

Lolita Davidovich (54)

Forest Whitaker (54)

Kim Alexis (55)

Alicia Bridges (62)

Terry O'Quinn (63)

Marky Ramone (63)

Jesse Ventura (64)

Forest Whitaker (54)(Featured Above)

Linda Ronstadt (69)

Jan-Michael Vincent (71)

Millie Jackson (71)

Ian Curtis (RIP)
"Died Today"
Bert Convy (Born:

July 23, 1933 / Died: July 15, 1991)

Gianni Versace (December 2 1946 / Died: July 15 1997)
"Movies"
Click on the movie title to watch it's trailer.
"Music"
1956 – The Teenagers featuring Frankie Lymon were at No.1 on the UK singles chart with 'Why Do Fools Fall In Love'.
1965 – This weeks US Top three singles were: No.3 The Byrds, 'Mr Tambourine Man', No.2 The Four Tops, 'I Can't Help Myself' and at No.1 The Rolling Stones with (I Can't Get No) Satisfaction.
https://www.youtube.com/watch?v=tdOxRcvZJaM
1978 – The Rolling Stones started a two-week run at No.1 on the US album chart with

Some Girls.

1989 – Simply Red scored their second US No.1 single with 'If You Don't Know Me By Now'.
1989 – Soul II Soul went to No.1 on the UK album chart with their debut release 'Club Classics Volume One'.

1994 – Wet Wet Wet were enjoying their sixth week at No.1 on the UK singles chart with 'Love Is All Around'.
"TV/Radio"
1952 – Patti Page made her TV debut in a summer replacement series for Perry Como.
1968 – ABC-TV premiered "One Life to Live."
1981 – Steven Ford, son of former President Gerald R. Ford, appeared in a seduction scene of "The Young and the Restless" on CBS-TV. Ford played the part of Andy.
1999 – The original Drifters performed on Today on NBC-TV.
"Other Important Events…"
1965 – The spacecraft

Mariner IV

sent back the first close-up pictures of the planet Mars.
1972 – NASA's Pioneer 10 spacecraft became the first to enter the asteroid belt.

1973 – Nolan Ryan (California Angels) became the first pitcher in two decades to win two no-hitters in a season. (California)