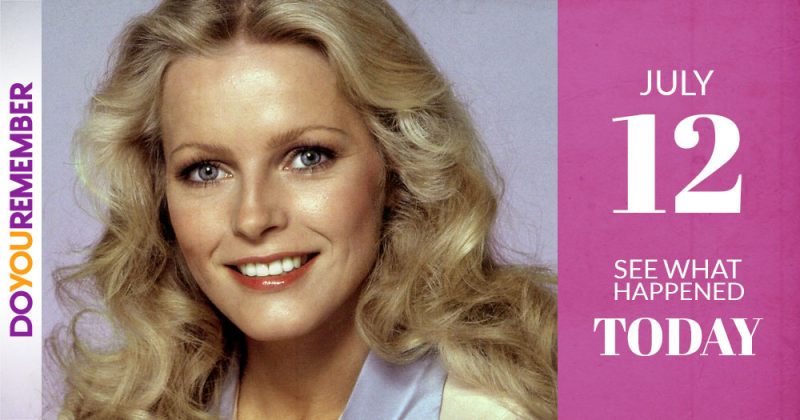 "Born Today"
Erik Per Sullivan (24)

Phoebe Tonkin (26)

Natasha Poly (30)

Gareth Gates (31)

Kimberly Perry (32)

Topher Grace (37)

Michelle Rodriguez (37)

Anna Friel (39)

Tracie Spencer (39)

Cheyenne Jackson (40)

Magoo (42)

Loni Love (44)

Kristi Yamaguchi (44)

Lisa Nicole Carson (46)

Lauren Lake (46)

Rolonda (56)

Charlie Murphy (56)

Brian Grazer (64)

Cheryl Ladd (64)

Richard Simmons (68)

Christine McVie (72)

Bill Cosby (78)

George Washington Carver (RIP)
"Died Today"
Alexander Hamilton (Born: J

anuary 11, 1755 or 1757 / Died: July 12, 1804)

Sherwood Schwartz (Born: November 14, 1916 / Died: July 12, 2011)
"Movies"
Click on the movie title to watch it's trailer.
"Music"
1954 – 19 year old Elvis Presley signed a recording contract with Sun Records. He also gave in his notice at his day job at The Crown Electric Company

1960 – Floyd Cramer recorded "Last Date".

1961 – Pat Boone began a 10-day tour of South Africa.

1962 – Ray Charles was at No.1 on the UK singles chart with the Don Gibson penned country ballad 'I Can't Stop Loving You'.
1962 – The Rolling Stones made their live debut at the Marquee Jazz Club, London, with Dick Taylor on bass (later of The Pretty Things) and Mick Avory on drums, (later of The Kinks).

1963 – The Crystals released their hit "Then He Kissed Me".

1964 – The Beatles appeared at the Hippodrome Theatre in Brighton with The Fourmost and the Shubdubs (whose drummer, Jimmy Nicol, would later fill in for an ill Ringo Starr on The Beatles' world tour).

1965 – The Beach Boys recorded "Sloop John B" at Western Recorders in Hollywood, California.

1965 – The Beach Boys' "California Girls" was released.
1965 – The Righteous Brothers released "Unchained Melody" as a single.

1968 – The Bee Gees recorded "I've Got To Get A Message To You".

1969 – One Hit Wonders Zager and Evans started a six week run at No.1 on the US singles chart with 'In The Year 2525, (Exordium And Terminus)'.

1969 – Henry Mancini remained at #1 for the eighth straight week on the Easy Listening chart with the beautiful "Love Theme From 'Romeo & Juliet'".
1969 – Blind Faith began their one and only tour in the U.S. with a sold-out show at New York's Madison Square Garden.

1972 – Michael Jackson released the single "Ben".

1973 – Hues Corporation recorded "Rock The Boat".  It wouldn't become a hit until a year later.
1975 – Johnny Nash had the #1 U.K. Song with "Tears On My Pillow".

1975 – Olivia Newton-John had control of the Adult Contemporary chart with "Please Mr. Please".

1975 – "The Hustle" by Van McCoy reached #1 on the R&B chart.

1980 – During their 23 date '11 O'clock Tick Tock' U2 played at The Moonlight, West Hampstead in London, England.

1980 – Olivia Newton-John and the Electric Light Orchestra had the UK No.1 single with 'Xanadu', taken from the film of the same name. It gave Olivia Newton-John her third UK No.1 single.
1986 – The Moody Blues had scored a big comeback as "Your Wildest Dreams" was #1 again on the Adult Contemporary chart.

1986 –  Simply Red reached #1 with "Holding Back The Years" in its 15th week of release.

1988 – Michael Jackson arrived in the UK for his first ever-solo appearances. He performed a total of eight nights to 794,000 people.

1991 – Take That released their debut single 'Do What U Like' which was a commercial failure, peaking at No. 82 on the UK Singles Chart.

1997 – Shawn Colvin debuted at #8 with "Sunny Came Home".

1997 – The incredible album Pieces of You by Jewel re-entered the Top 10 after 72 weeks of release.
"TV/Radio"
1946 – "The Adventures of Sam Spade" was heard on ABC radio for the first time.
1957 – DJ Alan Freed began a 13-week Big Beat show on ABC television with the Everly Brothers, Connie Francis & Frankie Lymon.

1959 – Alan Freed began a 13 week Rock & Roll show on ABC-TV.
"Other Important Events…"
1862 – The U.S. Congress authorized the Medal of Honor.

1870 – The first rotary can opener with a cutting wheel was patented by William W. Lyman.

1912 – The first foreign-made film to premiere in America, "Queen Elizabeth", was shown.

1931 – A

major league baseball

record for doubles was set as the St. Louis Cardinals and the Chicago Cubs combined for a total of 23.

1933 – A minimum wage of 40 cents an hour was established in the U.S.

1954 – The Major League Baseball Players Association was organized in Cleveland, OH.
1957 – The U.S. surgeon general, Leroy E. Burney, reported that there was a direct link between smoking and lung cancer.

1960 – Manufacturing began for the Etch A Sketch®.

1968:  Micky Dolenz of the Monkees married Samantha Juste.

1979:  Minnie Riperton, who gave us the #1 "Lovin' You" in 1975 and is mother to comedian  Maya Rudolph, died four years later from breast cancer in Los Angeles.
1982 – "E.T.: The Extra-Terrestrial" broke all box-office records by surpassing the $100-million mark of ticket sales in the first 31 days of its opening.
1982 – The last of the distinctive-looking Checker taxicabs rolled off the assembly line in Kalamazoo,

MI

.

1992 – A memorial to Buddy Holly was unveiled in Dallas, TX.

1997 – Anthony Keidis (Red Hot Chili Peppers) suffered a broken wrist in a motorcycle accident in Los Angeles, CA.

1998 – 1.7 billion people watched soccer's World Cup finals between France and Brazil. France won 3-0.
1999 – Walt Disney Co. announced that it was merging all of its Internet operations together with Infoseek into Go.com.

2000 – The movie "X-Men" premiered in New York

2000, A statue erected in the memory of

John Lennon

was unveiled in London's Trafalgar Square. The sculpture featured a revolver with a knotted barrel created by Swedish artist Carl Fredrik Reutersward.