Cracker Barrel Old Country Store is truly an all-American restaurant chain and a fixture along America's highways. It has more than 600 locations in 42 states, so it's just about impossible to drive for an extended period of time and not encounter one. But we bet that there are a lot of things you didn't know about this down-home destination.
1. The first Cracker Barrel was opened 46 years ago.
The first Cracker Barrel location was opened on Highway 109 in Lebanon, Tennessee in 1969 by a man named Dan Evins. Back then, even the cornbread was made from scratch, a practice that is still going strong today. (Unrelated fun fact: Lebanon is also where we launched the first-ever Country Living Fair in Tennessee in 2015!)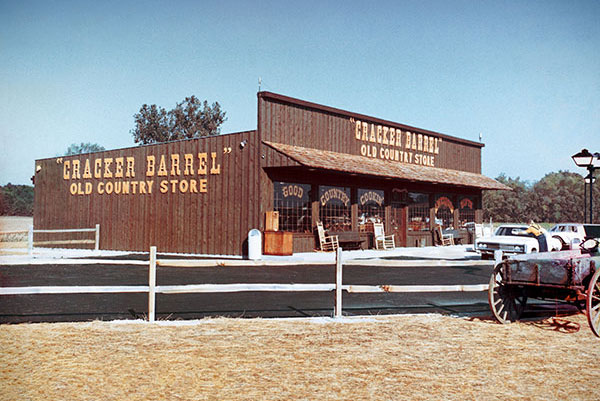 2. It Was Founded by a Shell Oil Sales Rep to Improve Gasoline Sales
Dan Evins was tasked with finding creative ways to improve gasoline sales while working as a sales representative for Shell Oil, and the idea for Cracker Barrel came out of that. All early locations featured Shell gasoline pumps on-site, and they weren't phased out entirely until decades later.
3. Early Locations Were All Located Near Interstate Highway Exits
In line with the founding philosophy of selling gasoline, all early locations were located right by major highway exits. Many remain located right near the off-ramp to this day.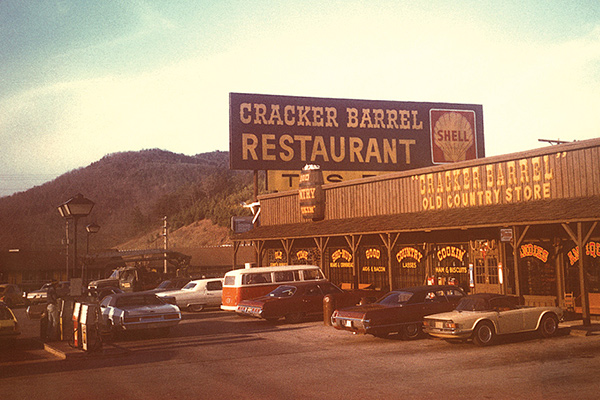 4. It Tested a Carry-Out-Only Concept in 1994
In 1994, the company launched a concept called Cracker Barrel Old Country Store Corner Market in a handful of suburban residential neighborhoods. It didn't pan out, and all locations were closed in 1997.
5. Since Day One, Every Table Has Had a Peg Solitaire Game on It
And not only that, they've been made by the same company the whole time: Lebanon, Tennessee's Qualls and Sons Novelties.
6. It's Partnered with Some of Country Music's Biggest Stars
Cracker Barrel sells a lot of country music CDs, so it's only natural that the company would partner with some country stars. They've entered into exclusive release deals with stars including Charlie Daniels, Kenny Rogers, Dolly Parton, Alan Jackson, Alabama, and Alison Krauss.
7. It's Faced Several Race and Sexual Orientation-Related Controversies
After about a dozen employees were fired in 1991, word got out that a company memo advised managers to fire employees if they didn't display "normal heterosexual values." The company ended this policy after demonstrations from gay rights groups, but it wasn't until 2002 that the company added sexual orientation to its non-discrimination policy.
Lawsuits have also been filed by both former employees and guests claiming that they had been racially discriminated against. In 2004, an investigation by the U.S. Justice Department found that the chain had been segregating dining rooms by race, giving white customers priority over black customers, and allowing white servers to refuse to serve black customers.
The company has taken strides since then to improve its image, and has come a long way: the non-discrimination policy is on display in every restaurant, minorities make up about a quarter of its employees and 11 percent of its management and executives, and the CEO, Sandra Cochran, is only the second woman to hold that position in a Tennessee-based publicly traded company.