Rhode Island: The Duck and Bunny
The cutest little place in the cutest little state serves the best pancakes in the state.
South Carolina: Toast!
Toast! is a breakfast favorite in Charleston, so it's no surprise they're said to serve up amazing pancakes too!
South Dakota: Roll'N Pin
Roll'n Pin has been serving breakfast for 40 years, so it's safe to say when it comes to pancakes they know what they're doing.
Tennesse: Sky Blue Cafe
Leave it to Nashville to find a way to one-up the pancake. Sky Blue has banana and Nutella french toast stuffed pancakes. What does that mean exactly? Imagine a French toast sandwich with pancake bread. A truly epic play.
Texas: Counter Cafe
Counter Cafe finds a way to combine the two rivaling restaurant types: farm to table and greasy, home-cooking. Their pancakes do not disappoint. Locally picked ingredients served the way they should be.
Utah: Five5eeds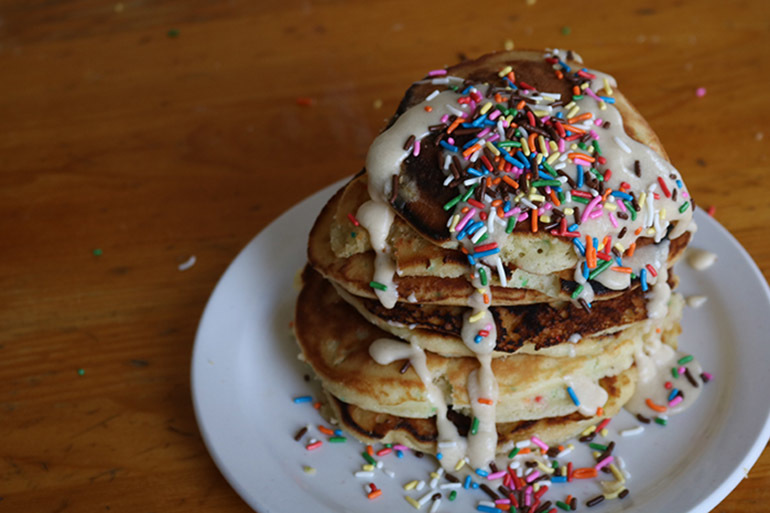 As beautiful to look at as they are to eat. Seriously, just look at these!
Vermont: Sugar & Spice
When you're eating pancakes in the land of maple syrup, you know they've gotta be good.
Virginia: Roanoker Restaurant
Once you go Roanoker, you never go back.
Washington: Pellegrino's Italian Kitchen
Pellegrino's specialty is lemon ricotta pancakes, but they don't stop there. Pancakes are also served with two eggs any style and a choice of breakfast meat. Talk about a hearty way to start the day!
West Virginia: Harding's Family Restaurant
A classic family-style restaurant that knows how to make pancakes.
Wisconsin: Marigold Kitchen
Marigold Kitchen makes their pancakes a little bit more bread-like and the batter is made a day ahead of cooking. Whatever they're doing, it's working.
Wyoming: E.Leaven
Simple, but amazing. And to add on, you get to enjoy these pancakes looking out onto the Teton mountains. Doesn't get much better.
As you can tell, there are amazing places to get pancakes all across the country.
Credits: spoonuniversity.com
Share this story on Facebook with your friends.