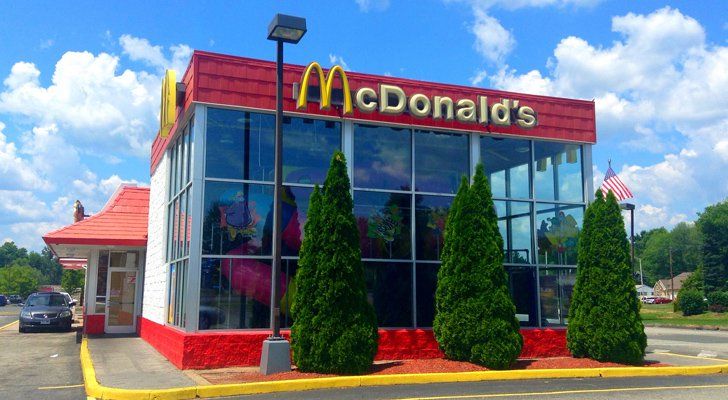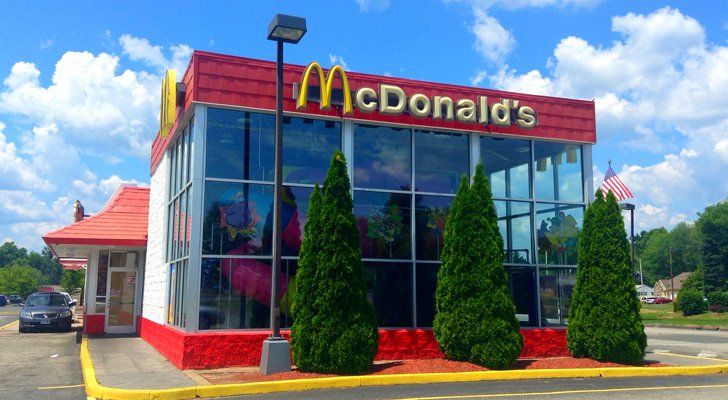 In an effort to up its value game, the McDonald's Dollar Menu is back! Unfortunately, though it has some options that will cost you more than a buck.
The burger giant announced Monday that it's rolling out its new lineup of low-cost foods nationwide on Jan. 4. Called the $1-$2-$3 Dollar Menu, & it includes a wider variety of items covering the three different price points.
Take a peek at some of the items:
For $1.00 You can now get a Sausage Burrito, McChicken, Cheeseburger, any size soft drink. Yum!
Next up at the $2.00 price point… You can get some awesome breakfast pickings. My favorite on this list is the Sausage McGriddles. For the 2 bucks, you can also get a 2-piece Buttermilk Crispy Tenders, Bacon McDouble, some small McCafé beverages. Make sure to watch out for the hot coffee tho! Do you remember the old lawsuit? Wow, that was crazy!
Sausage McMuffin with Egg, Classic Chicken Sandwich (my favorite on this list), Triple Cheeseburger, Happy Meal & yes this still comes with a toy. Here's a bit of history, This is the first time that a Happy Meal has ever been included on a national discount menu.
The fast-food industry is generally cutthroat when it comes to price. Plus, there's competition for customers' stomachs from other players, whether its fast-casual chains or supermarkets that have created dining areas.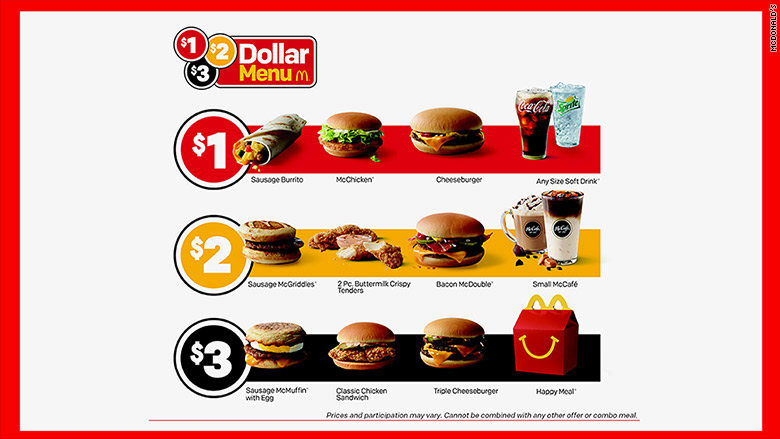 McDonald's says it made its move to recapture value-oriented diners.
"We have lost a number of our customers over the last few years because we didn't have a compelling value proposition. We expect this to win back customers who've been disappointed," McDonald's U.S. president Chris Kempczinski said. "This is a competitive market."
The Oak Brook, the Ill.-based company missed out on 500 million transactions in the last four years as a result, he added. The chain previously had the Dollar Menu but ended that in 2012 due to the limitations of what could be sold for $1. More recent was the customizable McPick 2, but that wasn't offered nationally.
Meanwhile, Burger King has its Value Menu and Wendy's has its Right Price, Right Size Menu.
McDonald's "philosophy is they don't need to win on value, but they can't lose on value, either. They need to be in the value game to drive traffic," said Peter Saleh, managing director at financial-services firm BTIG.
Howard Penney, managing director at Stamford, Conn.-based research firm Hedgeye Risk Management, said McDonald's $1-$2-$3 Dollar Menu is a way to give diners choices and still drive up sales.
"Selling food for $1 is a problem (when it comes to profitability), so they need to value it and structure it the same way," he said. "They can make money and at the same time convince customers they're getting a good value."
At the same time, McDonald's is increasing its upscale offerings. In May, the Signature Crafted Recipes line of sandwiches, which cost $4.99 to $5.19, debuted, and in September, the chain revamped its McCafé brand, adding new hand-crafted coffee drinks.
According to Saleh, selling higher-priced menus items at the same time as lower-priced ones makes sense. It's called the barbell menu strategy.
"They want to have something for everyone. They can get you in with valuable items and then trade the consumer up to midtier or the more premium items," he said.
Credits: usatoday.com