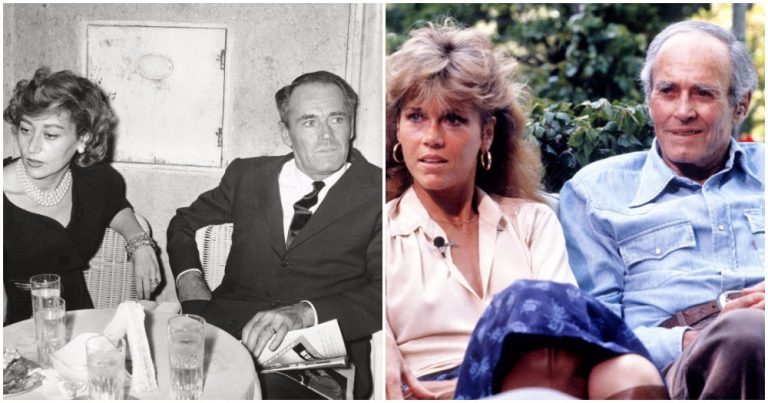 Actor Henry Fonda built his 50-year career playing passionate, principled men, from Tom Joad in The Grapes of Wrath to Lt. Douglas A. Roberts in the stage and film versions of Mister Roberts, and Juror No. 8 in 12 Angry Men. But the man behind the persona was very different, leading to complicated relationships with his children and a tumultuous marriage history. Fonda was married five times but rarely spoke about his relationships.
Henry Jaynes Fonda was born in 1905 in Grand Island, Nebraska. He improbably launched his acting career in Omaha at age 20 at the Omaha Community Playhouse, at the recommendation of family friend Dodie Brando, according to The New York Times. (As the mother of Marlon Brando, she probably knew potential acting talent when she saw it.) Fonda was quickly hooked and journeyed to Massachusetts with a friend to join a summer stock theater group. There he met his future first wife, Margaret Sullavan.
A stage and screen actress nominated for an Oscar for her performance in Three Comrades in 1938, Sullavan was known to be blunt and temperamental. An oft-told story about a disagreement on set between Fonda and Sullavan, recorded in Margaret Sullavan: Child of Fate by Lawrence J. Quick, ends with her jumping up and emptying a pitcher of water on Fonda. As Fonda left, presumably to change clothes, Sullavan calmly returned to her seat. It's no wonder the couple separated after they had been married for only two months and divorced two years later in 1933. But they remained on friendly terms and even acted together in 1936's The Moon's Our Home.
Fonda met his second wife, socialite Frances Seymour Brokaw, on the set of the film Wings of the Morning in England in 1936. Their daughter Jane was born in 1937 and son Peter in 1940. During the marriage, Fonda served in the U.S. Navy for three years in World War II and was awarded the Bronze Star Medal, noted the Times.
Between Fonda's acting career and his Navy service, the couple spent much time apart. But other factors played a role in their unhappy union. In a profile about Jane Fonda, the Daily Mail explained, "Jane Fonda's father was cold and a bully, not to mention a shameless womanizer, but—too young to understand mental illness—his daughter always blamed the alarming behavior of her manic-depressive mother for the break-up of her parents' marriage."