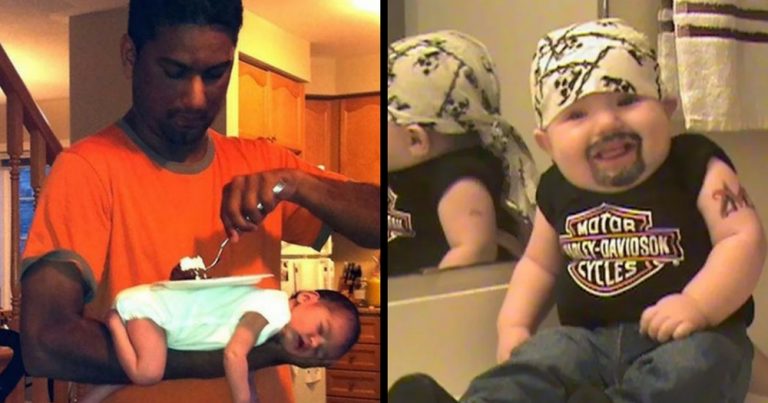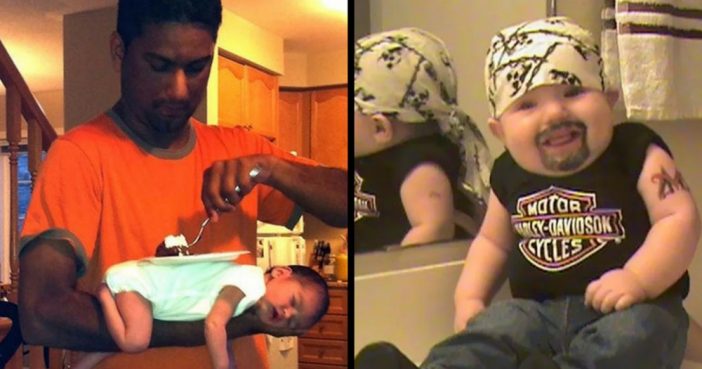 8. Just A Quick Snack
The nurturing nature of fathers. This dad was hungry for a piece of chocolate cake but he was torn between a delicious dessert and a sleeping baby. While a mom may have waited for their child to wake up, this dad turned them into a placeholder for their plate. "The only way my three-day-old daughter would fall asleep. After two hours of carrying her around I got hungry," he wrote. Dad's have their own unique way of parenting but sometimes it works out for everyone involved and then there is delicious cake involved.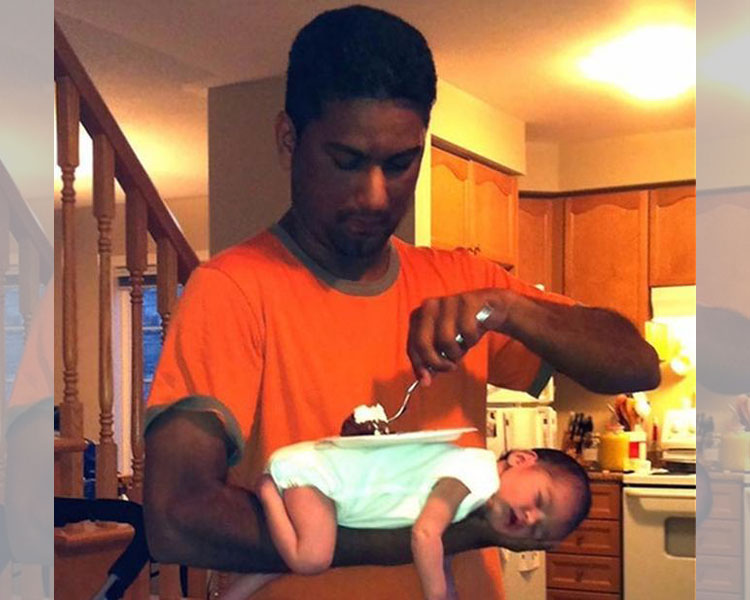 9. This Only Took 10 Minutes
It doesn't take long for dad to do something like this with your little bundle of joy. "I leave my husband with the baby for ten minutes," bemoaned a Reddit user who posted this hilarious photo of her angry-looking infant. We don't know if this baby photo should be classified as a parenting fail or a hilarious memory this small child will have for the rest of their life. What we do understand is that dads should really have a lot of supervision when interacting with their kids or stuff like this happens and goes viral all over the internet.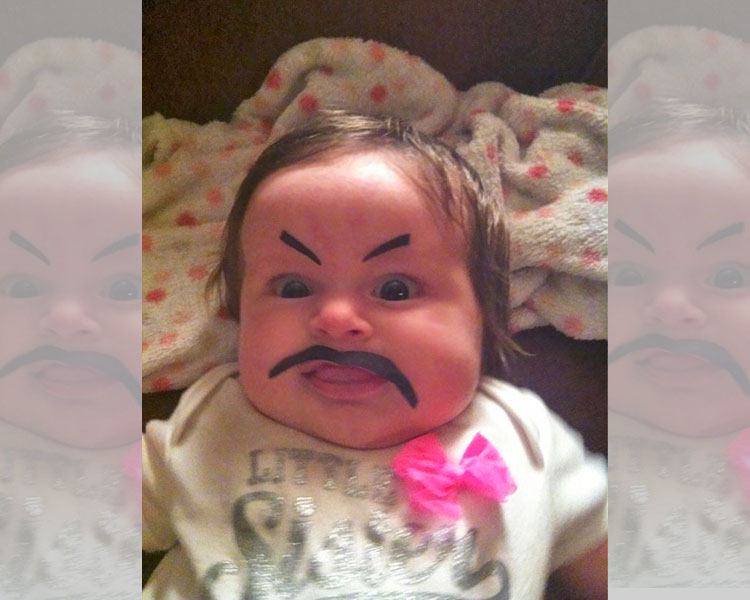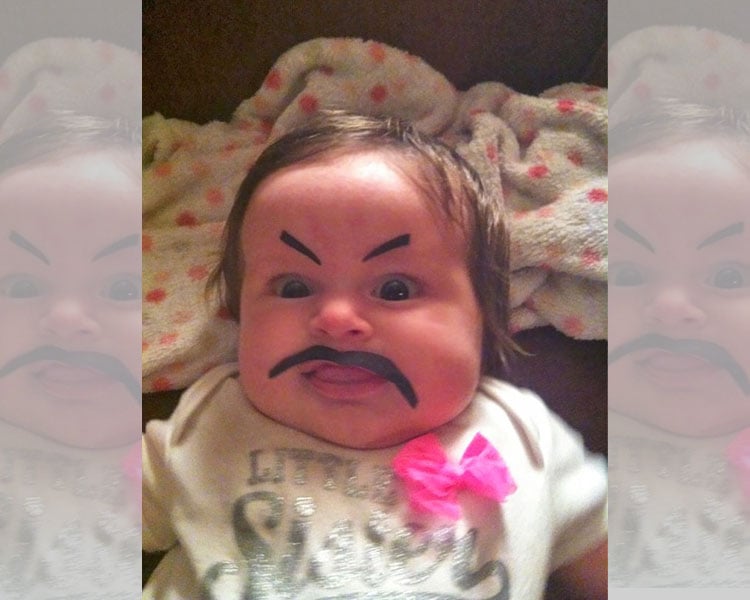 10. Dads See The World Differently
If you are going to leave dad alone with the kid, there is a really good chance you'll end up receiving a photo like this in a text message. This is the type of view dads have on the world. Although, we have to admit that this cute little baby head does look exactly like a kiwi. This is one of the tamer "dad fails" we managed to dig up. At the end of the day, there is a good reason to NOT leave dad alone with the kids, especially when the father is a big child themselves and will likely have this type of day with the kiddo.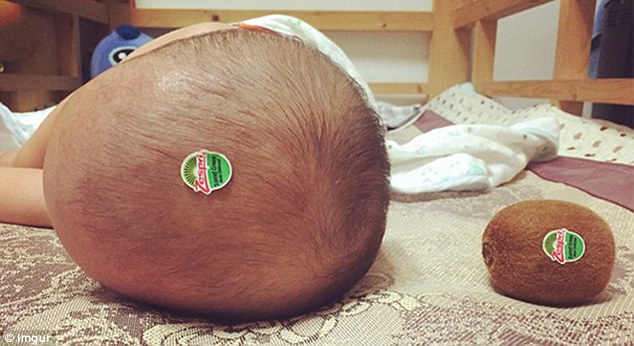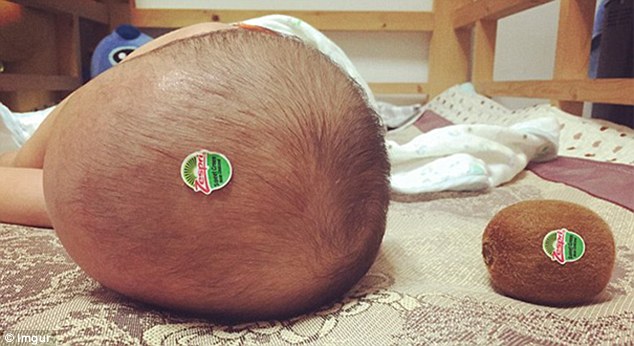 11. A New Way To Carry A Child?
There are certain daddy moments that make us question whether certain people should be raising children — this is one of those moments. This dad was in a supermarket when he decided to see if a plunger could be used to pick up his young son. First, the plunger totally worked and the child was lifted off the ground. However, the dad didn't stop to think whether or not the plunger might leave a mark. he also didn't consider that the suction might give way and send his son flying hard into the supermarket floor.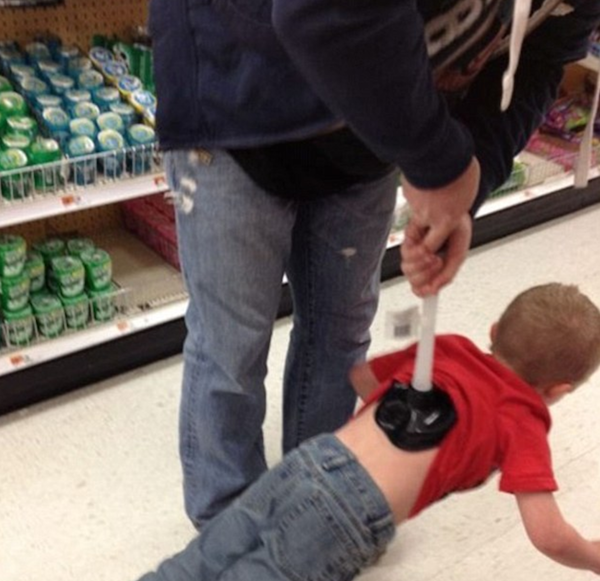 12. Proving His Daughter Can Do Anything
Dads have a duty to their children to make sure they grow up believing they can do anything they set their mind too. This dad might have gone a little far by having his tiny little daughter push him around in a grocery store cart. We have to hand it to this little girl, she's really throwing everything she has into pushing her dad and a cart full of food around the grocery store. Dads love to show off their quirky side with their kids and they don't care who watches them as they offer up their own take on the job of parenting.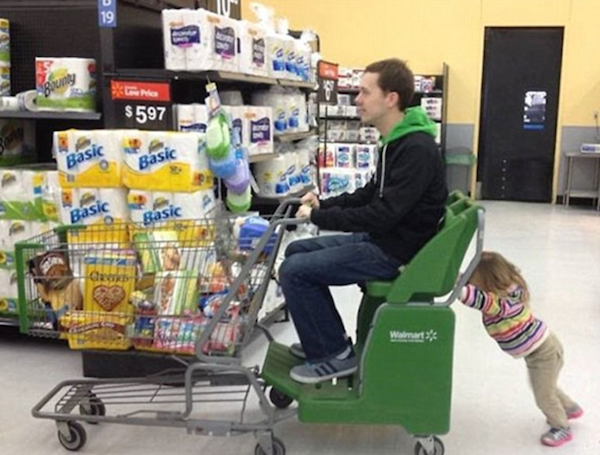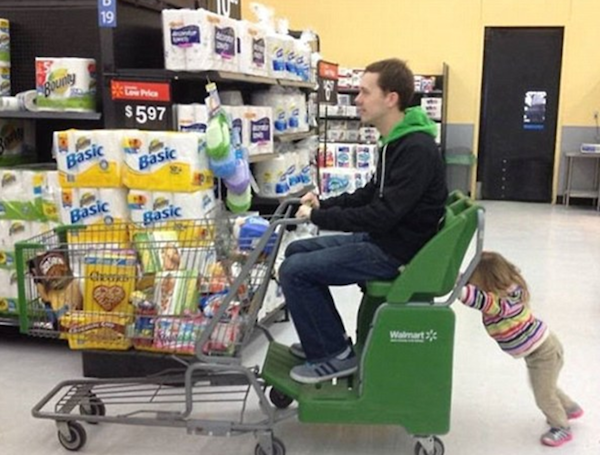 13. A Bottle And A Beer
When your baby needs a bottle and you really want a beer at the restaurant there is a solution. This dad was so desperate for a cold one that he attached several straws together in an attempt to drink his beverage while his baby was busy drinking from her own bottle. Also acceptable for this act would have been a twisty straw or someone else helping dad drink his beer. Of course, he could have just waited for his daughter to finish eating and then enjoyed his cold beer with a lot less outside of the box thinking.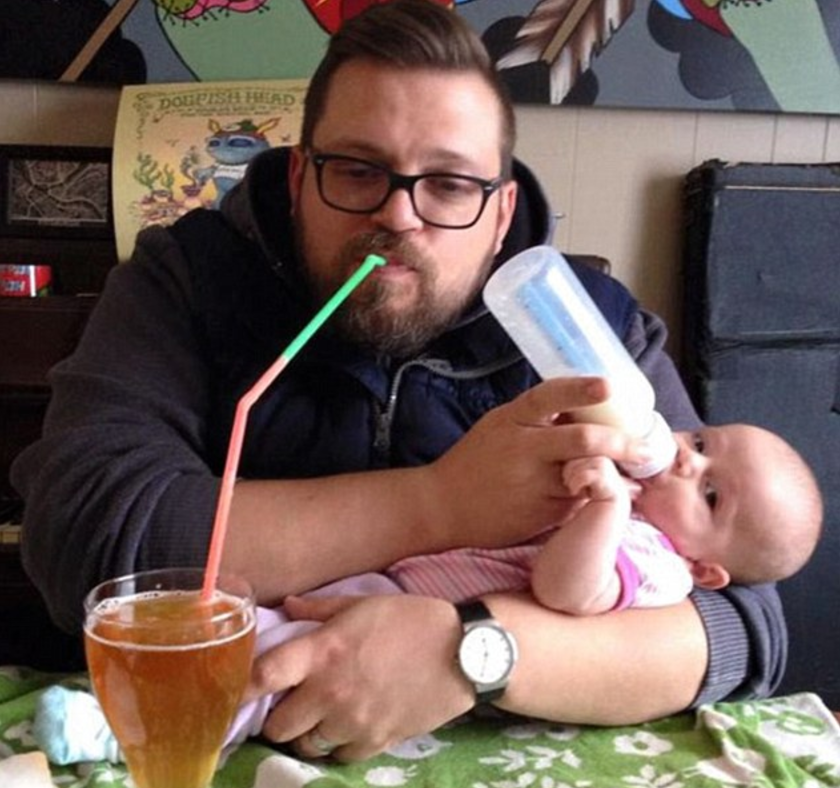 14. This Dad Who Dropped His Daughter In A Foam Pit
Dads are often responsible for teaching their children to take chances in life. Whether it's a chance for a new job or just trying something new, we learn how to move forward in life with help from other parents. This dad was apparently attempting to teach his daughter a lesson about trust — and he failed miserably. Thankfully, they were swinging on a rope in a gym with a foam pit. We're willing to bet this guys little daughter was a bit more cautious about the decisions she decided to make in the future.