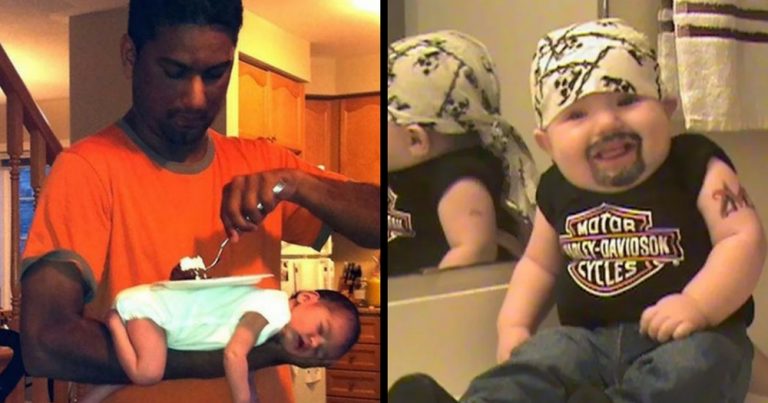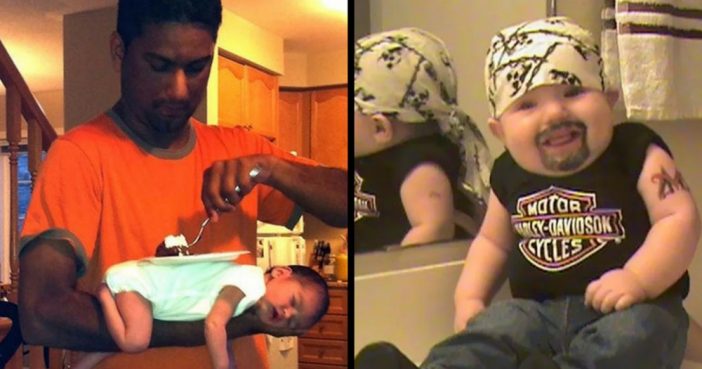 Dads really do live by their own set of rules. They are goofy, sometimes they don't think through life's big moments, and they are loving. We combed through thousands of dad fails to find a group of images that perfectly sum up why some dads really need parent training to get through the day. By the time you see these examples of dad fails you will be questioning if men should really be allowed to hang out with their own children unsupervised. From dad built swings to the Cheerios Challenge, there's no lack of… um… interesting ideas.
1. This Gamer Dad Is Doing It Right
Believe it or not, having children doesn't mean you need to change everything about your life to accommodate them. Kids, especially when they are very young, just want to be held and stay close to their parents. This dad was on bottle duty but he also wanted to play his favorite video game. The only change he had to make in his life was learning how to hold a bottle, a baby, and a video game controller at the same time. Baby looks happy and dad gets to continue playing video games — it's a win-win situation.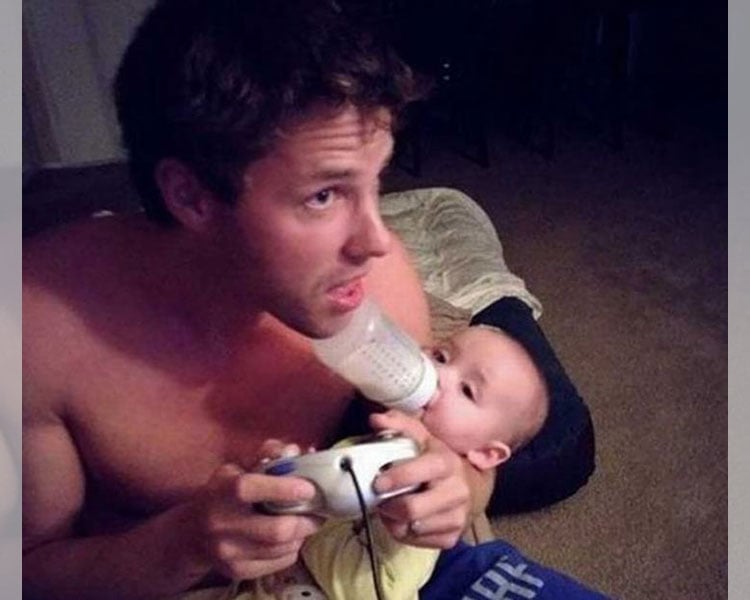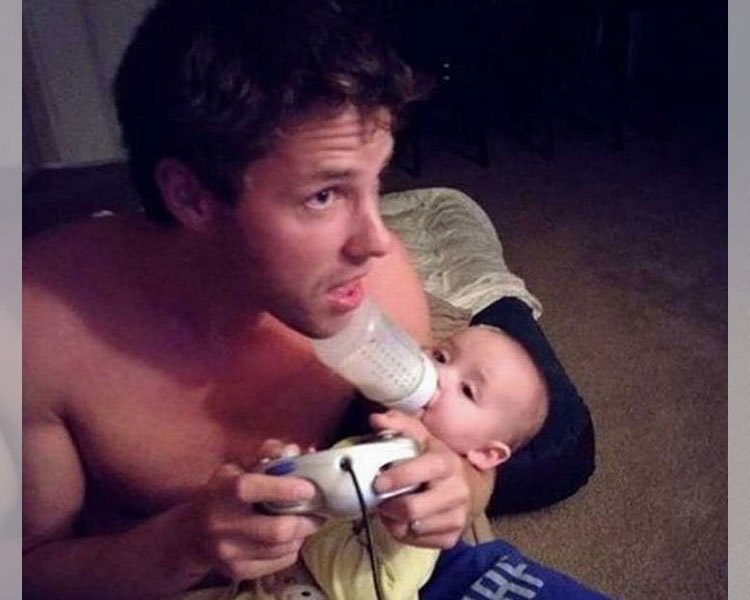 2. The Cheerios Challenge
In 2016, the Cheerios Challenge went viral all over the internet. Parents attempted to stack the largest number of Cheerios on their baby's head while the child was sleeping. It shouldn't come as a surprise that a majority of participants in the Cheerios Challenge were men. This dad fully mastered the art of Cheerio stacking and was proclaimed one of the best in the art form. It may have helped that this little child was able to sleep so soundly without waking up as dad stacked a ton of cereal pieces on its face.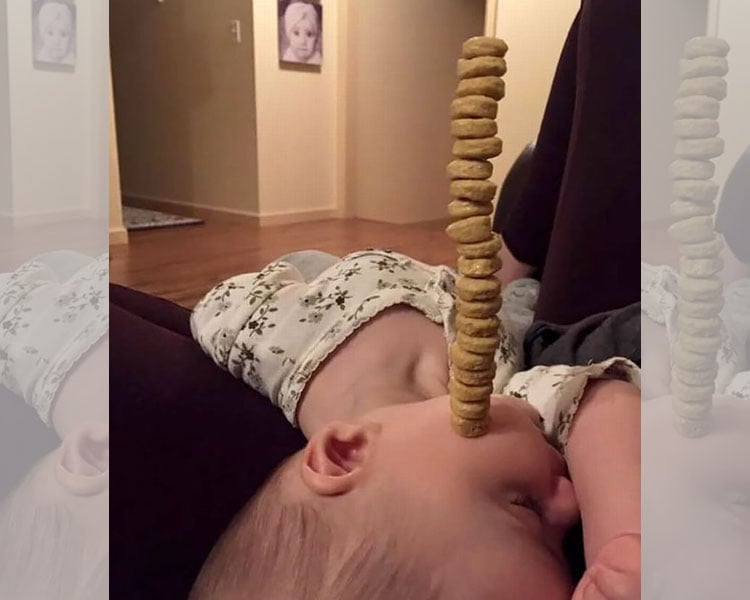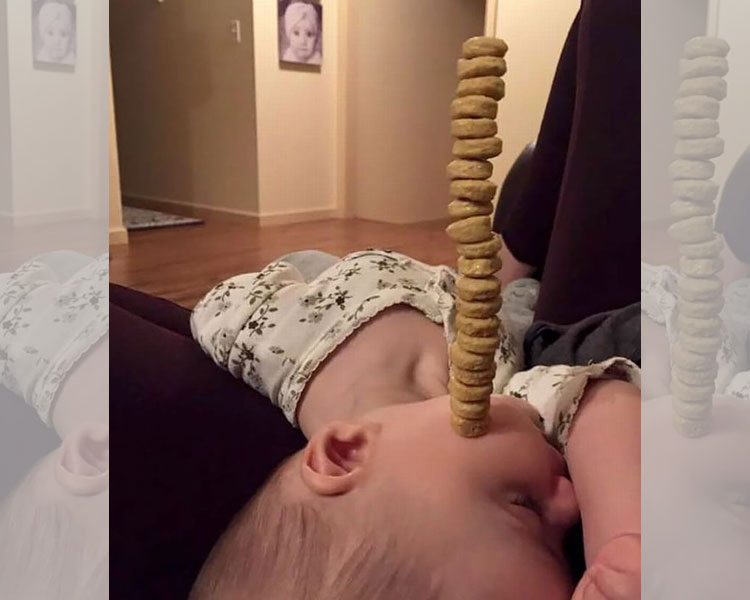 3. A Badass Baby
We'll call this one "The Early Years Of Harley Davidson." When his wife was at work this dad took it upon himself to give his baby a goatee, a tattoo and a bandana. The baby went from looking like a young little child to a badass biker. The photo went viral and people commented on how much the baby looked like a real biker. We're not sure if this guy's wife was amused by the photo but it was definitely a unique way to have fun with their kid. This is why dads shouldn't be left alone for too long with their children.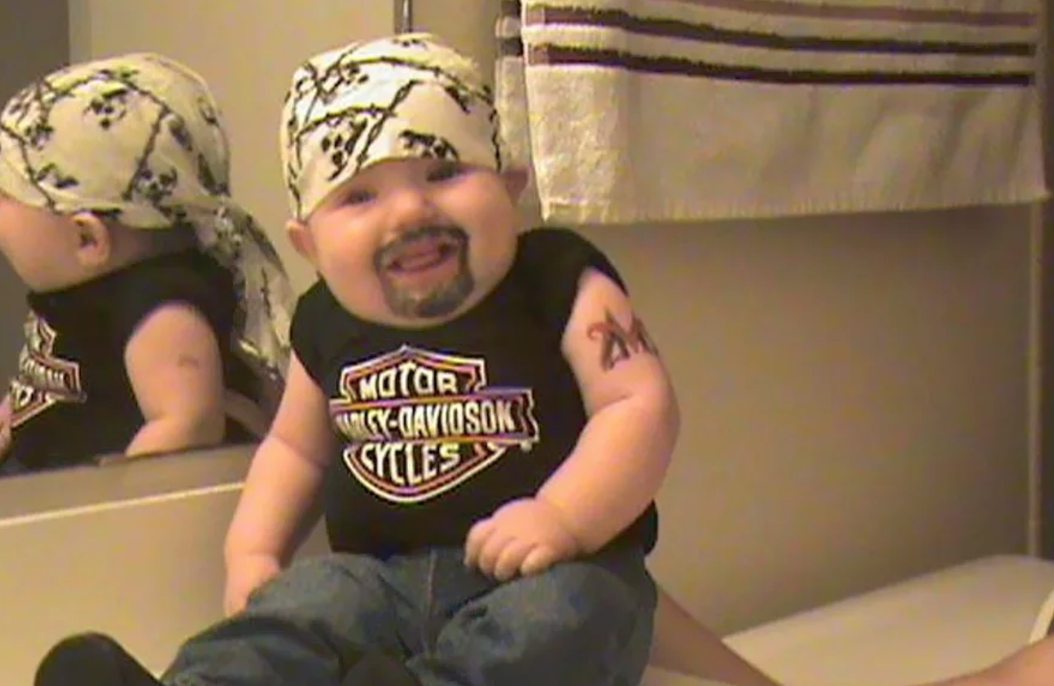 4. That's Now How You Dress Them Dad!
Jeremy was preparing to send his daughter to daycare when he put her in a pair of overalls and delivered her to her caretakers. When he sent a photo to his wife and explained that the baby was gone for the day, she asked why the child wasn't wearing a shirt. The dad claimed ignorance and left it at that. This adorable photo and proceeding text conversation caught the eye of Ellen Degeneres. After the photo was shown on daytime TV it went viral and Jeremy's cluelessness was exposed to millions of people on TV and the internet.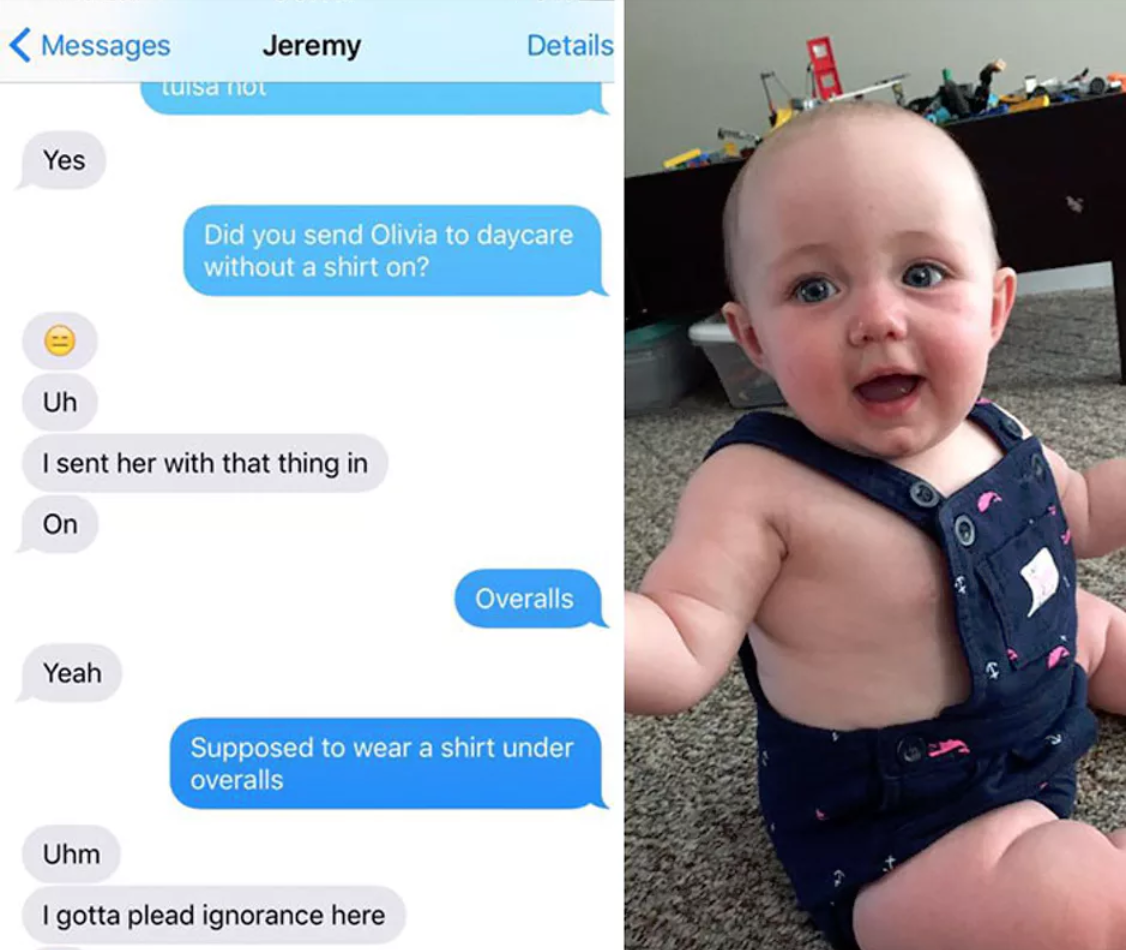 5. Look At My New Hairstyle!
The goofy nature of dads is perfectly highlighted in this adorable set of baby photos. When dad was told to give his baby a bath he jumped into action with some bubble bath hairstyling that went viral. The baby's mom, Melissa Nas, posted this photo on Imgur and it was viewed millions of times. Dads are awesome at reminding up not to always take life so seriously. Plus, his baby is absolutely adorable and really seemed to be enjoying bath time with daddy. Hopefully, their father also remembered to actually clean them during bathtime.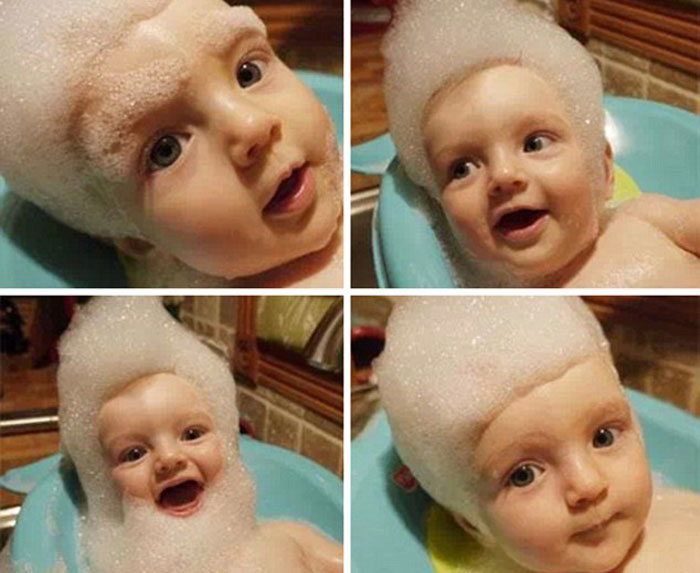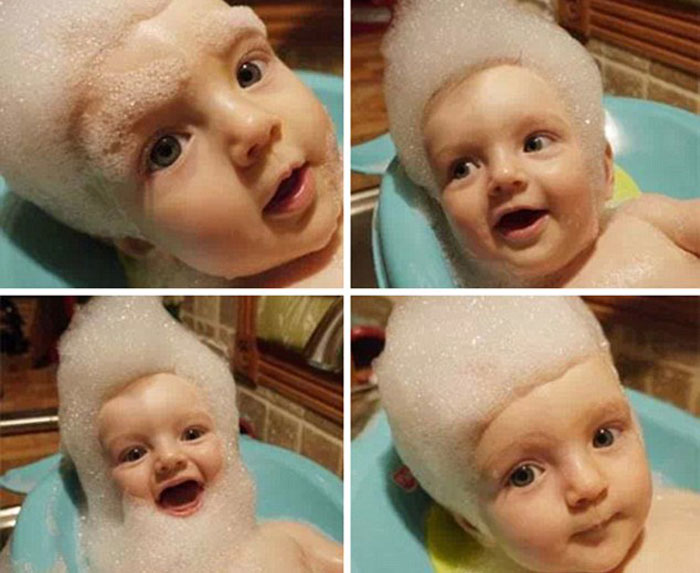 6. A Child And A Beer
Our sub-heading isn't as ominous as it sounds. This dad wanted to have some quality time with his child but he also wanted to enjoy a nice cold beer on a hot day. Using some out-of-the-box thinking he devised a simple but effective way to do both. The baby is having fun in its child swing and the dad is getting some rest and relaxation. This is one of the most popular dads fails online but is it really a fail? Dad solved a problem that helped him out and made his kid happy — we consider this a daddy success.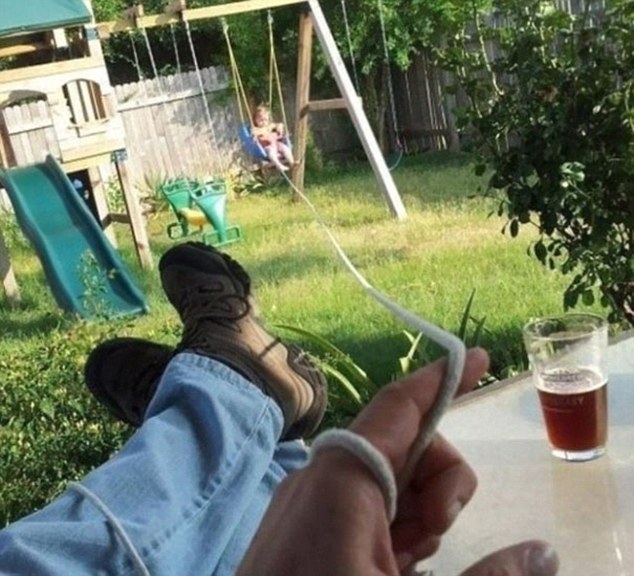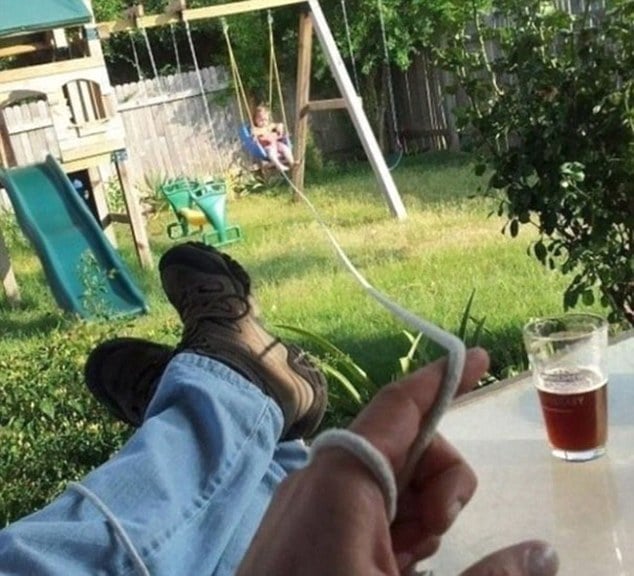 7. Who Needs Disney World With This Dad Around
A trip to Disneyland or Disney World can easily cost thousands of dollars. This dad figured out the perfect way to avoid those costs while still giving his kids the time of their lives. We're not sure if this dad ride will pass federal safety regulations but their kids don't seem to mind. His wife may not have seen the funny side of this "ride" but the photo has gone viral on several occasions. Dads have their own unique view of the world and that just means their children discover new and exciting ways to try stuff in a different way.