6. Joan Crawford's Poached Salmon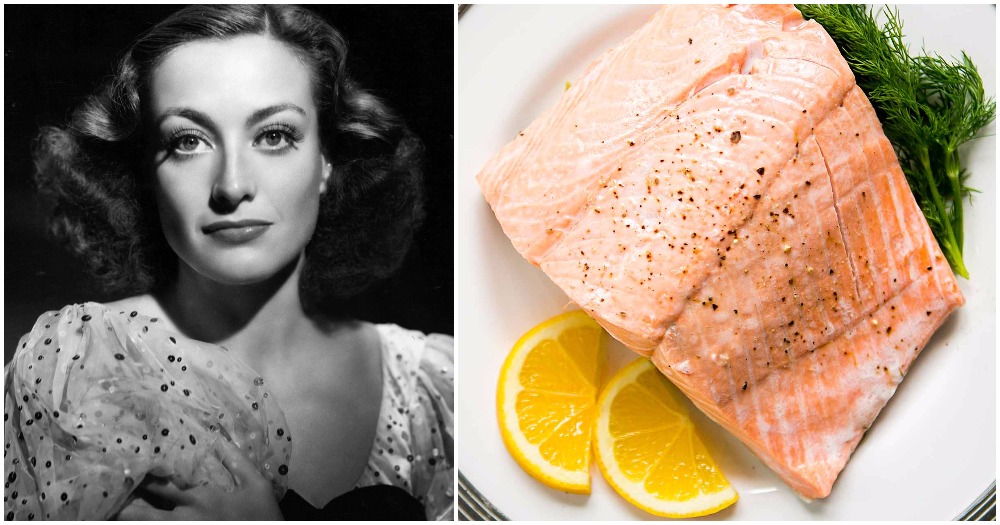 1 3-pound piece of fresh salmon
3 lemons
6 cups water
10 pearl onions, peeled
1/2 stalk celery with leaves
2 sprigs parsley
3 small bay leaves
12 peppercorns, crushed
2 teaspoons salt
2 cups mayonnaise
4 teaspoons prepared mustard
1/4 cup fresh lemon juice
Rinse and dry fish. Cut lemons into thin slices. Place slices on both sides of the fish. Wrap fish in a double thickness of cheesecloth and secure with kitchen string. Put water, onions, celery, parsley, bay leaves, crushed peppercorns and salt in a fish poacher or on a rack in a deep saucepan. Cover and simmer 30 minutes.
Place fish on rack in the kettle so that it is halfway submerged in the water. Cover and slowly simmer 40 minutes, or until fish is barely done. Place fish on a heated platter. Remove cloth and lemon slices carefully. Combine mayonnaise, prepared mustard and lemon juice; mix well and serve with fish. (Fish and dressing may also be served cold on a bed of lettuce.)
7. Dean Martin's Burgers and Bourbon
1 pound ground beef
1/4 teaspoon of salt
8 ounces bourbon chilled
Preheat a heavy frying pan and sprinkle bottom lightly with table salt. Mix meat, handling lightly, just enough to form into four patties. Grill over medium-high heat about 4 minutes on each side. Pour instilled bourbon in chilled shot glass and serve meat and bourbon on a TV tray.
8. Humphrey Bogart's Coconut Spanish Cream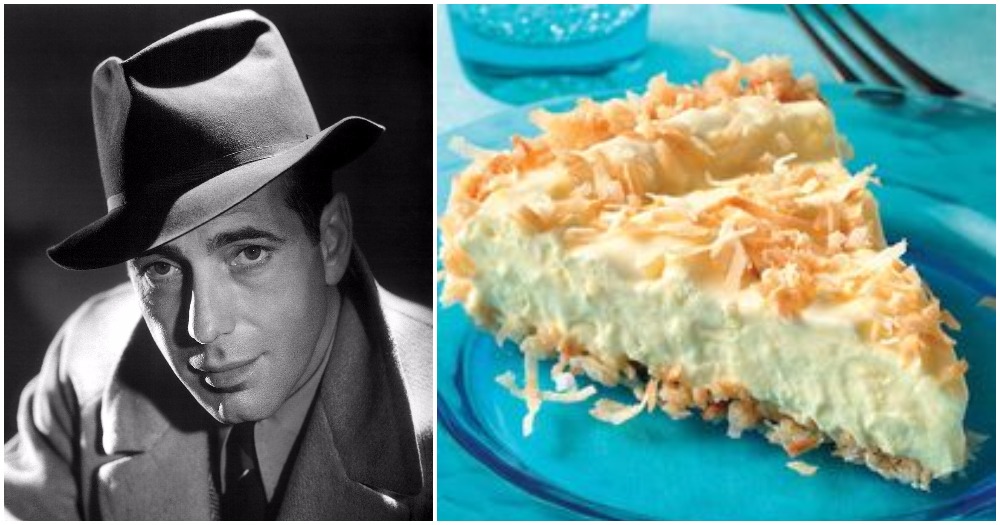 1 tablespoon unflavored gelatin
1/4 cup milk
4 egg yolks, beaten
1/4 teaspoon salt
1/2 cup sugar
2 cup scalded milk
1 cup shredded coconut, plus additional for garnish
2 egg whites, beaten stiff
1/2 teaspoon orange extract
Orange segments for garnish
Soften gelatin in 1/4 cup milk. Stir beaten yolks, salt, and sugar in the top of double boiler over hot water. Add gelatin. Add scalded milk gradually, stirring until the mixture coats the back of a spoon. Cool. When completely cool, stir in coconut. Fold beaten egg whites and e a tract into custard. Pour into mold and refrigerate until firm. Unmold and serve garnished with coconut and orange sections.
9. Rock Hudson's Cannoli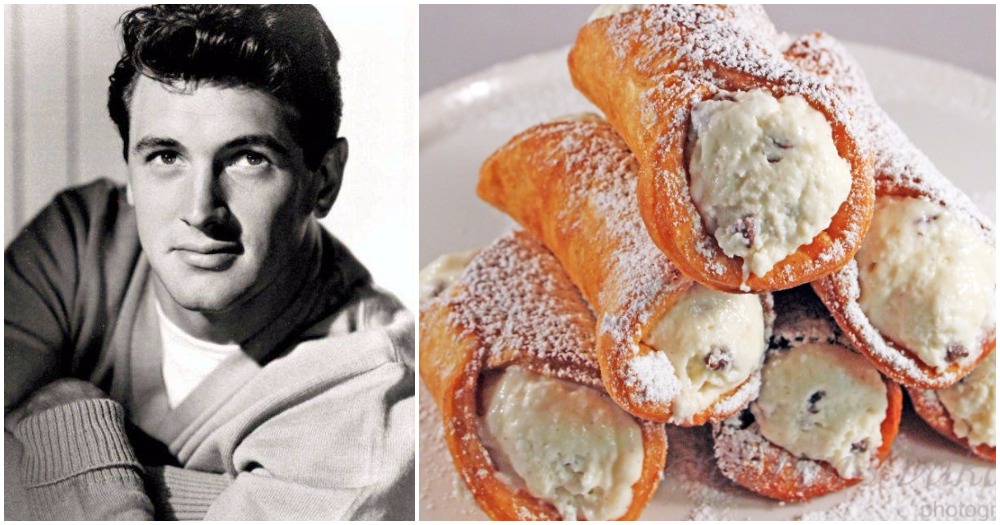 3 pounds ricotta
1-3⁄4 cups confectioner's sugar
1⁄2 teaspoon cinnamon
2 tablespoons chopped citron
1⁄4 cup semi-sweet chocolate chips
4 cups flour
1 tablespoon sugar
1⁄4 teaspoon cinnamon
3⁄4 cup Italian red wine
Using an electric mixer, beat the ricotta in a large bowl for 1 minute. Add confectioner's sugar and beat until light and creamy, about 5 minutes. Add cinnamon, chopped citron, and chocolate chips and mix until well blended. Refrigerate until ready to use.
To make cannoli shells, sift flour, sugar, and cinnamon together into a large bowl. Make a well and pour wine into it and mix until incorporated. On a floured cutting board, knead dough until smooth and stiff, about 15 minutes. If the dough is too moist or sticky, add some flour. If it's too dry, add more wine. Cover dough and let it rest two hours in a cool place.
Then roll paper-thin on a lightly floured board. Cut into 5-inch circles. Wrap each circle around a cannoli tube loosely, overlapping 1⁄4 inch of dough. Seal dough by brushing with slightly beaten egg yolk. With the tube in place, deep fry 2 cannoli at a time in hot oil for 1 minute until light brown. Lift gently with slotted spoon or tongs, drain on paper towel and cool. Remove tubes gently and fill.
10. Katharine Hepburn's Brownies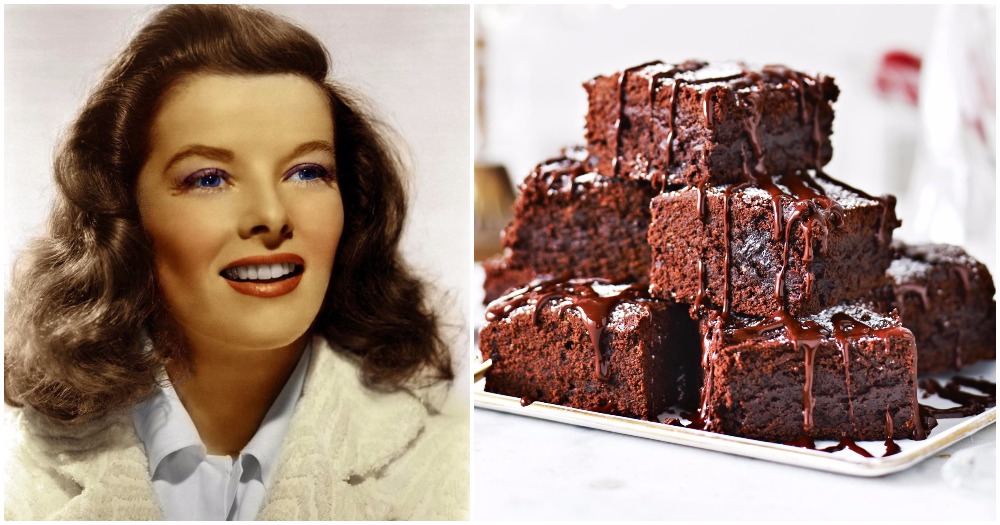 2 (1-ounce) squares unsweetened baker's chocolate
1 stick unsalted butter
1 cup sugar
2 eggs
1/2 teaspoon vanilla
1/4 cup flour
1/4 teaspoon salt
1 cup chopped walnuts
Melt chocolate and butter in a heavy saucepan over low heat. Remove from heat and stir in sugar. Add eggs and vanilla and beat well. Stir in flour, salt, and walnuts. Mix well. Pour into a buttered 8-inch square baking pan. Bake at 325˚ F for 40 minutes. Cool and cut into squares.
Credits: mentalfloss
Share this story on Facebook with your friends.