Virtually every summer, devoted fans of Gene Kelly will come across "Gene Kelly's Flavor Tips for the Barbecue," a 1955 Durkee Foods ad featuring the Hollywood song-and-dance man grilling what appears to be an entire cow. Also included are recipes for corn on the cob, deviled eggs, and potato salad supreme.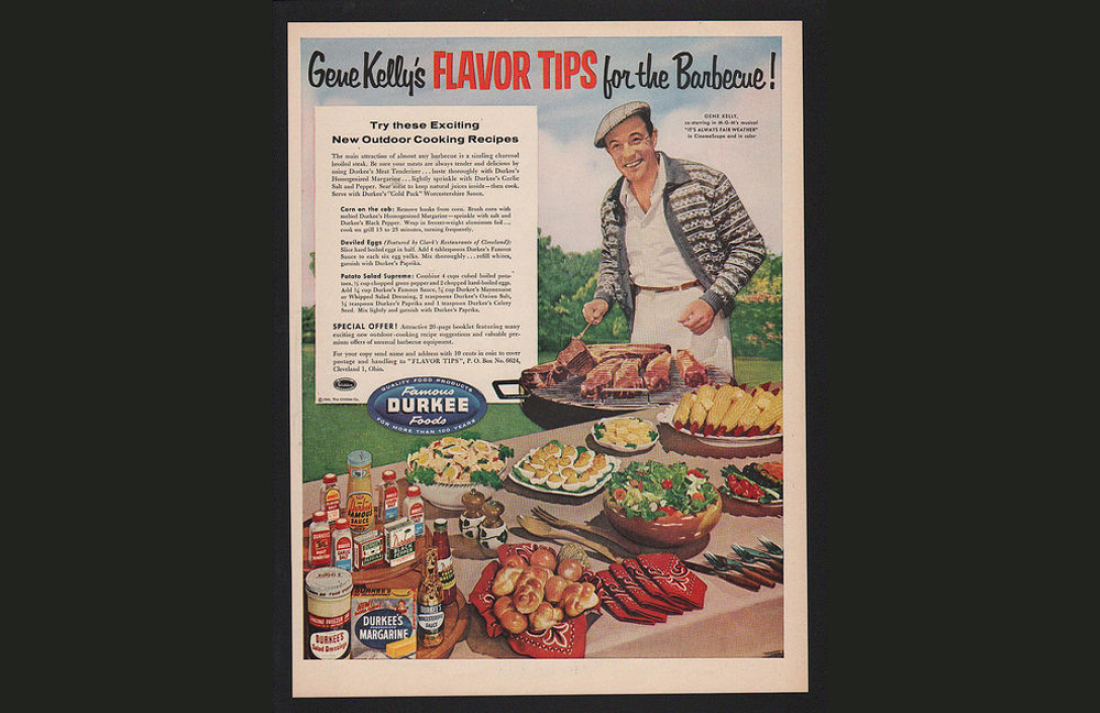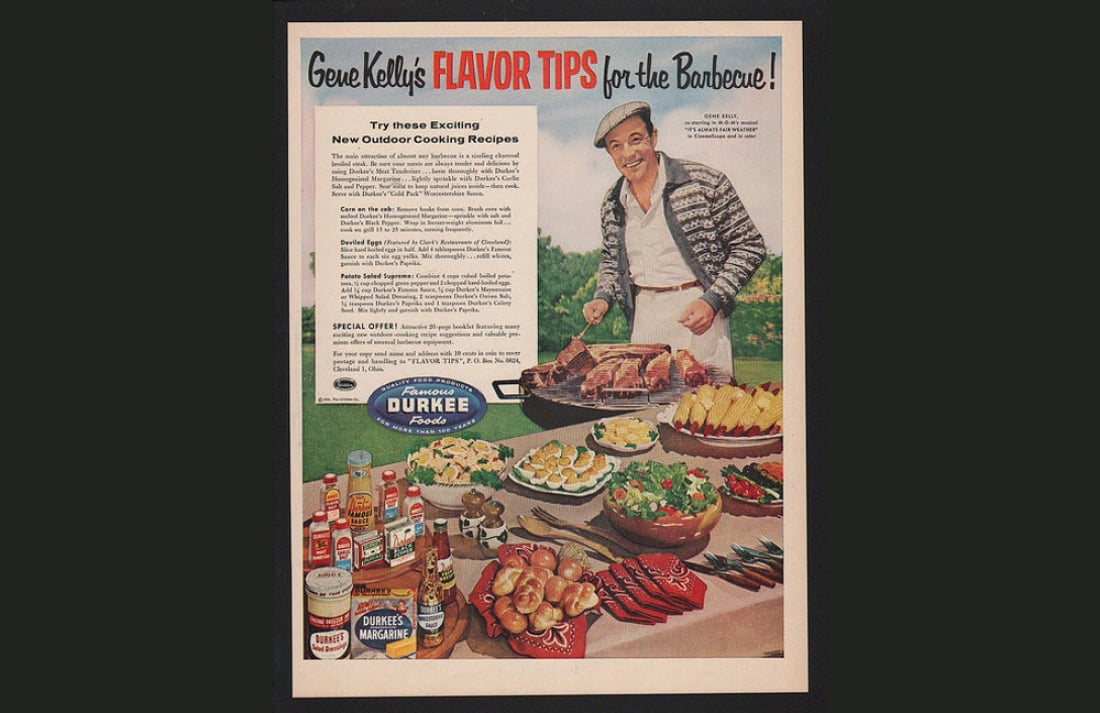 Pairing Gene Kelly—or Hollywood stars in general—with food or recipes is nothing new. For Dinah Shore's celebrity cookbook, Kelly offered up his recipe for coq au vin. Rosemary Bradley features Kelly's "'I'll Be Right Back' Shrimp" in her Treasury of Favorite Recipes.
To accompany Gene Kelly's coq au vin, here are 10 more recipes from stars of Hollywood's classic era, as found in Frank DeCaro's book The Dead Celebrity Cookbook: A Resurrection of Recipes from More Than 145 Stars of Stage and Screen
1. Claudette Colbert's Cheese and Olive Puffs
wikimedia.org/pinterest.com

2 cups shredded sharp cheddar cheese, at room temperature

1/3 cup butter, softened
1 cup flour
1/4 teaspoon Tabasco
Dash of Worcestershire sauce
2 (10-ounce) jars of pimento-stuffed green olives, drained and blotted dry
Add cheese and butter to the bowl of a food processor and blend until smooth. Add flour, Tabasco and Worcestershire sauce to form a dough. Wrap each olive in a small amount of dough, completely covering the olive and forming a ball. Place on an ungreased cookie sheet and freeze. Transfer to a plastic bag and store in the freezer until ready to use. To cook, place on a baking sheet and bake at 400˚ F for 12 minutes, or until crust is golden. Serve hot.
2. Gloria Swanson's Potassium Broth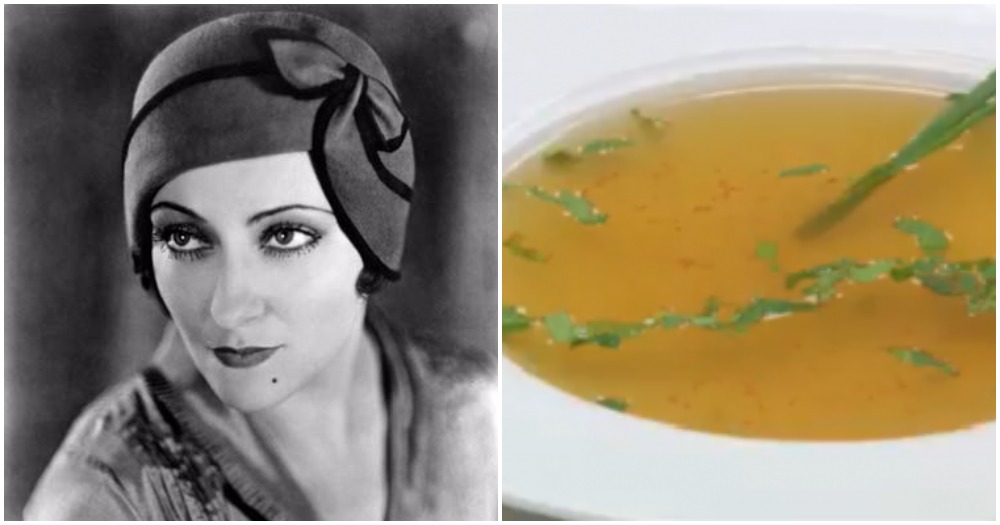 1 cup string beans, chopped
1 cup celery, chopped
1 cup zucchini, chopped
1  cup Swiss chard, chopped
8 cups of spring water
Before chopping, wash all vegetables thoroughly. Pour spring water into a soup pot and add the rest of ingredients. Cover and simmer until celery is tender. Allow the broth to cool to room temperature. Refrigerate in glass jars. Serve hot or cold.
3. Bette Davis' Red Flannel Hash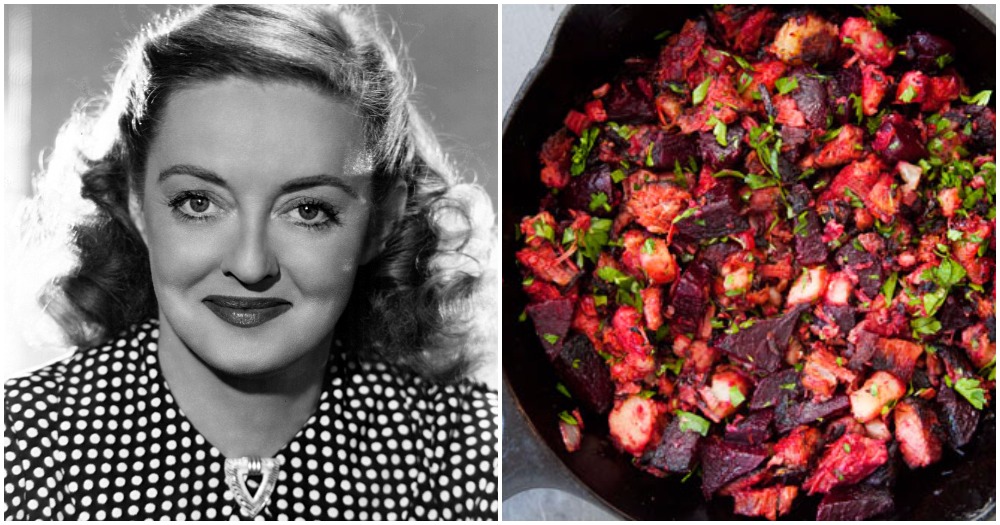 2 cups cooked corned beef
3 cups cold boiled potatoes
1 1/2 cups cooked beets.
salt and pepper to taste
1/2 cup or more of cream
1/2 stick butter
Chop all ingredients and combine in a large bowl. Season to taste and moisten the mixture with cream. Place in a hot buttered skillet. Stir and spread evenly in pan. Brown slowly over medium heat. Serve with poached eggs on top.
4. John Wayne's Favorite Casserole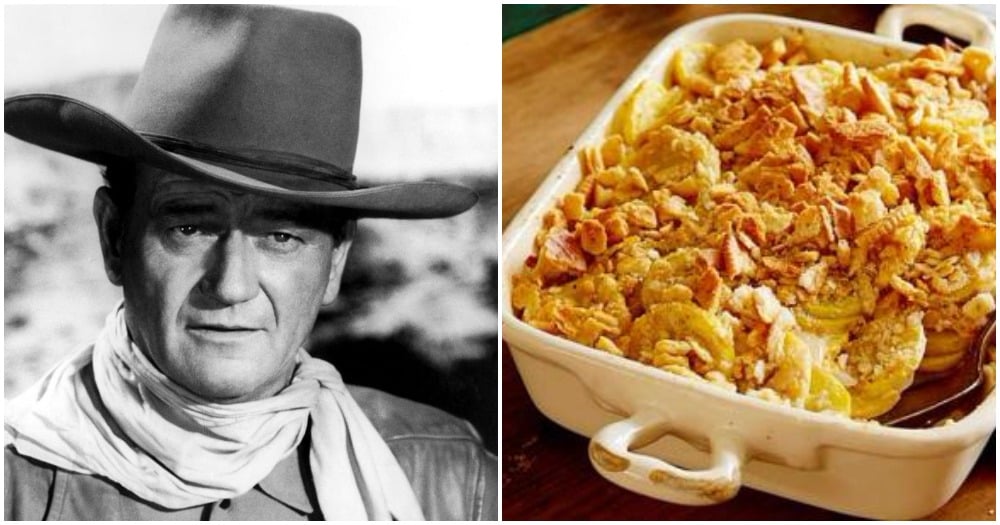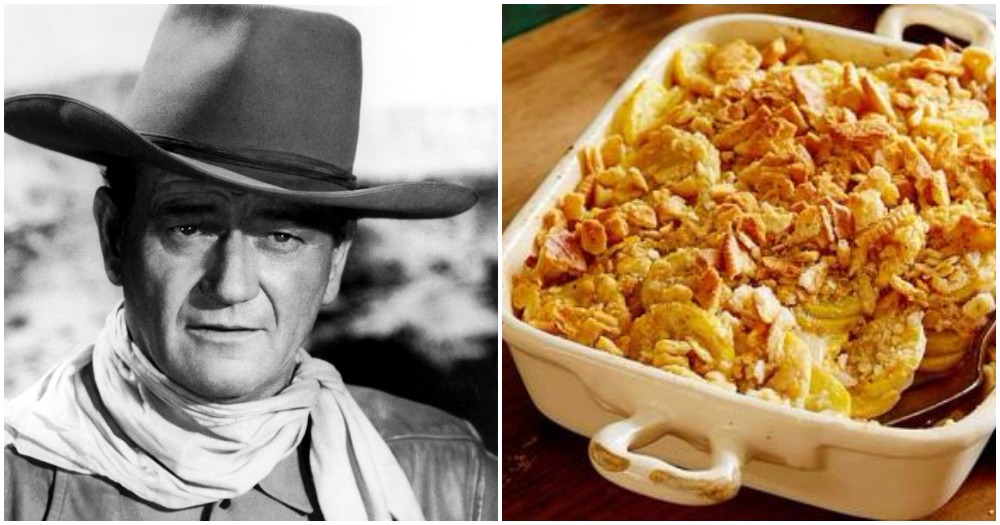 2 (4 oz.) cans green chilies, drained
1 lb. Monterey Jack cheese, grated
1 lb. cheddar cheese, grated
4 egg whites
4 egg yolks
2/3 cup evaporated milk
1 tablespoon flour
1/2 teaspoon salt
1/8 teaspoon pepper
2 medium tomatoes, sliced
Combine chilies with cheese in a large bowl and turn into a well-buttered shallow 2-quart casserole dish. Beat the egg whites until peaks form. Mix egg yolks, milk, flour, salt, and pepper in a small bowl. Fold egg yolk mixture into the egg whites. Pour over the cheese and chili mixture. Comb through with a knife and fork gently until combined. Bake for 30 minutes. Arrange tomatoes on top, and bake another 30 minutes. Garnish with extra chilies, if desired. Let sit 15 minutes before serving.
5. Elizabeth Taylor's Chicken with Avocado and Mushrooms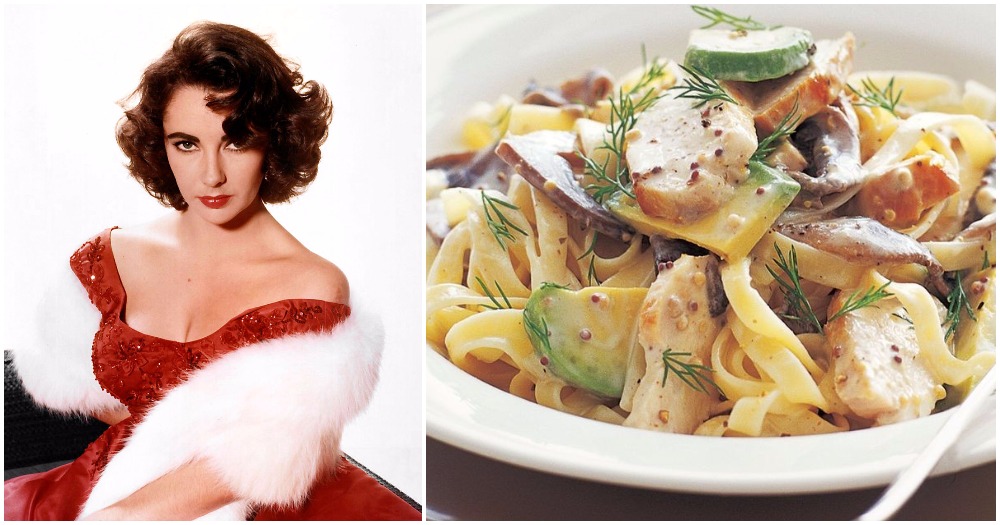 1 avocado, peeled and cubed
1 tablespoon lemon juice
2 (2 1/2 pound) chickens, cut into serving pieces
Salt and freshly ground pepper
1/4 cup butter
3 finely chopped shallots
3 tablespoons cognac
1/3 cup dry white wine
1 cup whipping cream
2 cups sliced fresh mushrooms
3 tablespoons butter
1 cup chicken stock
Chopped fresh parsley, for garnish
Sprinkle avocado with lemon juice. Cover and refrigerate. Season chicken with salt and pepper. In a large heavy skillet, over low heat, heat 3 to 4 tablespoons butter and sauté chicken until juices run yellow when it is pricked with a fork, about 35 to 40 minutes. Use two skillets if necessary, adding more butter as needed. Transfer cooked chicken to a serving dish. Cover loosely with aluminum foil. Keep warm in a 300 degree F oven for 15 minutes, while preparing a sauce.
To make the sauce, add shallots to skillet. Cook over medium heat, stirring and scraping sides and bottom of a pan with wooden spoon. Add cognac and wine and bring to a boil. Boil until mixture has almost evaporated. Add cream and boil 5 minutes longer. Add chicken stock to cream mixture. Cook over medium heat, stirring constantly, until thick. While sauce cooks, sauté mushrooms over high heat in butter. Add the mushrooms, remaining cognac, and avocado cubes. Stir until well blended. Pour over chicken. Sprinkle with parsley.