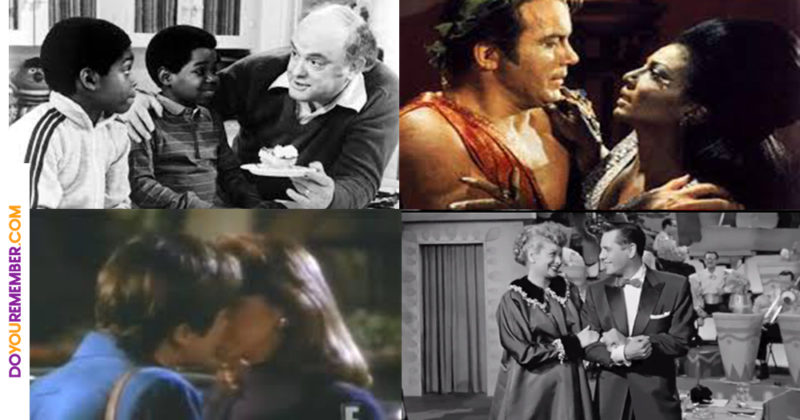 Songs can take on a variety of moods depending on how they're performed, and that extends even to the most august of tunes, our national anthem, "The Star-Spangled Banner." Many would be surprised to know that the melody dates back to 18th-century London, where it was originally composed for a gentleman's club of amateur musicians. It became popular both there and, ultimately, across the pond, where it was sung with a wide spectrum of lyrics. Almost 40 years later, during the Battle of 1812, attorney and author Francis Scott Key was negotiating the release of American prisoners aboard a British ship in Baltimore harbor. Forced to stay for the night, he was astounded to see the American flag continuing to wave, seen via the light provided by "the rockets' red glare, the bombs bursting in air." His paean to the United States' victory was set to a melody he had long admired.
"Star Trek Introduces Us to Hairy Bisexuals (1967)"
Star Trek dabbled in intergalactic sexuality all the time, but never more amusingly than with the episode titled "The Trouble With Tribbles," in which the crew encounters an army of fuzzy, bisexual creatures who reproduce at will. Chaos—and nymphomania—ensues.
"Star Trek, Interracial Love in the Cosmos (1968)"
Long before Spike Lee explored interracial relationships in the film Jungle Fever, Star Trek's Captain James T. Kirk got hot and heavy with his chief communications officer, Nyota Uhura, in the episode "Plato's Stepchildren." The affair only lasted one episode, but received major attention and was parodied in a later episode of Galaxy Quest.
"Maude, Abortion on Primetime (1972)"
Early-pregnancy termination has been a polarizing issue in this country both on and off the air, which is why television shows have always handled it with kid gloves, or skirted the topic altogether. But in 1972, Maude tackled abortion head on with a two-part storyline. Several networks refused to air the episodes, but those that did helped pull in more 65 million viewers.
"All in the Family, Stick-Ups and Rape (1977)"
https://youtu.be/PKk7OQG9LvI
The show touched on numerous controversial topics during its successful run, including racism and sexism. But one of the most talked-about episodes remains "Edith's 50th Birthday," in which a man posing as a police detective attempts to sexually assault the Bunker matriarch while her family plans her surprise birthday. Luckily, she escapes unscathed.
"Diff'rent Strokes, Booze and Pedophilia (1983)"
When a creepy bicycle-shop owner tries to lure Arnold and Dudley with red wine and porn, it takes a protective father figure, Mr. Drummond, to stop the two young boys from being molested.
"Too Close for Comfort, Male Rape and Plus-Sized Assailants (1985)"
https://youtu.be/L-gw2_SCjtk
Proving there is such a thing as female rapists, Too Close for Comfort's Monroe Ficus is kidnapped and sexually assaulted by a plus-sized woman. Sadly, not even police believe his story and suggest that, if it did in fact happen, he best keep quiet to avoid embarrassment.
"L.A. Law, Lesbian Lip-Lock (1991)"
https://youtu.be/ajp3bqfL0BQ
Jennifer Aniston once locked lips with Winona Ryder on an episode of Friends. Madonna swapped spit with Britney Spears at the MTV VMAs. Yet in 1991, when Abby and C.J. briefly hooked up on an episode of L.A. Law, girls kissing on television was entirely taboo. Forward through to the 26:50 mark to see what we're talking about.