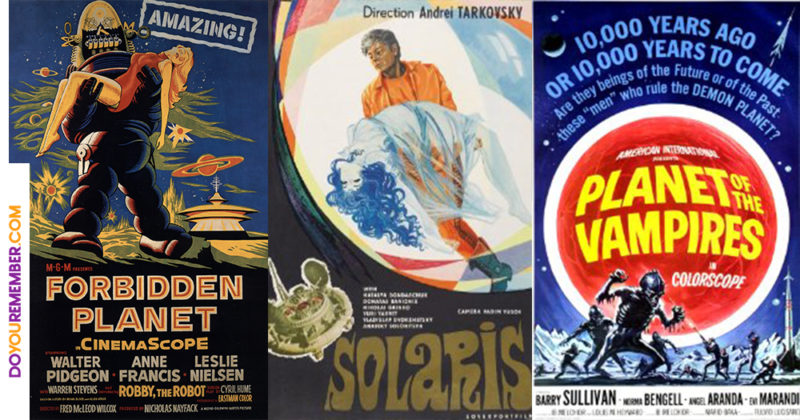 Space can be a scary place, terrifying even. A never ending foreign expanse, the unknown if you will, the thought alone can send chills up your spine. So, today DoYouRemember looks at the top five retro space movies that both wowed and terrified audiences.
Forbidden Planet (1956)
Proving that no good deed goes unpunished, this film tells the story of a starship crew that ventures onto a planet 16 light-years from Earth to investigate the disappearance of an expedition, only to discover a group of unsavory characters—a deranged scientist with a "brain booster" machine, a hot daughter, and a horrific monster.
Planet of the vampires (1965)
Created by iconic Italian director Mario Bava, slow-burner finds members of a crashed spacecraft hunted by the possessed bodies of deceased crew members who are controlled by an alien force. Bava's hypnotic camerawork and creepy score is arresting.
2001: A Space Odyssey (1968)
Many credit Stanley Kubrick's groundbreaking masterpiece with catapulting the modern sci-fi genre. The story deals with a number of factors affecting human evolution, one of which is the computer HAL, whom many describe as the greatest movie villain of all time.
Solaris (1972)
Solaris' chills aren't inspired by creatures from the beyond, but rather the quiet madness of love lost, aching obsession, and the things that haunt us.
Alien (1979)
One of the most popular sci-fi franchises of all time, the original Alien film, directed by Ridley Scott, truly brought the fright. The crew of the Nostromo has no idea what they're in for when they set out to investigate the source of a signal emitted from a nearby planetoid. But let's just say that after the mess-hall scene where the alien creature bursts out of John Hurt's chest, both the audience and the actors were scared of what was in store.