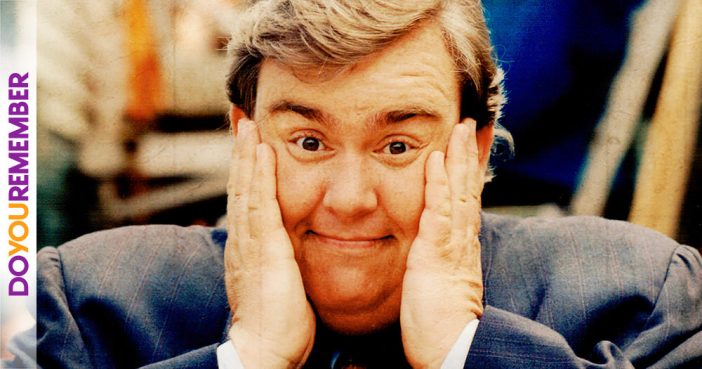 Remembering John Candy… a Canadian actor and comedian who warmed the hearts of viewers everywhere. He starred in a number of roles, including Uncle Buck, Spaceballs, Splash, and Planes, Trains and Automobiles. Candy's characters had a wide range, varying from an irresponsible uncle, a disorderly salesman, and even a "Polka King of the MidWest". And who could forget his goofy role as Barf in Spaceballs? His priceless delivery of the line, "I'm a mog! Half man, half dog. I'm my own best friend!" always results in a roar of laughter. He was a charismatic, lovable actor who had everyone howling and cackling.
In his memorable role as Del Griffith in Planes, Trains, and Automobiles, Candy stands up for himself and shows us that we shouldn't care what others think about us: "well, you think what you want about me; I'm not changing. I like… I like me. My wife likes me. My customers like me. 'Cause I'm the real article. What you see is what you get." He reminds us that we don't have to change who we are for anyone; being our true self is enough. Candy holds a special place in our hearts, and his memory leaves us with smiles on our faces. He will always be our Uncle Buck. Here are just a few of DYR's favorite moments of John Candy– Remember these?
  Planes, Trains, and Automobiles
Del Griffith: the bumbling and blundering shower curtain salesman continues to get Neal and himself into trouble as they struggle to get home in time for Thanksgiving. One of Del's most memorable moments in the film comes when he drives on the highway and nearly gets them killed. As a car on the other side warns Del that he's going the wrong way, he laughs along, attributing their crazed words to their seeming intoxication.
The fun really begins when Del and Neal stare wide-eyed as two trucks come barreling towards them on the highway. Neal turns into a skeleton, and looks in horror at Del who has seemed to turn into Satan himself. Luckily, the pair squeeze between the trucks and are left with nothing more than terrified expressions on their faces. The adventures of Del and Neal never allow for a dull moment.
 Uncle Buck
Uncle Buck may not be the most responsible, hard-working man out there, but he sure does have a big heart and a great sense of humor. After being put in charge of his brother's children, Uncle Buck must learn to step up and take on some responsibility.
After witnessing his 15 year old niece hanging around her troublemaker boyfriend, he finds some clever ways to intervene. He lets out his now-infamous laugh, and threatens the boy to leave his niece alone. Uncle Buck always knew how to keep life interesting. That's how I'll be remembering John Candy. 
The Great Outdoors
I don't know about you, but I can't even imagine having to eat 6 pounds of steak in one sitting. However, Chet Ripley is determined to eat the whopping piece of meat known as the 96er in order to get a free meal. He begins with a confident look, reassuring himself that he can do it. He cuts himself tiny morsels of the meat, eating the steak calmy.
However, we quickly develop a sense of sympathy for the guy as the pain on his face becomes more and more evident. The chef stares down at Chet, pointing to his cheeks to remind him to keep chewing. We look on with unease, hoping he can finish it, and really hoping that he can keep it all down. And when Chet eats that final piece of steak, we can't help but to cheer along with the crowd! Congratulations Chet, and enjoy your "I ate a 96er" bib.
Home Alone
Gus Polinski, also known as the "Polka King of the Midwest", doesn't seem to be the best at cheering people up. As he takes Kate McCallister back to her home in Chicago to find her son she accidentally left behind, Gus decides to share a story about his own kid. He's never left his son home alone while going on vacation, but he did leave him at a funeral parlor once.
He offers some comforting words to Mrs. Mcallister, reassuring her that his own son began talking again after six or seven weeks. "Kids are resilient like that", he says. The look on Mrs. McCallister's face says that she probably won't be asking him for advice anytime soon.
Cool Runnings
Irv must take on the incredibly challenging task of creating Jamaica's first bobsled team. He is no novice to the tough sport, as he is a two-time Olympic Gold Medalist. However, it seems it's going to take a lot of convincing to get anyone to compete. As he gives a motivational pep talk, he turns off the lights and plays a video of athletes competing in the bobsled sport.
The encouraging video quickly turns into one of mishap, and disaster. Irv chuckles, telling the recruits that their "bones will not break in a bobsled. No, no, no. They shatter". This comforting statement is poorly received, and when Irv turns on the lights and asks who wants to join, he finds the once-crowded room completely empty. Nice try, Irv, but you might want to skip the part about the bones shattering next time.
A Tribute.. Remembering John Candy
RELATED: Ten Facts About 'Planes, Trains, And Automobiles' That Help Us Relive The Memories