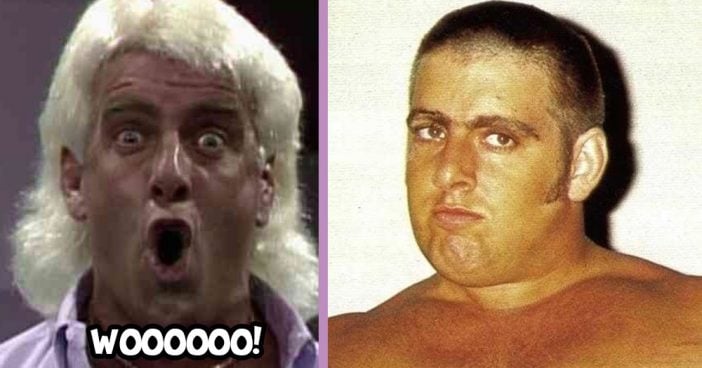 4. He Became The Nature Boy Because Of His Plane Crash
When he first made his debut to the wrestling world, Ric Flair looked unrecognizable compared to The Man we know him as today. He was nearly 300 lbs with a short brown buzz cut. This version of Flair lacked a certain, for lack of a better word, flair. A 25-year-old Flair took a scary turn on a fateful October 4th day in 1976 when he was involved in a deadly plane crash that killed the pilot and paralyzed fellow wrestler, Johnny Valentine. Flair was lucky that he only broke his back in three places. He was told by doctors that he would never wrestle again, but once again, Lady Luck was on Flair's side. After rigorous physical therapy training, Flair returned to the ring eight months later. Yet, he had bulked down significantly and had to significantly tone down his usual in-ring style. He went from wrestling in a brawler style to the showman we're familiar with today. To justify his drastic wrestling style change, he changed his character as well and became The Nature Boy.
5. He Has Multiple Birth Names
It doesn't take a rocket scientist to figure out that a name as extravagant as Ric Flair isn't the guy's real name. What some people do not know is that Richard Morgan Fliehr's real name isn't even his birth name. In his book, To Be The Man, The Man himself noted that if one were to trace back his family lineage, things may look a little sketchy. Some of his birth documents state that his birth name is Fred Phillips, son of Olive and Luther Phillips. Young Fliehr was adopted from the Tennessee Children's Home Society, which has its own sketchy history in itself as an organization involved in the kidnapping of children and illegal black market adoptions. Ric Flair admitted in his book that he was illegally removed from his biological mother as a "Black Market Baby." On the bright side, his adoptive family settled in Minnesota where he would grow up to meet Greg Gagne (son of Verne) and Ken Patera. These men brought Flair to Verne Gagne's door one day and from there, Verne trained Flair to be a wrestler. One can call this a silver lining that led him closer to his wrestling destiny.
6. He Was Almost A Roman Gladiator
It is a real testament to Ric Flair's talent as a performer that he's managed to keep his Nature Boy character as consistently popular and relevant for as long as he has for over four decades. However, former Executive Vice President of WCW, Jim Herd, thought that Flair's time had come and gone by the early '90s. Herd thought that Flair was too old at the age of 39 to still be the face of WCW. That's why in an attempt to push Flair out of the main event scene in favor of newbies Sting and Lex Luger, Herd pitched that Flair drop his Nature Boy gimmick, cut his trademark blond locks, wear some Roman gladiator get-up, and call himself "Spartacus." Herd thought that this would help Flair "change with the times" and of course, nothing screams "hip" to a younger audience like a character based on a BC era figure. Unsurprisingly, Flair hated the idea. The bad blood between him and Herd would lead to Herd firing Flair while Flair was still in possession of the WCW World Heavyweight Championship belt. Shortly after, Flair would show up on WWF TV with the Big Gold Belt.