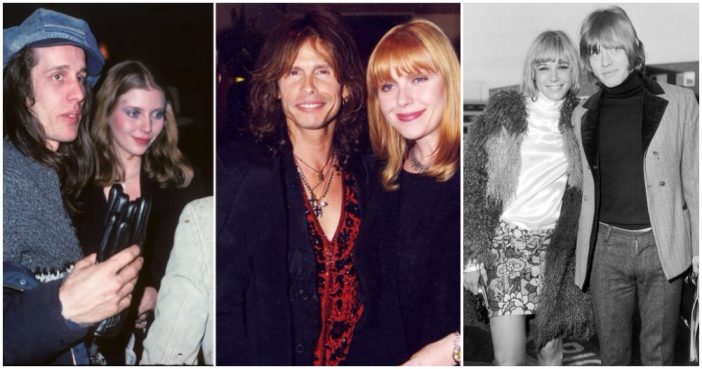 Legendary rock stars often come from interesting pasts that can lead to situations where love and heartbreak take center stage. Some of the best songs come from real life situations, that no one would wish to be a part of.
Many rock and roll Royals have swapped lovers, wives, and groupies. These crazy love triangles haven't stopped bands from sticking it out and making amazing music together.
Take a peek at these legendary tales of rock love and romantic excursions that are notable in rock and roll history.
1. GEORGE HARRISON, PATTIE BOYD, ERIC CLAPTON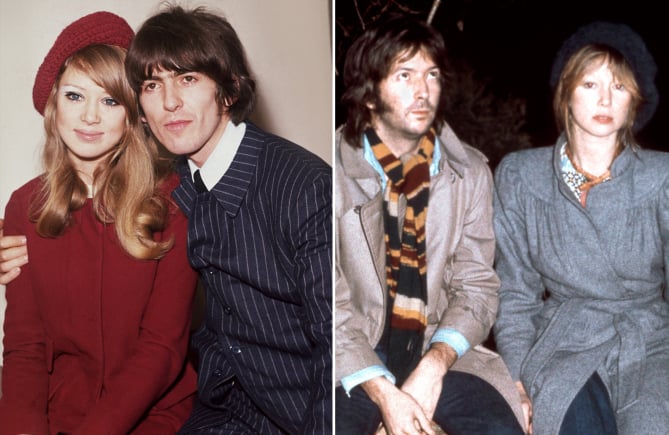 George Harrison first met 19-year-old model Pattie Boyd in 1964 on the set of the Beatles' first film, A Hard Day's Night. He was instantly smitten, and the pair were married less than two years later. Though reasonably happy throughout the '60s—Harrison wrote the classic track "Something" in her honor—their marriage began to deteriorate by the end of the decade, around the same time he became close friends with fellow guitar god Eric Clapton.
Clapton also fell in love with Boyd, ultimately confessing his feelings to the couple. She initially refused his advances, sending him spiraling into a drug-fueled depression. Amid the haze of his growing addiction to heroin and alcohol, he penned the tracks that would become his opus, 1970's Layla and Other Assorted Love Songs. The album's title track directly addresses the unrequited love in its lyrics: "I tried to give you consolation / When your old man had let you down / Like a fool, I fell in love with you / Turned my whole world upside down."
Several years later, Boyd left Harrison for good, and she and Clapton began living together in 1974. "Eric was very attractive and persuasive," she later said. "George and I had many problems in our relationship that had a great deal to do with the enormity of his fame and his increasing passion for meditation and the spiritual life. He frequently simply wasn't there for me, and there were other women." Clapton immortalized her in a song yet again, penning the gentle "Wonderful Tonight" for her.
The former Beatle bore no ill-will towards his friend, jokingly referring to him as his "husband-in-law." Harrison even attended the pair's 1979 wedding. "I'd rather she be with him than some dope," he told Rolling Stone at the time. Sadly, their union didn't last and they divorced in 1988.
2. BRIAN JONES, ANITA PALLENBERG, KEITH RICHARDS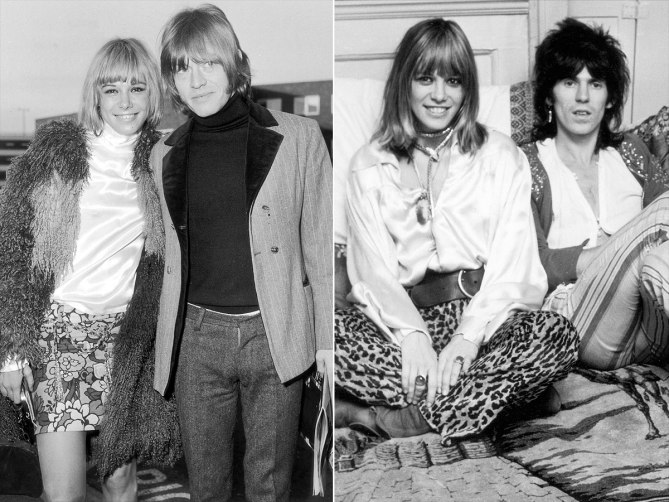 Anita Pallenberg first crossed paths with the Rolling Stones in 1965, when she snuck into one of the band's concerts in Munich, Germany. The exquisitely beautiful 21-year-old model was able to talk her way backstage, where she hit it off with Jones, the enigmatic rhythm guitarist and founder of the group. At their first meeting, he apparently told her, "I don't know who you are, but I need you."
Pallenberg and Jones quickly became an item. Or, as she later recalled, "I decided to kidnap Brian. Brian seemed sexually the most flexible." By 1967 they were one of the hottest couples in London, but their drug use took a toll on the relationship. Jones was prone to jealous rages that often turned violent. "He was short but very strong and his assaults were terrible," she later said. "For days afterward, I'd have lumps and bruises all over me. In his tantrums he would throw things at me, whatever he could pick up—lamps, clocks, chairs, a plate of food—then when the storm inside him died down he'd feel guilty and beg me to forgive him." At one point he punched her face with such force that it broke his own hand.
It was during this emotional maelstrom that Jones' bandmate Keith Richards moved into the South Kensington home he shared with Pallenberg. Richards also found himself drawn to the enigmatic model's worldly nature. "She knew everything and she could say it in five languages," he once marveled. "She scared the pants off me!"
That March, the threesome decided to make a trip to Morocco, where Jones had previously fallen in love with the music, food and laid back lifestyle. Unfortunately, on this trip, Richards fell in love Pallenberg. "We went by car, a Bentley with a driver, and Brian got sick and ended up in the hospital," she remembered. "He had asthma. He was very sickly, fragile. So Keith and I drove on and left him there, and that was when we had a physical relationship." Richards says the affair began in the backseat of his luxury car as it cruised through southern Europe. "I still remember the smell of the orange trees in Valencia. When you get laid with Anita Pallenberg for the first time, you remember things."
Pallenberg split with Jones for good soon after, straining relations within the band. Jones, alienated from Richards and lead singer Mick Jagger, sought solace in drugs and alcohol, wreaking havoc on his health. By the following year, he was a shadow of his former self, abdicating his role as a co-creator in the Rolling Stones. In the summer of 1969, he was found dead in the swimming pool of his East Sussex estate, a farm formerly owned by Winnie-the-Pooh author A. A. Milne.
Pallenberg and Richards had three children together: son Marlon Leon Sundeep in August 1969, daughter Dandelion Angela in April 1972 and son Tara Jo Jo Gunne in March 1976. Tragically, their youngest child died of SIDS at just 10 weeks old.
The romance between them had cooled by the dawn of the '80s, but their friendship remained warm for the rest of her life. "She's still one of my best friends," Richards told Rolling Stone in 2010. "We've been through the mill. And she admits she could be Vampirella when she wanted. It was tough. At the same time, there is an underlying love that goes beyond all of that other stuff. I can say, 'I love you, I just won't live with you.'" She died in June 2017.