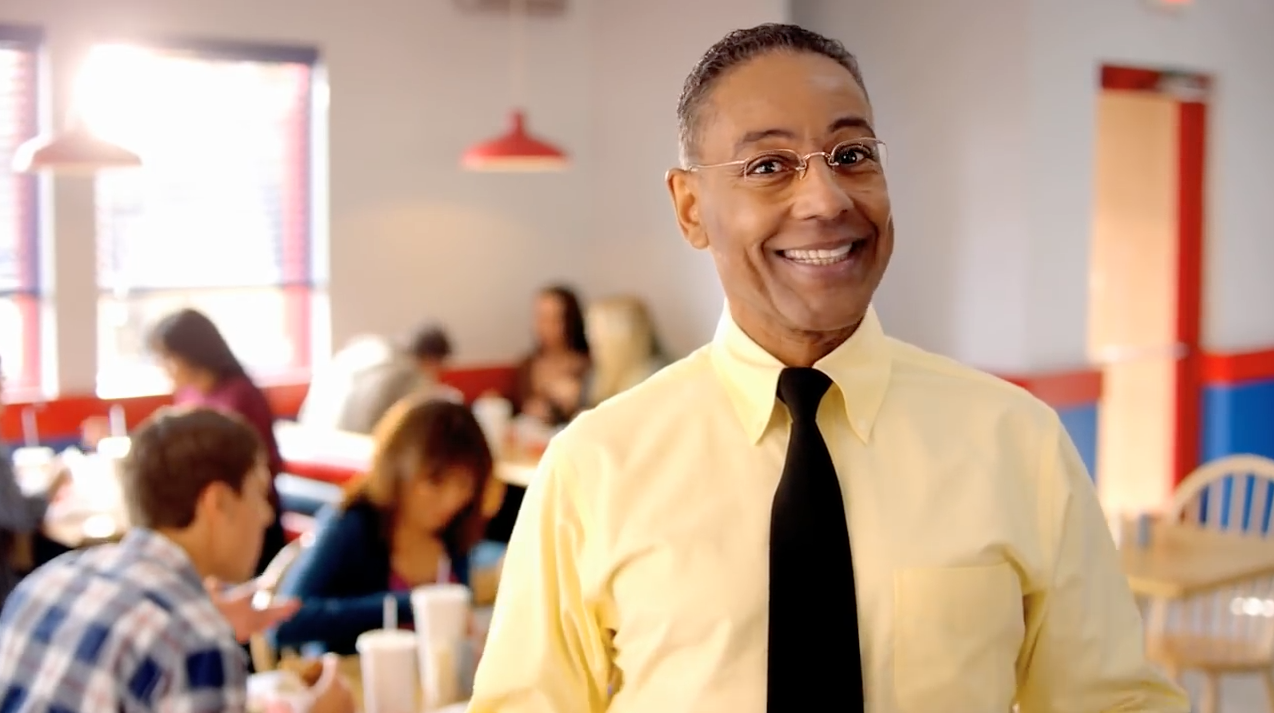 When Gus Fring first donned his light yellow button up and Los Pollos Hermanos apron, he became one of the best villains in TV history. Now, Fring's back for Better Call Saul and we couldn't be happier. Though Giancarlo Esposito and Gus Fring will always be synonymous, we need to take a look back at the actor's more than 35-year career to appreciate the genius that is Esposito.
Electric Company (1971)
Though playing a meth magnate and singing a theme for a children's show may seem entirely different, Giancarlo Esposito did them both. In 1971, Esposito sang on the track for the theme song for The Electric Company.
In an interview with the AV Club, Esposito said he was one of the singers in the choir, graced the interviewer with a brief version of the theme tune, and admitted he never made an on camera appearance during the show's long run. It's surprising to hear that Esposito started as a singer, but that wasn't his last time showing off his musical skills.
Merrily We Roll Along (1980)
https://www.youtube.com/watch?time_continue=124&v=AfN9AIqeYxU
Unless you're a big Stephen Sondheim fan (the composer/lyricist behind Sweeney Todd, Into the Woods, and many others), you probably aren't familiar with his experimental musical Merrily We Roll Along. The story is told backwards, starting with a group of jaded, estranged former friends then goes back in time till we end with the same friends as idealistic teens. The strange structure and decision to have a cast of only teenagers and people barely into their 20s made the musical a gamble. But with Sondheim involved, how could it fail?
It did. It failed hard. It closed after 16 official performances, though it's now become a cult favorite. In the chorus of this legendary failure, was Giancarlo Esposito. He's in the "Judge" shirt in the video above. Also in the cast was Jason Alexander long before Seinfeld was ever imagined. It's too bad audiences didn't know they were seeing George Costanza and Gus Fring because that would have made the show run at least another week.
Sesame Street (1982)
After appearing on Broadway, Esposito made his major television debut in practically the exact opposite of Breaking Bad: Sesame Street. Esposito played Mickey on the famous PBS show, where he almost never had to deal with box cutters but instead spent his days talking to puppets.
He told the AV Club, "That job was one of the best jobs I ever had. I was totally broke. I was a young actor who was 23 and playing 17, I had no money, and I needed the gig so bad. I had worked for RKO, doing voiceovers for black kids who didn't speak very well. I was just at the end of my rope, and I auditioned for Sesame Street, and I was like, 'How stupid is this? Sesame Street?' And I ended up working with a master: Caroll Spinney. An absolute master, and you never saw him! He was always in that silly suit as Big Bird."
Who knew that Esposito learned all his skills from Big Bird? The actor goes on to sing the praises of the show and how much he loved his couple weeks on PBS' most famous street.
Trading Places (1983)
After learning how to get to Sesame Street, Esposito started to move into film work. He appeared in Trading Places, the Dan Aykroyd-Eddie Murphy comedy. Fun fact: the short-selling scheme at the end of the film would have been perfectly legal until the Eddie Murphy law was passed.
Anyway, Esposito wasn't involved in changing stock market law, but made a brief appearance in the jail scene with Eddie Murphy. Esposito's the one showing off his guns in the tank top. It's a very small role, but gave Esposito a film credit and he got to work with one of the biggest celebrities of the time.