This somewhat controversial cover idea didn't sit well with the President of Capitol Records, Mr. Alan Livingston, so, Mr. Livingston ordered all of the albums recalled and destroyed, or recovered with a different sticker slick, which because known as the "Trunk" cover. The newly posted slicks placed on top of the original "Butcher" covers, were called "Second State" issues.
The " Third State" cover is an album with the new photo slick over the butcher cover, but the top slick has been removed from the front to show the "First State" underneath. Some slicks are removed professionally, or unfortunately- haphazardly.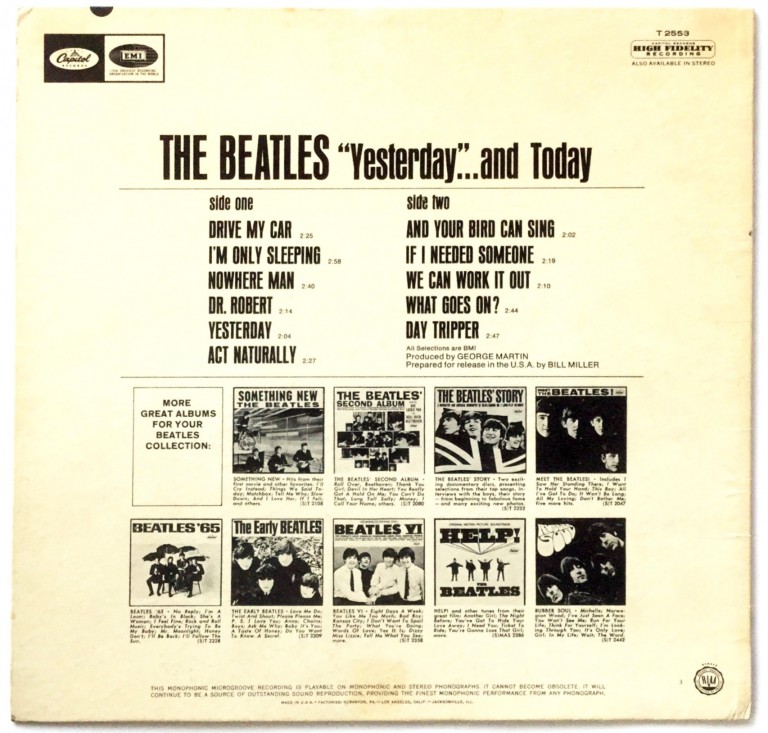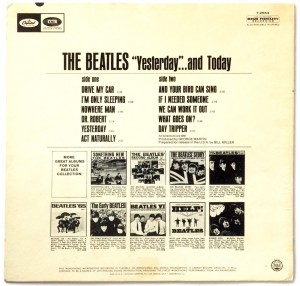 The original extremely rare "First State" Butcher cover can sell for tens -of- thousands of dollars-If found sealed with their original factory shrink-wrap covering.
The "Second State"(unpeeled) newer, pasted-top slick covered albums (easier to find), can sell for over a thousand dollars- if in excellent condition.
How do you know if you have a Second State, "Butcher" cover of the Yesterday And Today LP, if it has been recovered with the new sticker cover?
One tell-tale way is to look under the title word "Today" in the title, about 2 1/4″ down from the letters-ODA. In a room with good light, you would see a small grayish triangle shadow under the white covering, this would be part of Ringo's black shirt worn under his white butcher coat on the original Butcher cover. If you don't see it, more than likely you have a later pressed "trunk" cover issue. Also look on the back of the album. At the bottom, by the right-hand corner, you will see the RIAA logo; if there is a number 2, 3, 4, 5 or 6 (pressing plant city number) by this logo-you're lucky, and you have one of the rare, 750,000 Butcher-covered Yesterday And Today LP's ever produced.
What happened specifically regarding the "Third State" album? Click "Next" to find out.