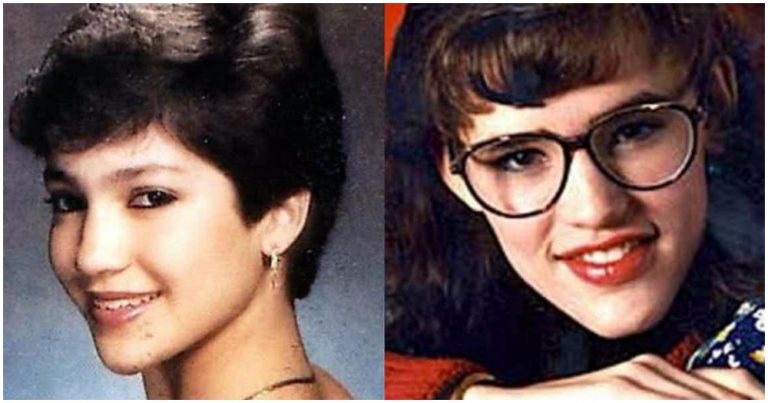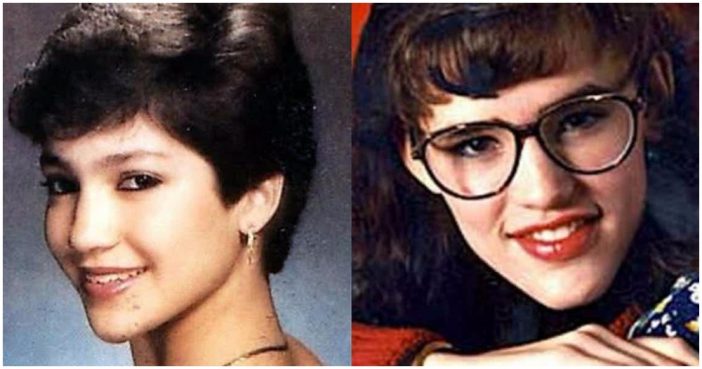 Frankly, the best of us go through an ugly duckling phase. Mostly it's when we hit puberty. The boobs pop out on lanky bodies, the mustaches start to grow on baby smooth chins and acne becomes your very personal face napalm.
For some, it's the teeth-falling phase of childhood – bloody gums and chins apart – the teeth fall as they please, and not a straight pearly white among them. For others, it's the oh-my-gawd-look-at-the-scale weight phase – and this can swing both ways literally. Lose too much weight and the world waves a bulimic/anorexic blame finger at you. Gain too much and you're fat, and your life is over till those pounds go away.
It's easy to get bogged down when you look at the Hollywood Gods and Goddesses around and feel ugly compared to their perfection. But remember, these celebs, larger than life as they may seem to be, are as human, fallible, and mortal as you and I. Believe it or not, they too have gone through their own "ugly duckling" phase. So many of these gorgeous celebs were once fat, buck-toothed, acne-prone, or just plain ol' geeky. If you could go back in time and ask these celebs when they were nobodies if they ever thought they could become icons, they'd probably laugh in your face.
But years later, these very ugly ducklings now rule Hollywood and have featured in many best-looking lists in publications across the globe. Today we consider them to be the most beautiful of women and men but trust us, once upon a time the mirror was no great friend of theirs! So here go 11 gorgeous celebs that were once ugly ducklings and have since bloomed into the objects of our affection and attention!
1

.

 Julia Roberts: From A Bespectacled Girl To A Smile That Lights Up A Room
Without a doubt, Julia Roberts has to have the warmest and widest smile this side of the human world. She has proved her worth as an actress over and over again in various movies, such as the successful Pretty Woman, the toned-down Erin Brockovich, or even the more recent Eat Pray Love!
But seriously, that smile could launch a thousand ships and all those clichés. And believe it or not, she has been named People magazine's "World's Most Beautiful Woman" an astounding five times. After winning many awards, being one of the highest paid actresses of the 90s well into the 2000s, Julia Roberts has come a long way from the little girl that she was. Gap-toothed, bespectacled, and with dreams of becoming a veterinarian, this daughter of actors and playwrights bloomed into a stunning beauty and acting came as naturally to her as her 1000-watt smile!
2

.

 George Clooney: With A Paralyzed Face, Clooney Was Once The Class Clown
So for a hunk as hunky as George Clooney, his childhood so wasn't. Hunky dory we mean. When Clooney was in his rather geeky awkward phase (seriously, what's with that haircut?) in middle school, he developed Bell's palsy, a condition that partially paralyzes the face. Yep, that did not add to his popularity at all. While the condition was cured in about a year, Clooney later remarked in an interview with Larry King, "It was the first year of high school, which was a bad time for having half your face paralyzed. To cope up, I engaged in a series of making fun of myself. And I think that's an important part of being famous. The practical jokes have to be aimed at you."
The disease and the various odd jobs he did before acting (including selling women's lingerie and cutting tobacco) did not stop him from chasing his dream. With that face, voice, and acting skills, it wasn't long before Clooney began to make women weak in the knees all around the world.
3

.

 Demi Moore: A Broken Home, A Cross-Eyed Girl & Some Starry Eyed Dreams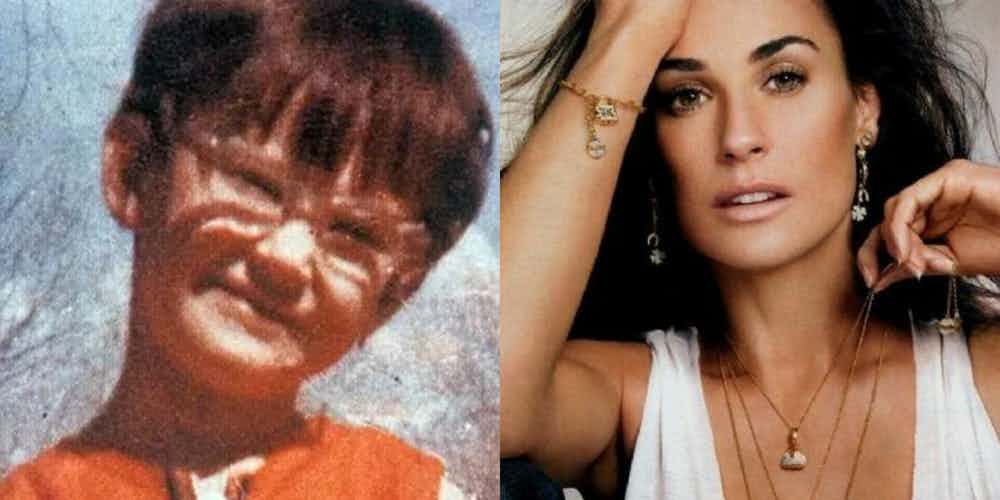 Demi Moore went "under the knife" at a more tender age than most divas – but this was not cosmetic surgery to enhance lips or boobs. Demi was cross eyed and underwent corrective surgery to repair the kink in her eyes. And her childhood was far from happy. Born to a mother whose husband (Demi's biological father) left her after just two months of wedded bliss, Demi was raised by her stepfather. Once this marriage ended, her stepfather committed suicide while her mother has had a long record of drugs, criminal activity, rehab, and even arson!
Through all this and a kidney dysfunction, Demi Moore aka Demi Gene Guynes, got up and decided to make something of herself. A marriage to Freddy Moore and a Oui magazine cover later, Demi started to land her first roles. Her top grossing movie to date has been Ghost though she is most known for Striptease. Her relationships and breakdowns aside, she still remains a forever diva.