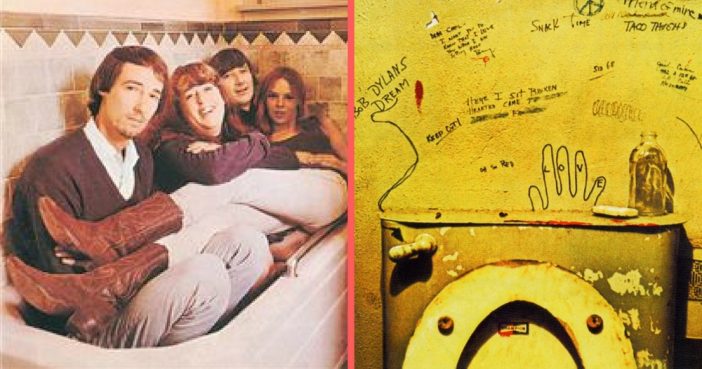 Puritans were some of the earliest European settlers in North America, and despite the sexual revolution and half a century of rock & roll, the U.S.A. still has a strong tradition of bluenose moralizing. Many musicians have tried to push the limits of society in their album packaging — only to find out that sometimes society pushes back. Here are 20 of the most notable censored album covers: The reasons for their bowdlerization include squeamishness about toilets, nudity, and general freakiness.
1. The Mamas and the Papas, 'If You Can Believe Your Eyes and Ears' (1966)
The original cover for the Mamas and the Papas' debut album: all four band members crammed into a bathtub (with Michelle Phillips stretched out over the other three). But because it was taken in an actual bathroom, the photo also included a toilet, which was taboo. The toilet was first obscured with a text box, and later cropped out entirely.
2. The Beatles, 'Yesterday and Today' (1966)
Times have changed: this image of the Beatles in white smocks, posing with slabs of meat and decapitated baby dolls now seems like the mildest form of provocation. (The Fab Four may have been protesting the Vietnam War, may have been complaining about how their American record company shuffled and repackaged their albums for the USA market, or may have been indulging in some dark humor.) But in the States, the backlash against the cover was so strong, Capitol had to recall 750,000 copies and replace the image with an anodyne photo of the band around a steamer trunk.
What famous Rolling Stones album is next on our list? Click "Next" to see!