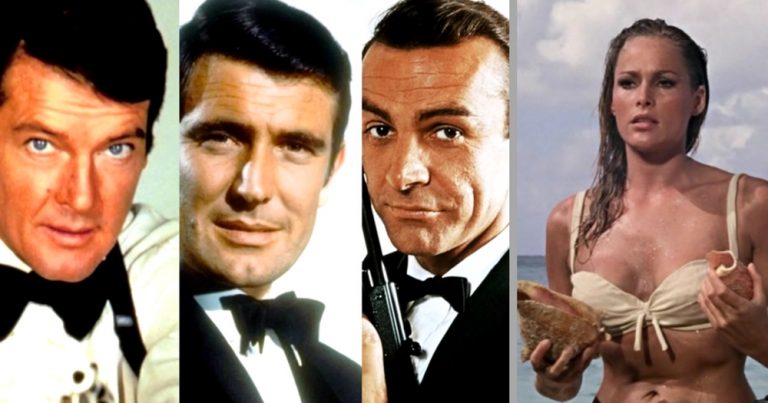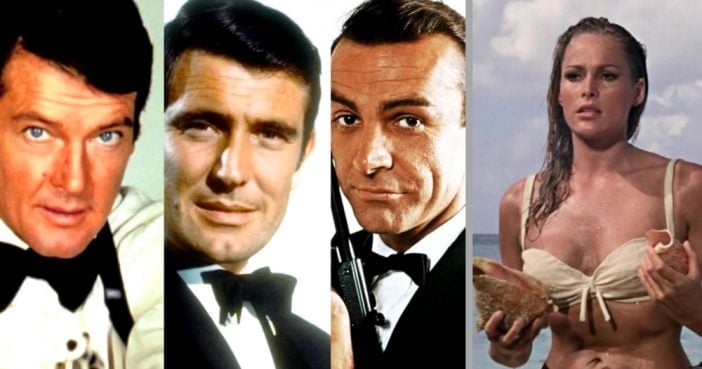 So, James Bond is known for picking up a new woman, or several women in each new movie, and surprise surprise, they're usually quite a bit younger than him…
37. Bond Cougars
We already know that Honor Blackman was the oldest ever Bond girl, but did you know she's only one of two Bond girl actresses who were older than the actor playing Bond? Well, it's true – while Honor Blackman was 37-years-old during the filming of Goldfinger, Sean Connery was 34-years-old. And in the 1969 Bond movie, On Her Majesty's Secret Service, Bond girl, Diana Rigg who was 31-years-old during filming was a year older than George Lazenby.
So the late Roger Moore was in seven movies from the Bond franchise: Moonraker, A View To Kill, Live and Let Die, The Man With the Golden Gun, Octopussy, For Your Eyes Only and The Spy Who Loved Me...
38. Roger Moore's Daughter's Cameo In Bond
So, in which of Roger Moore's seven Bond movies does his daughter make an appearance? The very first perhaps? His final Bond movie – in celebration of his Bond career? Nope, she didn't appear in any one of them! She did, however, make a cameo in Die Another Day as a stewardess. Okay, so she wasn't exactly a Bond girl, but come on, she's the daughter of the late great Roger Moore!
Denise Richards a.k.a Charlie Sheen's ex-wife and baby momma played the Bond girl, Christmas Jones, in 1999 Bond movie, The World Is Not Enough…
39. The Worst Bond Girl Ever
By many in the James Bond fandom, Denise Richards is considered the worst of all the Bond girls. In fact, she was so bad that she was even the first Bond girl actress to win a Razzie for Worst Supporting Actress!
So, Ursula Andress, the actress who was dubbed over in Dr. Nobecause her accent was deemed too strong, was cast in a pretty unusual way…
40. Unusual Casting Process For One Special Bond Girl
First off, she was cast a mere two weeks before filming began which is quite odd for such a big blockbuster such as a Bond movie! In fact, when she was cast, not one single member of the crew had even met her! They had only seen a photo of the blond bombshell, and that was apparently enough for them to want her on board!
Judi Dench plays MI6 chief, M, in seven Bond movies before being killed off in 2012's Skyfall…
41. More Of Judi Dench As M
Desmond Llewellyn is another Bond veteran, in fact, more so than Judi Dench considering he played Q in 17 movies between 1963 and 1999! However, in spite of this, Judi Dench has more screen time in Skyfall, the movie in which literally stops existing, than Desmond Llewellyn has had in 17 whole movies!
Halle had literally just won an Oscar – she was living the high life! That is, until she was admitted to hospital because of a scene went wrong in Die Another Day…
42. Halle Berry's Much-Needed Medical Procedure
When Halle was filming an action sequence in Die Another Day, debris from a smoke grenade managed to land directly in her eyes! In fact, she even needed to undergo an operation in order to remove it! Scary stuff…
Sometimes Bond girls end up being more popular than the guys playing the main man himself, James Bond!
43. A Bond Girl Spin-Off?
After the 1997 Bond movie, Tomorrow Never Dies, in which stunning Malaysian actress, Michelle Yeoh, played Colonel Wai Lin, producers very much wanted to develop a film around Michelle's character specifically because she was so popular, but for some reason, it ended up not happening. There were also rumors that there would be a spin-off with Halle Berry's character, Jinx, but that ended up not happening as well!
Click NEXT to read about Tomorrow Never Dies