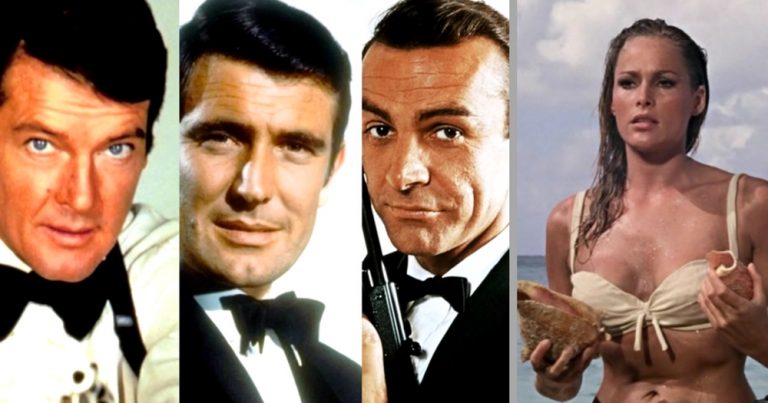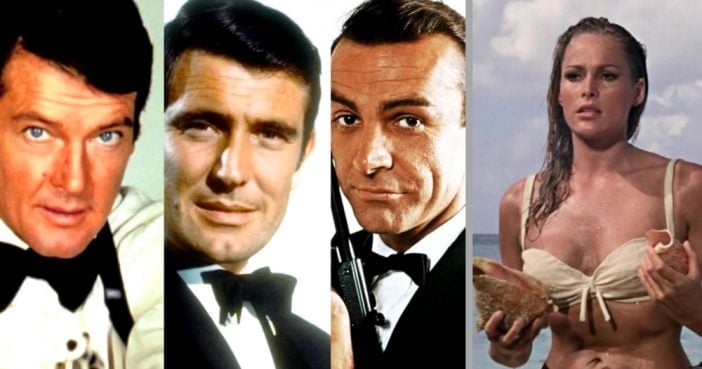 Do you remember Ursula Andress? The Swiss actress from earlier? The one who's apparently incomprehensible accent meant that her own voice was axed from the movie? Well, guess which movie she starred in five years after Dr. No…
29. Casino Royale, 1967
Yes, there's a Bond movie called Casino Royale which is one of the more recent ones, having been released in 2006. However, did you know that in 1967, there was a spoof Bond movie with the same name? Well, Ursula, who had been dubbed in 1962's Dr. No, starred in the spoof movie too! Other stars in the film also included Orson Welles and Woody Allen.
You won't find a Bond fan who doesn't know about the scene in Dr. No, where Honey Ryder comes out of the water in that tight white bikini…
30. Honey Ryder's Famous White Bikini
It's an iconic scene! Well, you probably didn't know this about that seductive bikini – Ursula helped sew it with the costume designer, Tessa Prendergast Welborn so that it would fit her perfectly! After the movie, it was sold at an auction for $45,195!
Stephanie Sigman starred alongside Daniel Craig in the 2015 James Bond film, Spectre, as Estrella. She is depicted in the first scene of the movie…
31. First Mexican Actress
Stephanie Sigman was the first Mexican Bond girl to play a Bond girl in the Bond movies! However, if you're a really big fan of Bond, then you might know that a Mexican actress, Linda Christian, had actually played a Bond girl in the 1954 television adaptation of Casino Royale.
Ursula Andress wasn't the Bond girl actress who helped make a spoof of the James Bond movies…
32. Another Bond spoof
The woman who played Tatiana Romanova in From Russia With Love, Daniela Bianchi accepted a role in OK Connery, a James Bond parody. Sean Connery's brother is also in it, and plays a spy who replaces his brother!
On the surface, James Bond is about killing the bad guys and sleeping with hot women – a lot of hot women!
33. 52 Women
It has been calculated that since the series' inception, James Bond must have killed 352 people, and slept with 52 women. To be honest, I'm surprised the second figure isn't way higher…
Tanya Roberts, who starred in the 1985 Bond movie A View to a Kill, claimed that starring in movie led to her being pigeon-holed, and even worse… not being offered main roles!
34. Curse Of The Bond Girl
A lot of the women, throughout the history of the Bond series, who played Bond girls were European models or aspiring actresses who probably weren't really taken very seriously, to begin with. So in starring in a Bond movie, their image as a sex object solidifies.
Eunice Gayson plays Bond girl, Sylvia Trench in the first Bond movie, Dr. No. Sylvia Trench wasn't even a character in Ian Fleming's novels, but who cares when she got to do this with James Bond himself…
35. Bond's First Onscreen Lover
Eunice Gayson's Bond girl, Sylvia Trench, was the first woman in the entire Bond movie series to sleep with Bond. And how did it all go down? Well, they started off playing baccarat and then one thing led to another…
So, the 2002 Bond movie, Die Another Day, is supposed to be partially set in Uganda, North Korea and in Cuba. It's in Cuba that we see Halle Berry emerging from the sea in an orange bikini, or is it?
36. Halle Berry Bikini Shots
Halle Berry makes her entrance in the movie from the sea – it's a pretty unforgettable scene. The audience is supposed to see her in Cuba for the first time, as that's where the beginning part of the movie is set, however, the scene was actually shot in Cadiz, Spain. It was on an entirely different continent! In fact, throughout the movie, the supposed international feel that Bond's traveling is supposed to provide the film is pretty inauthentic. For instance, when Bond was apparently in landlocked Uganda, there was very clearly an ocean in the background. And the North Korea scenes were actually filmed at Pinewood Studios.
Click NEXT to see more about Bond's many women…