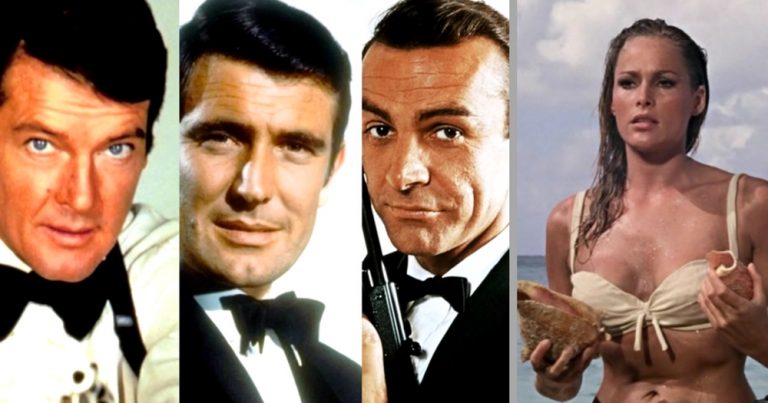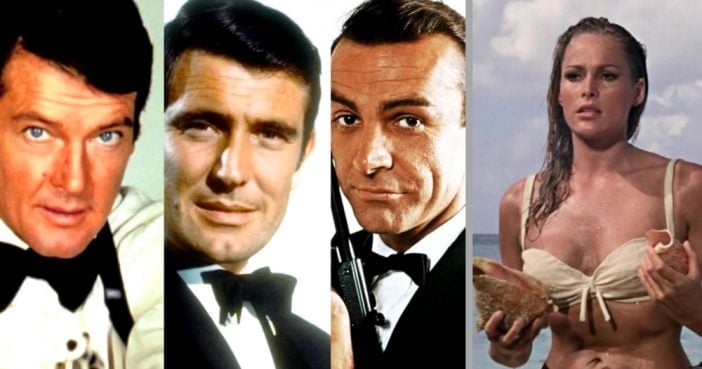 So what's the deal behind the most recognized Bond girl name ever, Pussy Galore?!
8. Pussy Galore
The name "Pussy Galore" is so laughable that even the Austin Powers movies which was a spoof of James Bond parodied it by writing in the character, Alotta Fagina! But Pussy Galore certainly wasn't the only provocative Bond girl name. In fact, a lot of the Bond girls had suggestive names: Dr. No's Honey Ryder, Moonraker's Dr. Holly Goodhead, and Octopussy's Octopussy are just a few examples.
There were a number of love scenes between Roger Moore and Bond girl actress, Madeline Smith, which the late Roger Moore's wife may not have been too happy about…
9. Roger Moore's Jealous Wife
In fact, Roger Moore's wife was always on the Live and Let Die set when he and his Bond girl were filming steamy bedroom scenes. And she watched every single move they made…
In the 1999 movie, The World is Not Enough, the main villain wasn't male as was usually the case…
10. The First Main Female Villain
Elektra King, played by Sophie Marceau, was the main villain of the film! In fact, this film marked the very first time in the series of Bond movies that James Bond kills a Bond girl!
In the movie, Tomorrow Never Dies, Teri Hatcher's Paris Carver has an affair with Pierce Brosnan's Bond…
11. James Bond The Homewrecker
It was the first time an audience had seen Bond engage in an illicit affair with a married woman!
Gemma Arterton played Strawberry Fields in Quantum of Solace in 2008, and she was actually pretty darn lucky to get the role. Almost as lucky as us moviegoers were to have her in the film…
12. Against All Odds
Gemma won the role over about 1,500 other actresses! It could quite literally have been anyone, but the dazzling and charming actress won the role fair and square.
In Casino Royale, Daniel Craig's Bond has a girl, who ends up being the one that got away…
13. No Bond Girl At The End
Casino Royale is the only Bond movie in which James Bond ends up without a girl as the film draws to a close.
James Bond has always been known to sleep around, but the 1983 movie takes things to a whole new level with the aging Sean Connery taking center stage…
14. Bond Is Busier Than Ever Before
In Never Say Never, James Bond sleeps with four women throughout the movie…
Bond travels the world and meets all kinds of different villains… and women! And quite a few of these women happen to be French…
15. Ten French Actresses
Since its inception, there have been ten French actresses in the Bond franchise.
One dedicated Bond girl NEXT