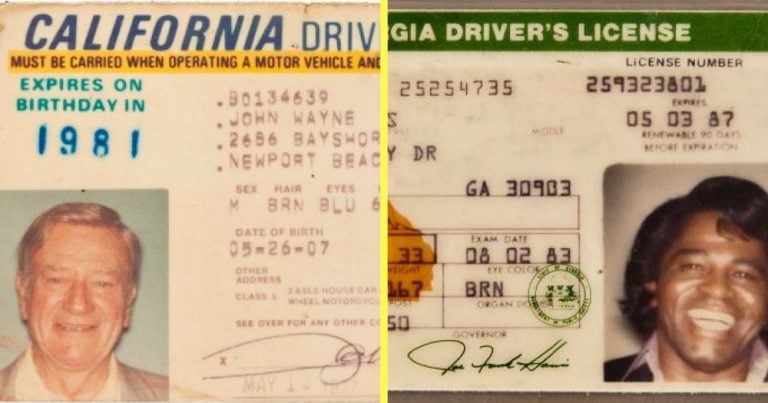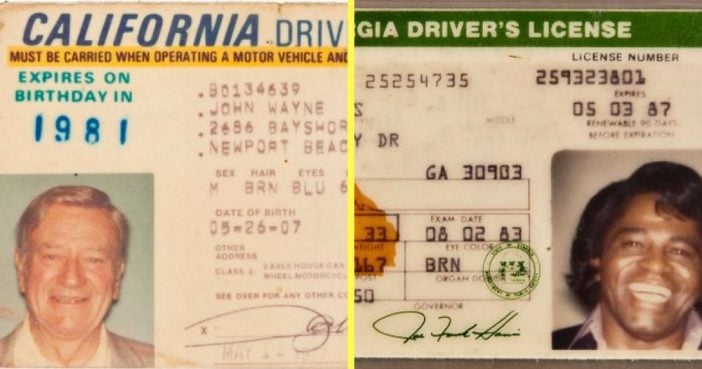 We all know celebrities to have fancy cars and drivers and sometimes it's hard to think about them as regular civilians that share common laws. But one thing that's clear from writing this piece is that any celebrity who has ever had to drive, even if they are before our time, still need to take the appropriate steps to drive their own cars.
Cash's California state driver's license (pictured at the top of this post) was sold in an auction in 2014 for $4,480 and even made an appearance on The Late Show with David Letterman along with the man who had acquired it, Rick Harrison (the star of the reality television show Pawn Stars) who purchased it from an individual who brought it into his store in Las Vegas. Not one to be outdone by the Man in Black, a license once belonging to Alfred Hitchcock (which you can see below) sold at an auction for the tidy sum of for $8,125. Whoa.
Then there's the coolest one in the lot I dug up belonging to a 33-year-old Robert De Niro (pictured below) issued by the New York City Taxi and Limousine Commission in 1976. Known for his commitment to getting as "method" as possible when it came to his acting roles, De Niro prepped for his role as Travis Bickle the aspiring vigilante about to go off the rails in Taxi Driver by spending a number of weeks driving a New York City yellow cab. According to folklore associated with De Niro's time behind the wheel, when he was recognized by one of his passengers they actually believed that De Niro was still working as a taxi driver after winning an Oscar for Best Actor in a Supporting Role in The Godfather II for his impeccable portrayal of young Vito Corleone. Who knew?
When it comes to the story behind Manson's alleged driver's license things are a little sketchy. In the 1971 book The Family author Ed Sanders was able to substantiate that Mason lived at the address noted on the license in Santa Barbara—705 Bath Street—along with Lynn "Squeaky" Fromme and Manson Family member Mary Brunner (the mother of Manson's son Valentine) sometime during 1967—two years prior to his participation in the brutal slayings of director Roman Polanski's pregnant wife Sharon Tate and four others at Polanski's home in Benedict Canyon. The license notes Manson's date of birth as November 11th—which is a point of contention between historians and criminologists alike as Manson's date of birth has also been said to fall on November 12th. So while the jury is still out on the actual authenticity of this creepy artifact, it's still nothing short of chilling to actually see a mundane personal document belonging to one of the most notorious criminals in history.
You can see Manson's maybe driver's license as well as others that once belonged to Davy Jones of the Monkees (RIP),  Dean Martin and a beaming James Brown all of whom look about as happy as we all do (with the exception of Brown of course because, cocaine) in our DMV photos which prove that the DMV does, in fact, hate everyone.
15. John Wayne
The Last Driver's License of John Wayne, 1977. Issued by the State of California on "May 12, 1977."
16. Jim Morrison
Jim's driver license
(via Dangerous Minds, VINTAGE DRIVER'S LICENSES ONCE ISSUED TO ALFRED HITCHCOCK, JOHNNY CASH, JAMES BROWN & MORE!)
If you LIKE this story, please SHARE this story!
Related:
15 Of The Most Iconic Cars Of The 70s