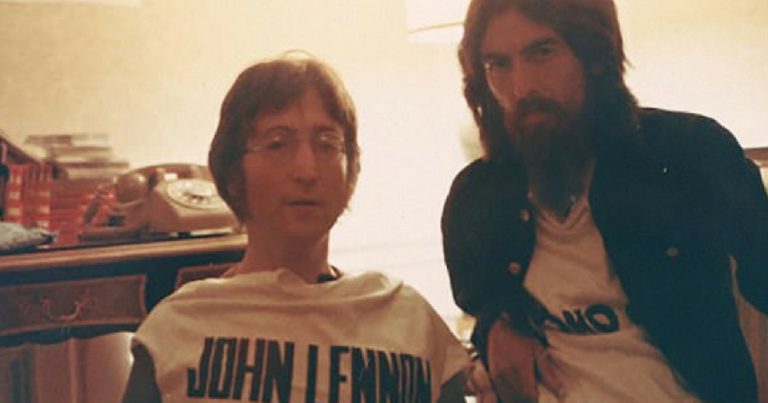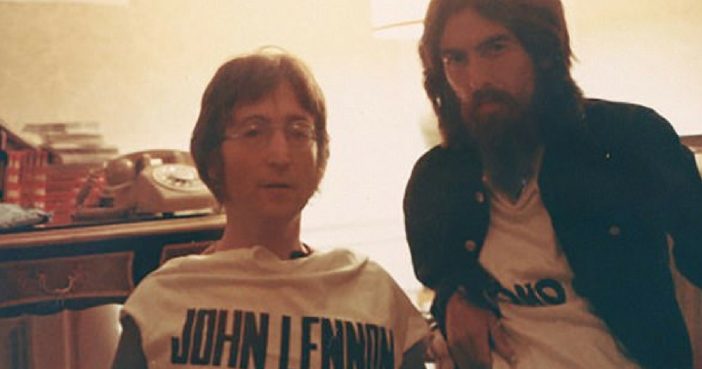 The pictures were taken by an executive for Apple Records and Decca who worked with Harrison and Lennon on the Beatles' final album Let It Be.
The pictures were taken in July 1971, a month before the New York Concert for Bangladesh which Harrison organized in aid of refugees caught up in the genocide.
He kept hold of the photos for 46 years but has now decided to put them up for auction, where they are expected to fetch some £3,000.
In one, Lennon can be seen holding up a white John Lennon T-shirt. He is stood next to Harrison who is wearing a Yoko Ono T-shirt underneath his black jacket.
Another snap shows Lennon wearing a T-shirt and jeans, sporting his trademark round glasses as he sits on a sofa reading a newspaper.
Two more images show a smiling Harrison in the hallway and Lennon deep in concentration as he tried his hand at Japanese calligraphy.
Harrison had stipulated it was only Lennon he wanted to perform and not his musician wife, who was partly blamed for causing the Fab Four to break up.
When Lennon initially agreed to this he and Yoko argued before he pulled out of the concert.
Click NEXT to continue…