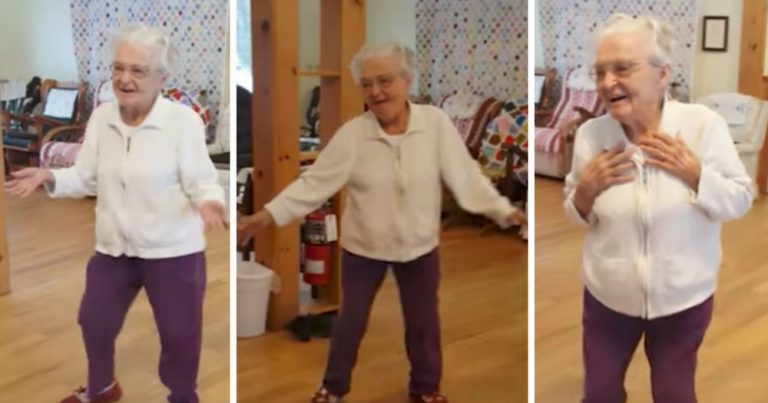 You're never too old to get up and party…. just ask Minerva Boran! Though she may not be able to move the way she used to, that doesn't stop her from getting up to dance when she hears a good song.
When Elvis' "Blue Suede Shoes" came over the speakers at White Birches Retirement Home in Amherst, Nova Scotia in Canada, the 102-year-old woman got up and busted some moves as best as she could.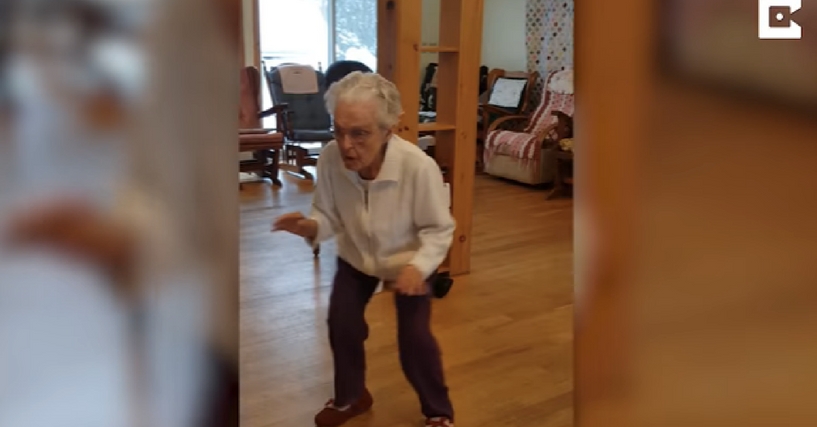 And with such joy. Boran, who has lived at the retirement home since she was 95 and turned 102 in April, got down low, threw her hands up, and clapped along to the beat while she moved her feet. All with a giant smile on her face. It goes to show that you can always remain youthful, even if it's only at heart.
"I always enjoy seeing Minerva dance," residential care assistant Jean Robinson said according to  "It is one of the reasons I love this job. She always brings a smile to everybody's face, not just my own."
And who can blame her? How do you not dance to the King of Rock and Roll?
"Since I've known her she has always been very cheerful, energetic and always has a grin for people," Robinson said.
Everyone who was watching at the nursing some was clapping and cheering her on while Robinson filmed her performance which has now gone viral. Boran reportedly puts on a show for her fellow residents at least twice a week.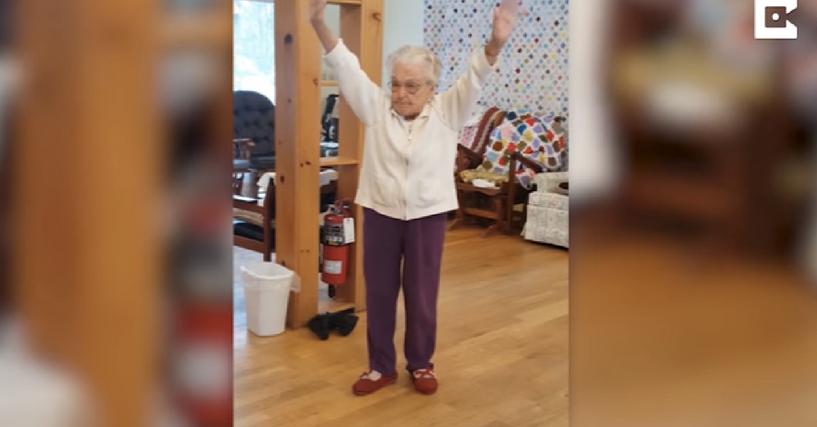 "All her nephews know her as their 'senior teenager' as she is the social butterfly of her family," Robinson said. "I'm just really pleased Minerva feels comfortable enough to continue acting so young as she approaches 102."
So, if you're looking for a reason to dance, now you've got one. If 102-year-old Boran can throw her cares to the wind to bust a move, so can you! Watch her lively performance below.
Do you think her performance is worthy of an encore? What's your favorite Elvis song? Tell us in the comments section below.
Source: Shareably
Related: Johnny Cash, Carl Perkins, Jerry Lee Lewis, and Roy Orbison Pay Tribute To Elvis On 1977's Johnny Cash Christmas Show