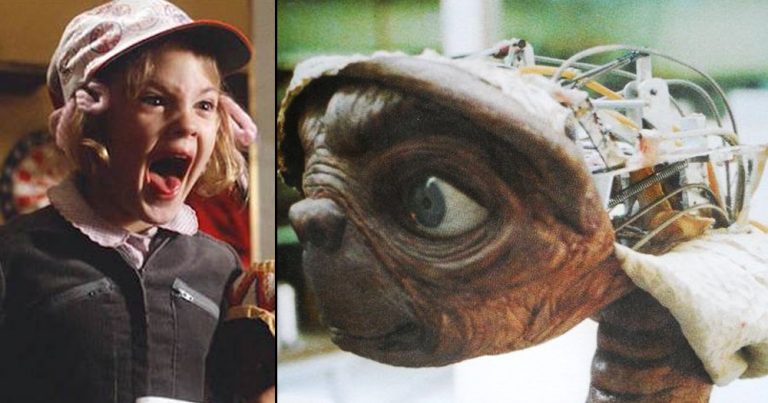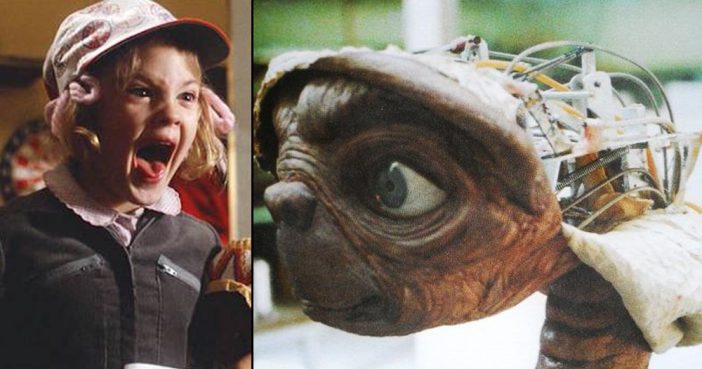 E.T. the Extra-Terrestrial is a 1982 American science fiction fantasy film co-produced and directed by Steven Spielberg, and written by Melissa Mathison. It tells the story of Elliott (Thomas), a lonely boy who befriends an extraterrestrial, dubbed "E.T.", who is stranded on Earth. Elliott and his siblings help E.T. return home while attempting to keep him hidden from their mother and the government.
The concept was based on an imaginary friend Spielberg created after his parents' divorce in 1960. In 1980, Spielberg met Mathison and developed a new story from the stalled sci-fi horror film project Night Skies. It was filmed from September to December 1981 in California on a budget of US$10.5 million. Unlike most films, it was shot in roughly chronological order, to facilitate convincing emotional performances from the young cast.
Released on June 11, 1982, E.T was an immediate blockbuster, surpassing Star Wars to become the highest-grossing film of all time—a record it held for eleven years until Jurassic Park, another Spielberg-directed film surpassed it in 1993. It is the highest-grossing film of the 1980s. Widely regarded as one of the greatest films of all time, critics acclaimed it as a timeless story of friendship, and it ranks as the greatest science fiction film ever made in a Rotten Tomatoes survey. In 1994, it was selected for preservation in the United States National Film Registry as being "culturally, historically, or aesthetically significant". It was re-released in 1985, and then again in 2002 to celebrate its 20th anniversary, with altered shots and additional scenes. 2.
Most of the script was written while filming Raiders of the Lost Ark. Spielberg dictated the story to screenwriter Melissa Mathison, who was the then-girlfriend and future wife of Harrison Ford. 3.
Drew Barrymore originally auditioned for the role of Carol Anne in Poltergeist, but Spielberg felt she was wrong for the role. It was that audition, however, that landed her the role of Gertie. 4.
Elliott was originally supposed to lure E.T. into the house with M&Ms, but Mars, Incorporated turned down the request to use their candy. Reese's Pieces were used instead, and its placement resulted in a 65% surge in sales. 5.
E.T.'s face was modeled after the poet Carl Sandburg, a pug, and Albert Einstein. 6.
Spielberg stated that E.T. is neither male or female. 7.
E.T.'s voice was provided by Pat Welsh and Debra Winger. 8.
All the puppetry was performed by a 2'10" stuntman, except for the scenes in the kitchen: Those were done by a 10-year-old boy who was born without legs but was an expert on walking on his hands. 9.
Elliott's last name is never mentioned. 10.
Elliott's mom was the only adult whose face was shown for the first half of the movie. 11.
In the scene where Elliott tells Gertie "only little kids can see him," Drew ad-libbed the line, "Gimme a break." 12.
The iconic scene where E.T. hides within the stuffed animals was Robert Zemeckis' idea. 13.
Harrison Ford was initially intended to have a cameo role in the film as Elliot's principal, but the scene was cut. Spielberg felt that he would distract people from the film. 14.
The doctors and nurses who worked on E.T. were not actors; they were all real emergency room technicians and were told to treat E.T. the same way they would treat a real person. 15.
To ensure realistic responses from the actors, Spielberg shot the film in chronological order (something that is rarely done). 16.
It worked: All the emotional responses from the actors in the final scene are real. 17.
The film was nominated for nine Oscars at the 55th Academy Awards, including Best Picture and Best Director, but it lost both to Gandhi. 18.
Spielberg came up with the concept for a sequel called E.T. II: Nocturnal Fears, where Elliott and his friends are kidnapped by other aliens and E.T. would come to their rescue. It would also be revealed that E.T.'s real name is Zrek. 19.
Michael Jackson owned one of the puppets used in the film. 20.
In 1983, the film superseded Star Wars: A New Hope as the highest-grossing film of all time in the United States… …and it held the title until Star Wars: A New Hope was re-released into theaters in 1997, and it reclaimed the top spot. (Source: Buzzfeed (Brian Galindo), BuzzFeed & IMDb (Trivia))
Read FULL Buzzfeed Story: 20 Fascinating Facts About "E.T. The Extra-Terrestrial"
What's your favorite memory of E.T.? Leave a comment below.
RELATED READS: