National Lampoon's Vacation
Sometimes referred to as Vacation, is a 1983 American comedy film directed by Harold Ramis and starring Chevy Chase, Beverly D'Angelo, Randy Quaid, Dana Barron, and Anthony Michael Hall. John Candy, Imogene Coca, Christie Brinkley, and a young Jane Krakowski appear in supporting roles. The screenplay was written by John Hughes, based on his short story "Vacation '58" which appeared in National Lampoon. The film was a box-office hit, earning more than $60 million in the US with an estimated budget of $15 million, and received widespread acclaim from critics. In 2000, readers of Total Film voted it the 46th greatest comedy film of all time. It is widely regarded as the best National Lampoon film, and in August 2015 was listed as the best film in the Vacation film series by Daniel Cohen. It continues to be a cult film and a staple on cable television.
For those of you who have yet to see the film the plot centers around the Griswold family. Clark Griswold (Chevy Chase) along with his wife, Ellen (Beverly D'Angelo) and their children Rusty (Anthony Michael Hall) and Audrey (Dana Barron), take on an epic family road trip driving from Illinois to a California amusement park called Wally world. Billed as "America's Favorite Family Fun Park." Clark believe the road trip will build a bond between him and his family – in spite of their reservations. Along the way the Griswold's deal with car problems, being tagged by vandals in a rundown area of St. Louis, mysterious appearances by a beautiful woman (Christie Brinkley) driving a sports car, insane relatives in the form of cousin Catherine (Miriam Flynn), her husband eddie (Randy Quaid), cranky Aunt Edna (Imogene Coca) and her mean dog Dinky and a family death.  All of which add to Clark "need" to reach Wally World .
As the family reaches closer and closer to Los Angeles Clark worries that the trip is being derailed again, he acts impulsively to get his family to the park. Finally meeting their destination they see the park is closed for the next two weeks for repairs. Slipping into madness and realizing that all his efforts have been for nothing, he buys a realistic-looking BB gun pistol and demands that park security guard Russ Lasky (John Candy) take them through Walley World; Eventually, an LAPD SWAT team arrives, along with park owner Roy Walley (Eddie Bracken). Roy understands Clark's impassioned longing to achieve the perfect vacation, bringing back memories of his own childhood years ago. He decides not to file criminal charges against the Griswold's and lets the family – and the SWAT team – enjoy the park as his guests.
Credit: Wikipedia

SEE IF YOU GOT ALL OF THEM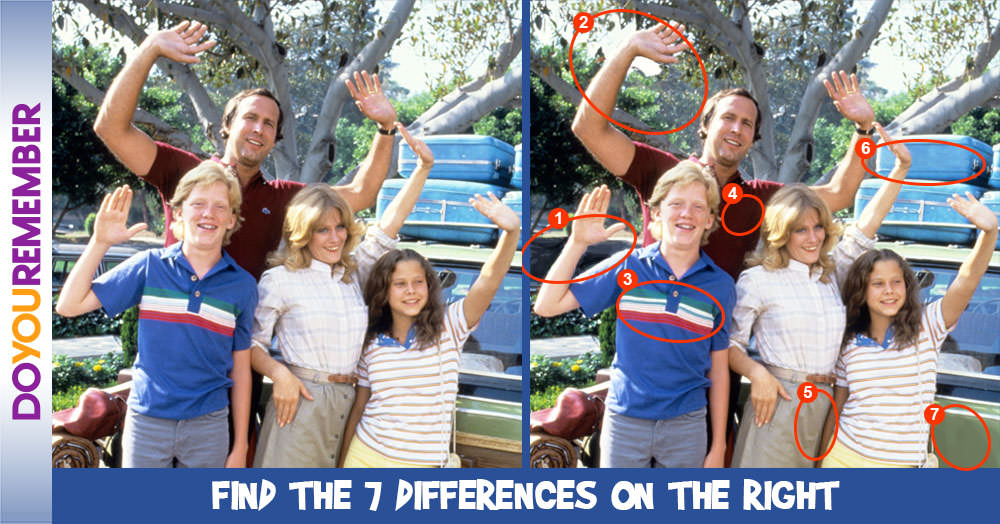 1. The Car Parked in the Background is Gone
2. The Tree Branch is Missing
3. There is an Extra Stripe on Russell's Shirt
4. The Logo from Mr. Griswold's Polo is Gone
5. The Button's from Mrs.Griswold's Skirts are Gone
6. The Metal Detailing on the Suitcase are Gone
7. The Wooden Paneling on the Station Wagon is Gone