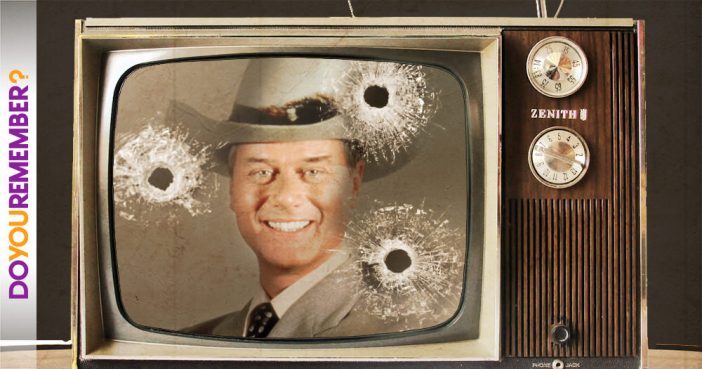 In late November 1980, more than 83 million viewers were glued to their television sets, eager to learn the answer to the question that had reverberated throughout the land: "Who shot J.R.?" In remembrance of Dallas' ratings-shattering cliffhanger, DoYouRemember also looks back at six more famous TV nail biters.
Dallas: "Who Shot J.R.?" (1980)
It took eight months for us to learn the identity of J.R.'s shooter, which turned out to be none other than….
 Soap (1981)
Soap was an iconic soap-opera parody during the 1970s, known for drawing the ire of the gay community, the Catholic Church and every group in between. But there wasn't much to laugh about during the show's final episode, which featured a distraught Chester intent on killing his wife, Annie, and son, Danny, after learning of their affair. Meanwhile, after being kidnapped in South America, Jessica is escorted in front of a firing squad and shot to death. It left audiences stunned, and more so when it was later announced that the controversial show had been cancelled.
The Simpsons: "Who Shot Mr. Burns?" (1995)
A riff on the Dallas whodunit of 15 years earlier, this episode engendered hype like never seen before for an animated series, as viewers spent an entire summer pondering who had gunned down the most hated character in all of Springfield. The following September we learned that it's not always easy taking candy from a baby.
Friends: "The One With Ross' Wedding" (1998)
The final episode of season four of Friends left fans wondering whether Ross had finally come to his senses and decided that he was still in love with Rachel. He mistakenly speaks her name during his exchange of vows with fiancée Emily, and although he tries to make amends she wants nothing to do with him. Meanwhile, Chandler and Monica throw viewers for a curve when they began their secret affair, and Rachel ends up alone on a flight to Greece, with Ross in pursuit of his would-be bride.
Buffy the Vampire Slayer: "The Gift" (2001)
America's favorite high-school heroine, Buffy finally realizes that the only way to save her sister Dawn's soul from the evil Glory and the world from a hellish demise is to sacrifice herself. She does so with an unforgettable leap into the unknown, and a short time later her body is discovered by the rest of the Scooby gang. When the WB network announced that it wasn't bringing back the show, UPN scooped it up and aired new episodes the following season, and although it ran for two more years, many felt the cliffhanger ending of season five was a fitting send-off.
The Sopranos: "Made in America" (2006)
This episode's final moments did exactly what a great cliffhanger is supposed to do: keep viewers debating the outcome, which in this case involved the fate of Tony Soprano. Nobody knew for sure whether the fade-to-black was the final curtain call for the boss of the North Jersey mob, and rumors of a potential movie only added to the unresolved questions. Unfortunately, any hope of that was lost earlier this year with the passing of James Gandolfini.
24: "Day 5: 6:00 a.m.-7:00 a.m." (2006)
After saving the world for the zillionth time in his first five seasons, America's most fearless CTU (Counter Terrorism Unit) soldier Jack Bauer is kidnapped by the Chinese government, who are intent on getting revenge for the death of some Chinese nationals who became collateral damage during one of Jack's missions.