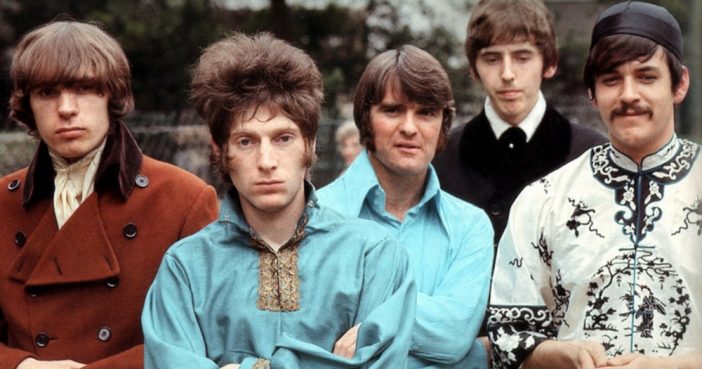 The British progressive rock band Procol Harum was most popular in the late 60's, especially when the band released its hit song ""A Whiter Shade of Pale"  on May 12th, 1967. The hit reached number one in the UK Singles Chart on June 8th, 1967 and remained there for six whole weeks! Without any needed promotion, and it was also nuber 5 on the Bilboard pop chart in the United States. It sold over 10 million copies and is known as one of the leading anthems of 1969.
Check out the music video for the song here:
"A Whiter Shade Of Pale"
We skipped the light fandango
turned cartwheels 'cross the floor
I was feeling kinda seasick
but the crowd called out for more
The room was humming harder
as the ceiling flew away
When we called out for another drink
the waiter brought a tray
And so it was that later
as the miller told his tale
that her face, at first just ghostly,
turned a whiter shade of pale
She said, 'There is no reason
and the truth is plain to see.'
But I wandered through my playing cards
and would not let her be
one of sixteen vestal virgins
who were leaving for the coast
and although my eyes were open
they might have just as well've been closed
She said, 'I'm home on shore leave,'
though in truth we were at sea
so I took her by the looking glass
and forced her to agree
saying, 'You must be the mermaid
who took Neptune for a ride.'
But she smiled at me so sadly
that my anger straightway died
If music be the food of love
then laughter is its queen
and likewise if behind is in front
then dirt in truth is clean
My mouth by then like cardboard
seemed to slip straight through my head
So we crash-dived straightway quickly
and attacked the ocean bed
The songs co-authors consisted of band members Gary Brooker, Keith Reid and Matthew Fisher. Its haunting Bach-inspired instrumental melody, its soulfully-sung vocals, and rather outlandish lyrics by "A Whiter Shade of Pale" earned its No. 1 place in several billboard charts across the world when it was released in 1967.
Reid had originally gotten the idea for the title and the concept for the song at a party. He was eavesdropping, and happened to overhear someone at the party say to a woman, "You've turned a whiter shade of pale," and the phrase began to haunt his mind until he finally brought the pen to paper. The original lyrics of the song had four verses, however only two verses are heard on the official recording. The third verse has been heard in live performances from time to time by Procol Harum, and even more rarely, the fourth verse as well. According to popular journalist Claes Johansen, the song "deals in metaphorical form with a male/female relationship which after some negotiation ends in a sexual act". This is seconded by another journalist, Tim de Lisle who also proposes that the lyrics "concern a drunken seduction, which is described through references to sex as a form of travel, usually nautical, using mythical and literary journeys."
In the end of the day, it is safe to say that the lyrics are definitely about a sexual relationship- however, according to an interview with Keith Reid back in 2008, the artist claimed, ""I was trying to conjure a mood as much as tell a straightforward, girl-leaves-boy story. With the ceiling flying away and room humming harder, I wanted to paint an image of a scene. I wasn't trying to be mysterious with those images, I was trying to be evocative. I suppose it seems like a decadent scene I'm describing. But I was too young to have experienced any decadence, then. I might have been smoking when I conceived it, but not when I wrote. It was influenced by books, not drugs." Ever since the innovation of the song, the phrase "whiter shade of pale" has been used to multiple conversational contexts. Nowadays the phrase is considered a cliche in the common world.
There was, in fact a lawsuit in 2005 having to do with the song. Matthew Fisher, longtime organist filed a suit against Gary Booker and his publicist in High court, his defense being that he co-wrote the music for the original song. Finally, after about five years of battling over the matter in court, according to the Law Lords, "The delay in bringing the case had not caused any harm to the other party; on the contrary he had benefited financially from it. They also pointed out that there were no time limits to copyright claims under English law." In the end, they returned to Fisher the rights to future royalties.
Do you remember this 1967 psychedelic hit? If you do, what are your fondest memories about it? Tell us in the comment section below!
Related Links: