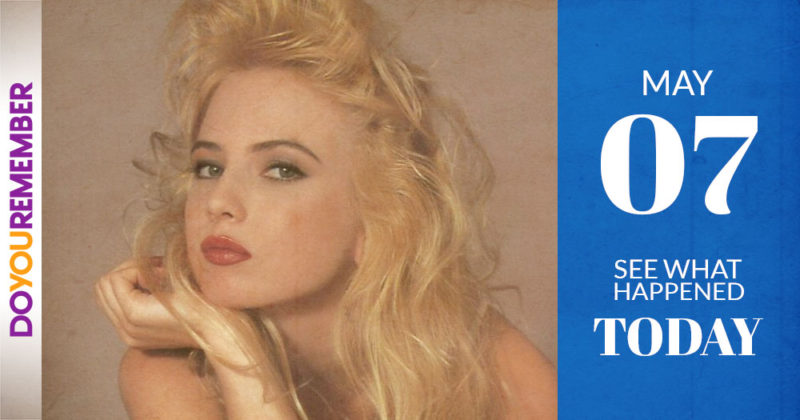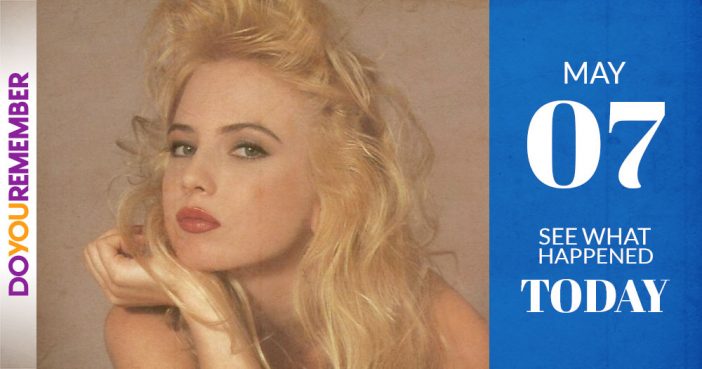 "BORN TODAY – May 7"
Breckin Meyer (1974) Actor, voice actor, comedian, writer, producer and drummer (best known for roles in "Clueless" and "Road Trip")

Eagle Eye Cherry (1969) – Musician ("Eagle Eye Cherry")

Traci Lords (1968) (Pictured Above) – Actress ("Cry Baby")
Michael E. Knight (1959) – Actor ("All My Children")

Ned Bellamy (1957) – Actor ("The Shawshank Redemption")

Peter Reckell (1955) – Actor ("Days Of Our Lives")

Amy Heckerling (1954) – Director, writer

Robert Hegyes (1951) – Actor ("Welcome Back, Kotter")
Tim Russert (1950) – TV host ("Meet the Press")
Bill Kreutzmann (1946) – Musician (Grateful Dead)
Thelma Houston (1946) – Singer ("Don't Leave Me This Way")
Bill Danoff (1946) – Musician (Starland Vocal Band)
Robin Strasser (1945) – Actress ("One Life to Live")
Ricky West (1943) – Musician (Brian Poole & The Tremeloes)

Terry Allen (1943) – Country Singer

Gale Robbins (1921 – RIP 1980) Actress, singer ("Calamity Jane")
Anne Baxter (1923 – RIP 1985) – Actress ("All About Eve")
Darren McGavin (1922 – RIP 2006) – Actor ("Billy Madison", "Airport '77")
Eva (Evita) Peron (1919 – RIP 1952) – Actress, wife of Argentina President Juan Peron, subject of the Broadway musical and film "Evita"
David Tomlinson (1917 – RIP 2004) – Actor ("Mary Poppins")
Gary (Frank James) Cooper (1901 – RIP 1961) – Actor ("Sergeant York [1941]", "The Virginian")
George Francis "Gabby" Hayes (1885 – RIP1969) – Radio, film, and television actor. (Best known as the colorful sidekick of the leading man in numerous Westerns)
Pyotr Ilyich Tchaikovsky (1840 – RIP 1893) – Composer
Johannes Brahms (1833 – RIP 1897) – Composer and pianist
Before we get to the Movies, Here's a little Birthday Thelma Houston 🙂
"MOVIES TODAY"
Click on the movie title to watch it's trailer on Youtube.
"MUSIC TODAY, May 7"
1958 – The Champs performed their #1 smash "Tequila" on American Bandstand.

1964 – The Searchers scored their third #1 song in the U.K. with "Don't Throw Your Love Away".

1966 – The Rolling Stones released the single "Paint It Black" in the United States.

1966 – The #1 album continued to be Going Places by Herb Alpert & the Tijuana Brass, followed closely by the group's Whipped Cream & Other Delights.

'66 – The Percy Sledge classic "When A Man Loves A Woman" was on top for the first of four weeks on the R&B chart.

1966 – The Mamas and the Papas started a three week run at No.1 on the US singles chart with 'Monday Monday' .
1967 – Jimi Hendrix played two shows at London's Saville Theatre. Ringo Starr, Brian Jones and members of The Beach Boys and The Moody Blues were in the audience.

1967 – Pearls Before Swine begin recording an album called 'One Nation Underground'.

1967 – Pink Floyd appeared at The Mojo Club, Tollbar, Sheffield, England, opened and owned by Peter Stringfellow. Acts who have also appeared at the club include Stevie Wonder, John Lee Hooker, Rod Stewart, Ike and Tina Turner, The Who, Small Faces and Jimi Hendrix.

1971 – Three Dog Night chalked up a fourth week at #1 with "Joy To The World".  Lobo moved from 16 to 10 with "Me And You And A Dog Named Boo".

1971 –  'Moonage Daydream' was released as a single by Arnold Corns, a band, formed by David Bowie the name of which was inspired by the Pink Floyd song 'Arnold Layne'. This was one of Bowie's side projects and something of a dry run for Ziggy Stardust. The song later reappeared on Ziggy Stardust in a new version with updated lyrics.

1972 – Reginald Dwight changed his name by Deed poll to Elton Hercules John.

1972 – The Rolling Stones released the second album on their own label, Exile On Main Street, featuring two hit singles, 'Tumbling Dice' and 'Happy'.

1973 – George Harrison released the single "Give Me Love–Give Me Peace On Earth" on Apple Records (May 7).
1974 – Led Zeppelin held a party at the Four Seasons Hotel in New York City for the launch of their new label Swan Song.

1977 – Deniece Williams had the #1 U.K. song with "Free".

1977 – Marvin Gaye had the #1 R&B song with "Got To Give It Up".

77 – Yvonne Elliman was #1 for a second week on the Adult Contemporary chart with her cover of "Hello Stranger".

'77 – Former backing singer with Stevie Wonder, Deniece Williams was at No.1 on the UK singles chart with 'Free', her only UK No.1 hit.

1977 – The Eagles went to No.1 on the US singles chart with 'Hotel California', the group's fourth US No.1, a No.8 hit in the UK.

1978 – 90,000 tickets were sold in eight hours for Bob Dylan's forthcoming London dates at Earls Court.

'78 – David Bowie played the first of three nights on his Low / Heroes world tour at Madison Square Garden in New York City.

1978 – Bob Dylan sold 90,000 tickets in less than eight hours for upcoming concerts at London's Wembley Empire Pool.

1983 – Thriller by Michael Jackson was the top album for the 11th week.

'83 – "I Won't Hold You Back" by Toto was #1 for a second week on the Adult Contemporary chart.

1983 – Paul Weller unveiled his new group Style Council at an anti nuclear benefit gig in London.

1983 – Spandau Ballet were at No.1 on the UK singles chart with 'True', the group's only No.1. The song spent four weeks at the top of the UK chart and was a hit in 20 other countries.

1984 – The Cars released the single "Magic."
1988 – Terence Trent D'arby went to No.1 on the US singles chart with 'Wishing Well', a No.4 hit in the UK.

1988 – The "Dirty Dancing" Soundtrack was #1 on the Album chart for the 18th week, followed by Faith from George Michael.

1992 – A leather Jacket worn by John Lennon during 1960-1963, was sold at Christies, London, England for £24,200.

1994 – Aerosmith played the first of seven nights at the Nippon Budokan in Tokyo, Japan, during their 245 date 'Get A Grip' world tour.

2000 – Britney Spears went to No.1 on the UK singles chart with 'Oops!… I Did It Again'.
"TV/RADIO TODAY (May 7)"
1987 – Shelly Long, as Diane Chambers, made her last appearance as a regular on the TV show "Cheers."
"OTHER IMPORTANT EVENTS from May 7…"
1847 – The AMA (American Medical Association) was organized in Philadelphia, PA.

1940 – Winston Churchill became British Prime Minister.

1946 – Tokyo Telecommunications Engineering Corp. was founded. The company was later renamed Sony.

1968 – Reginald Dwight decided to change his name to Elton John.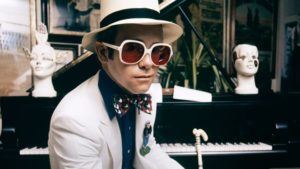 1975 – U.S. President Ford declared an end to the Vietnam War.

1992 – Nigel Preston drummer with The Cult died in London, England aged 32. Was a founding member of The Death Cult, he also played and recorded with Sex Gang Children, Theatre of Hate and The Gun Club.

1994 – The Edvard Munch painting "The Scream" was recovered after being stolen 3 months earlier from an Oslo Museum. This version of "The Scream", one of four different versions, was painted on paper.

1998, Eddie Rabbitt, US singer, songwriter died of lung cancer aged 56. During his career, he scored over 20 No.1's on Billboard's country singles chart including 1981 'I Love A Rainy Night'. Elvis Presley, Dr Hook, Tom Jones, Kenny Rogers, Crystal Gayle and Lynn Anderson all recorded his songs.

1998 – Leeza Gibbons received a star on the Hollywood Walk of Fame.

1999 – Jerry Moss received a star on the Hollywood Walk of Fame.

2003 – Roger Moore collapsed during a matinee performance of the Broadway comedy "The Play What I Wrote." He finished the show after a 10-minute break. He was fitted with a pacemaker the following day.
May 7…"NATIONAL DAYS"
Please help us keep our daily "DYRT" (Do You Remember Today") up to date. If you have any additions, subtractions, changes or suggestions, we would appreciate your feedback! Thank you!