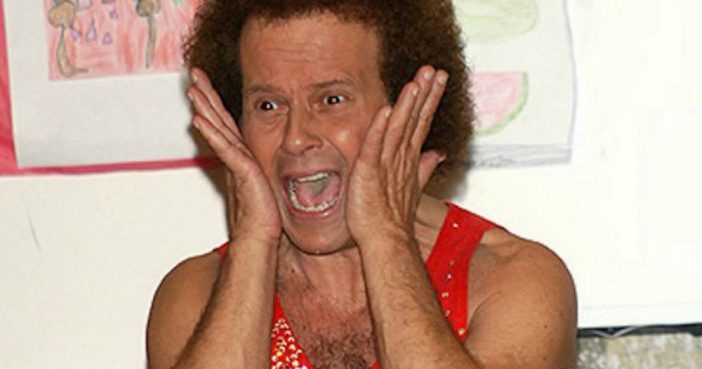 On Feb. 15, 2014, fitness guru Richard Simmons disappeared from the public eye. He stopped teaching his classes at his Los Angeles studio, Slimmons. He didn't return phone calls, emails or messages from his friends or fans. The man, who had spent his 40-year career helping people sweat off the pounds and improve their well-being, simply went dark.
Dan Taberski had met Simmons while attending his exercise classes at his L.A. studio in 2012. During their friendship, Taberski and Simmons had discussed doing a documentary together about Simmons' life. But when Simmons disappeared, Taberski shifted gears. On the third anniversary of Simmons' disappearance, Dan Taberski launched the podcast "Missing Richard Simmons."
Read Full Story Here: Missing Richard Simmons: The Story Behind The Number 1 Podcast
https://youtu.be/iifNmFKJ9ds
TRIVIA:
Famous for always appearing in public in candy-striped Dolfin shorts, and tank tops that have been hand decorated with Swarovski crystals.
Has not appeared on the The Howard Stern Show (1990) since November 1992, though he was once a regular guest. During his last appearance on the show, he ran out of the studio in tears after Howard told him "Your belly hangs like your nuts."
Much of his hair fell out due to losing weight in an unhealthy manner. He then had to have hair transplants, moving some of his own hair from the back of his head to the front. He urges others to lose weight in a healthy manner so they won't have the same problems he did.
He runs his own workout studio, Slimmons. He opened it over 30 years ago,in Beverly Hills, California after finding that established gyms and exercise studios tended to favor already fit people while discouraging beginners and the overweight. As such, he endeavored to create an encouraging environment for that previously neglected clientèle. He still teaches three days a week when he's in town.
Loves Barbra Streisand, Broadway musicals, and one of a kind Art dolls, and Art Glass…having been an Art Major in college himself. He owns a vast of Art Dolls. Much of his Art Glass collection was destroyed by the Northridge Earthquake.
When appearing with two of his weight-loss clients on The Howard Stern Show (1990) in 1990, Stern taunted his clients by waving food in front of their faces using a fishing pole. A large roasted chicken was lowered from the ceiling as well, to the shock and dismay of Richard's clients. One of those clients, Michael Hebranko, later ballooned to over 1,000 pounds and had to be rescued from his New York brownstone by 20 paramedics, policemen and firemen. Though he quickly dropped much of the weight he had regained, three years later Hebranko again had to rescued from his apartment after gaining the weight back.
He was initially motivated to lose weight when he received an anonymous note, left on his car, reading, "Fat people die young. Please don't die."
His top weight was 268 lbs before he learned to control it.
Briefly studied for the priesthood.
Honored for his dedication to the cause of Health & Fitness with his induction to the National Fitness Hall of Fame in 2006.
During his 4-year stint on General Hospital (1963), Simmons began personally answering fan mail. To this day, he still personally answers e-mails & letters, and makes hundreds of phone calls a week to people who seek his help, or who simply need to begin with a motivational phone call.
He just launched a brand new website. He is filming four new videos which will be available by the end of the year. And he is working with Sirius radio on a weekly radio show which will begin in October 2005. He still teaches aerobics all over the country, and at his own studio, Slimmon. [September 2005]
Sells his own line of dolls on The Home Shopping Network. [November 2003]
ALSO READ:

Most Incredible (OR Incredibly Awful) Dances Inspired By Songs
The Odd Jobs Celebrities Had Before They Were Famous
"A Christmas Story" 's Ralphie: Where Is He Now?
Stayin' Alive Is Still Alive After 40 Years