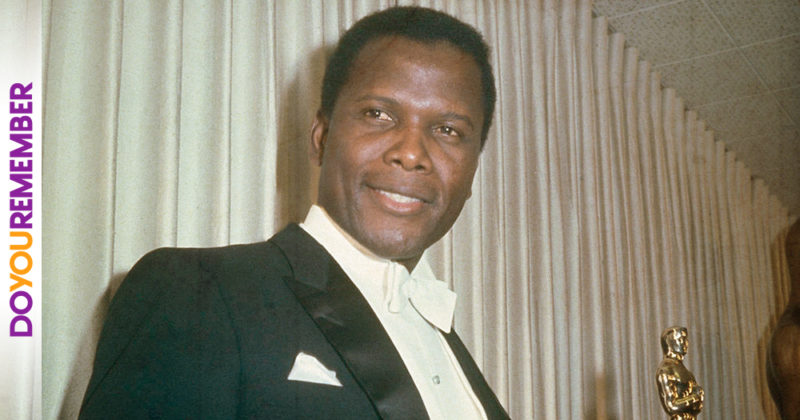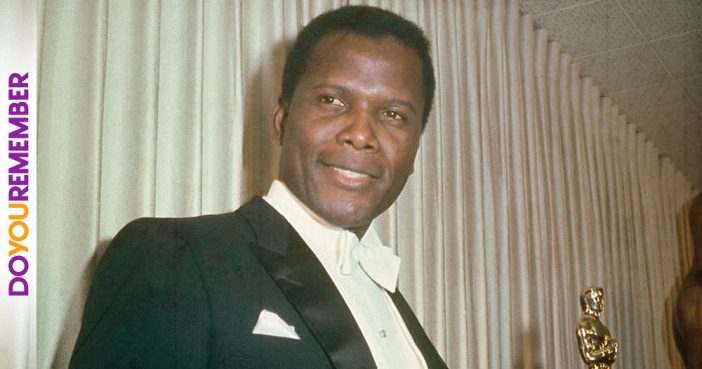 Academy Award-winning actor Sidney Poitier—a man who revolutionized Hollywood and the world with his towering performances is celebrating a big birthday on February 20th!
In honor of his incredible career, DoYouRemember presents our top Sidney Poitier performances. Please add any we may have forgotten about in the comments!
The Defiant Ones (1958)
"The Defiant Ones (1958)" – This groundbreaking drama stars Poitier and Tony Curtis as two escaped convicts who are shackled together and must cooperate with one another if they are to achieve their freedom.
Both actors were nominated for Oscars for their portrayals of two men who overcome their mutual hatred and work toward their greater good. Tony Curtis insisted that Sidney Poitier receive top billing.
A Raisin in the Sun (1961)
"A Raisin in the Sun (1961)" – In his re-creation of the role he originated on Broadway, Poitier plays Walter Lee Younger.
Walter is an opportunist man who shares a cramped apartment with his wife, son, mother and sister, while struggling with his place in the world. The character Willie Harris was portrayed by Roy Glenn. Glenn shared the screen with Sidney Poitier in Guess Who's Coming to Dinner (1967), in which he portrayed Poitier's father (though in actuality, Glenn was only ten years older than Poitier).
Lilies of the Field (1963)
"Lilies of the Field (1963)" – In a performance that won him the Academy Award for Best Actor (the first time an African-American male received a competitive Oscar), the star plays unemployed construction worker Homer Smith, who happens upon a farm in the desert while heading out west and is hired by three German nuns to build a church for them.
Sidney Poitier decided to give up his usual salary and agreed to do the film for a smaller amount and a percentage of the profits. He won the Best Actor Oscar for his efforts.
In the Heat of the Night (1967)
"In the Heat of the Night (1967)" -One of his strongest performances, Poitier portrays Philadelphia homicide detective Virgil Tibbs, who, after being mistaken for a criminal in a small, prejudiced Mississippi town, is recruited by the racist police chief (Rod Steiger) to help solve a murder.
The scene that took place at the Sheriff's house featured dialogue that came out of improvisations between Rod Steiger and Sidney Poitier.
Guess Who's Coming to Dinner (1967)
"Guess Who's Coming to Dinner (1967)" – In Stanley Kramer's groundbreaking comedy of identity politics and race relations, Poitier stars alongside Katharine Hepburn and Spencer Tracy as Dr. John Prentice, the fiancé of a young, liberal white woman who brings him home to San Francisco to meet her unsuspecting parents.
The wry script makes many fine observations while skewering the supposedly "open" mentality of the 1960s. The film is included among the American Film Institute's 1998 list of the Top 100 Greatest American Movies.
To Sir, with Love (1967)
"To Sir, With Love (1967)" – In this British drama, Poitier portrays an engineer who must instruct a group of uncivilized teenagers in an inner-city school. Although he initially struggles to gain control of the situation, he soon imposes his will on the students, teaching them to respect each other and himself in the process.
The film did so unexpectedly well in the States that Columbia Pictures did market research to find out why so many people had gone to it. Their answer was simple: Sidney Poitier.
Uptown Saturday Night (1974)
"Uptown Saturday Night (1974)" – In a comedy he directed, Poitier and Bill Cosby decide to escape from their dull, blue-collar lives with a trip to a local gambling spot. Unfortunately for them, armed robbers visit the place on the same night and make off with all of their money, along with what is later discovered to be a winning lottery ticket. The men do whatever it takes to get it back.
This film was Flip Wilson's first film performance.
Let's Do it Again (1975)
"Let's Do It Again (1975)" – Fraternal brothers Clyde Williams (Poitier) and Billy Forster (Bill Cosby) are trying to raise money to save their Atlanta church from being evicted. They devise a scheme to travel to New Orleans and rig a boxing match using hypnosis. Everything goes according to plan until two rival gangsters who have both been cheated by the men come after them looking for payback, with interest.
This was another movie directed by himself, the great Sidney Poitier. This movie was the sequel to Uptown Saturday Night (1974), and the second time Sidney Poitier directed Bill Cosby.
Sidney got an Honorary Oscar in 2002, presented by Denzel Washington…
RELATED: Five Of The Major Kirk Douglas Movies We Watched With Our Parents