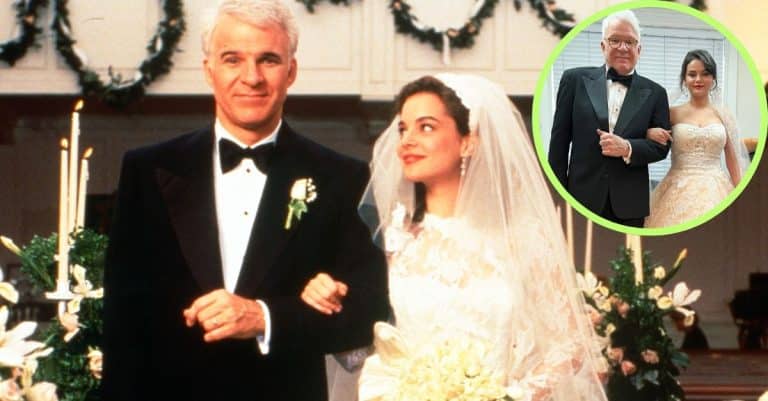 Wedding season is fast approaching and Steve Martin is ready to go full Father of the Bride mode even on the set of a completely different project. Martin has been reuniting with his Father of the Bride co-star, along with Selena Gomez, for the Hulu whodunit Only Murders in the Building. Along the way, everyone took a trip down memory lane – and the aisle – in some fun, nostalgic pictures.
The first Father of the Bride film released in 1991 and starred Martin as Mr. George Banks, who must contend with saying goodbye to his daughter as she prepares to get married – and must contend with the price tag that comes with all the pageantry of the event. With such a powerful union of the stars, Martin, Martin Short, and Gomez took full advantage for some lovely shots.
Steve Martin recreates 'Father of the Bride' alongside Selena Gomez and Martin Short
Guess what just happened! pic.twitter.com/V4aNJjQUKW

— Steve Martin (@SteveMartinToGo) March 21, 2023
On March 21, Martin took to Instagram to show a photo of himself and Gomez standing side by side. Since they're working on Only Murders in the Building together, this isn't anything new. What's particularly special, though, is their wardrobe choice, with Martin garbed in a black suit and bowtie and Gomez decked out in an elegant, lacy wedding dress and veil.
"Guess what just happened!" Martin captioned the post. The official Instagram page for Only Murders in the Building shared that same picture and added a caption that says what everyone's thinking: "Father of the Bride?" Indeed, in the comments for Martin's original post, one user queried, "Please tell me Martin Short is planning it."
Martin Short joins the fun while solving mysteries
Turns out this happened, too. pic.twitter.com/2bWzL3Z15J

— Steve Martin (@SteveMartinToGo) March 21, 2023
In Father of the Bride and its '95 sequel, Short aided the Banks family as the decadent wedding planner who raised George's blood pressure and the wedding's cost in equal and proportionate measure. So, it only makes sense that Martin shared a follow-up post, this time starring Gomez still in a wedding dress alongside Short in formal attire of his own. "Turns out this happened, too," Martin captioned this addition.
Despite the strong, perfect parallels to Father of the Bride, this was, at the end of the day, for Only Murders in the Building. But none of the stars gave any sign of who Gomez's character, Mabel, was marrying. However, fans of the murder mystery were treated to a new teaser starring Meryl Stree as the latest addition to the star-studded cast.
If season three follows the trends of the last two seasons, it can be expected on Hulu this summer.