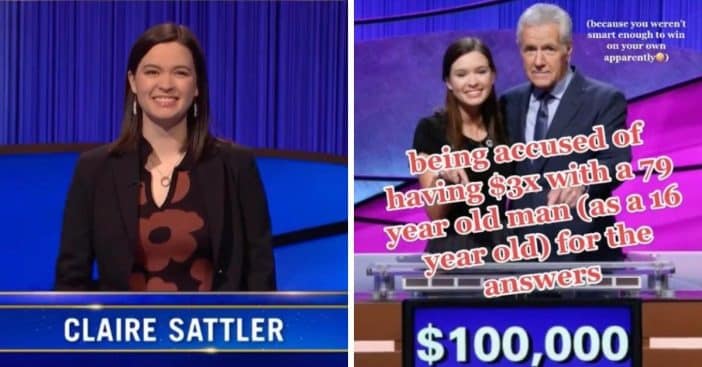 Former Teen Jeopardy! Winner, Claire Sattler has recently revealed that she was bullied and harassed after her 2018 achievement on the show. Sattler, who now attends Yale University, spoke about the difficult experience in a video that was posted on TikTok.
The clip was captioned "What was it like being on Teen Jeopardy!?" and was set to a tune of "Pompeii" by Bastille but the lyric was swapped with "emotional damage," before proceeding to detail the harassment that she faced during and after her time on the show.
Claire Sattler reveals that she was accused of sleeping with 'Jeopardy!' host
Sattler posted a video of herself crying during an interview with NBC2. The former Jeopardy! contestant revealed that there were allegations and rumors flying around that she had an intimate relationship with the show host so as to get access to the answers.
"Being accused of having sex with a 79-year-old man (as a 16-year-old) for the answers," she laments in the video which featured a picture of Sattler and Trebek posing on the set of the show.
Fans react to Claire Sattler's video
The video which has gone viral and garnered above 189,000 views has led to a series of comments from netizens. "So sorry this had to happen to you, I watched your original appearances and you were such a great player," a person wrote. "F'n sucks that people treat you this way," another comment read. "That f**king sucks. People are the worst. I'm sorry you had to go through that," says another.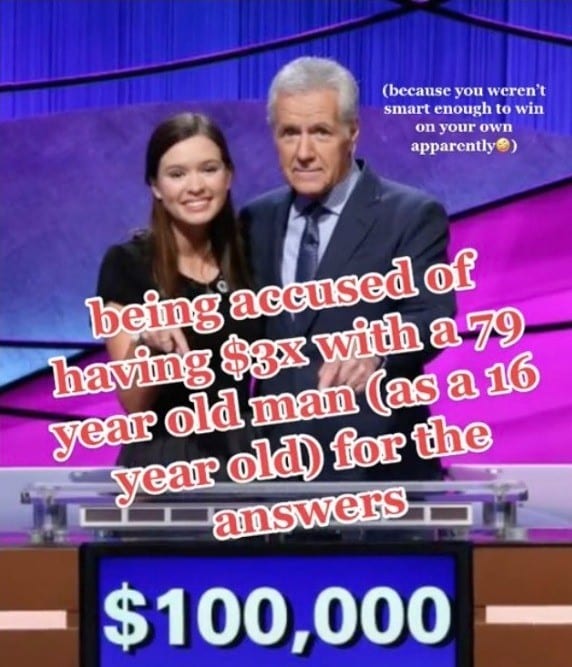 However, some other people spoke about their personal experiences with online harassment because they were also on TV. "Hey! I was on the Wheel at 19 years old. I thought my trolls were bad," the comment read. "Sorry you went through that."