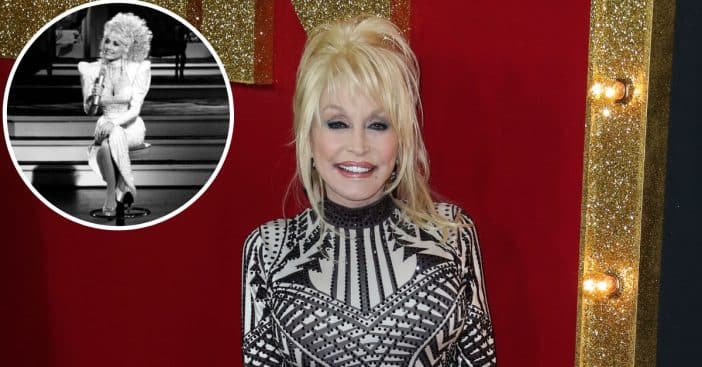 Over the years, Dolly Parton's country style has been like no one else's, examples being her dramatic hairdos, red nails, and a classy wardrobe. The talented "Jolene" singer started out writing songs for others before coming into the limelight with her 1967 debut album, Hello, I'm Dolly.
Dolly's music made the top spots in charts of the '70s and '80s and has sold more than 100 million records worldwide, earning her the title of best-selling female artist of all time. When it comes to style, Dolly is top-notch and particular about it. In an interview with Adam Grant on his podcast, Dolly revealed that people complained about "the way I look and the way I looked then was a country girl's idea of glam. People wanted me to change, they thought I looked cheap. But I patterned my look after the town tramp."
Dolly looks from way back:
1965 Dolly
This black and white photo from 1965 of 19-year-old Dolly is calming to look at, complete with a high beehive hairdo.
The Pink Dress
This famous late '70s photo of Dolly in a sheer pink dress, pink heels, and her rich silvery hair is one for the books. The portrait was for her album, Heartbreaker.
Disco Dolly
This was the disco era, and Dolly rocked it in a bedazzled jumpsuit and platform sandals.
Stage Performance
Dolly wore a jeweled pink two-piece set with big hoop earrings, and her hair done in a big, dramatic way. She was all smiles as she strummed her banjo during the 1976 performance.
Working Girl
The 9 to 5 singer rocked this "working gal" look in a floral print top, a matching headscarf, and a denim button jacket.
'Here You Come Again'
Dolly wore a red polka-dot shirt and high-waisted denim jeans in a shoot for her album Here You Come Again.
1977 in Detroit
Dolly posed for a photo just before a performance in Detroit in her usual country look and a flower in her hair.
'9 to 5′
This pretty photo of Dolly is from the set of 9 to 5 in 1980. Dolly wore a knit top and her big hairdo, with a phone in her hand while filming.
With Lily Tomlin and Jane Fonda
Dolly posed with Lily Tomlin and Jane Fonda in a satin and lace dress with a pink fur coat at the premiere of 9 to 5.