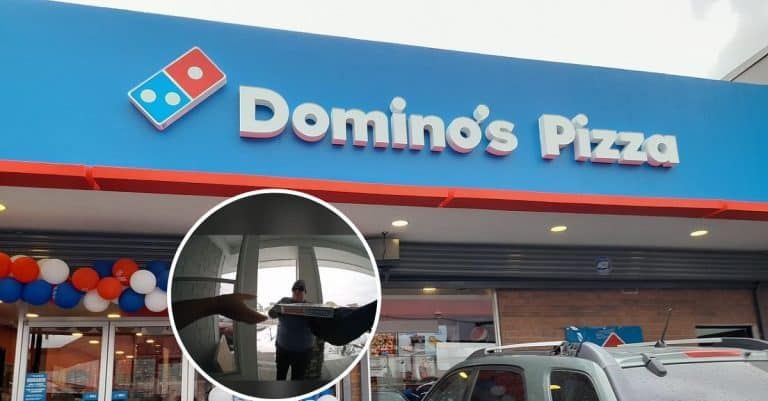 Recently, an angry customer took to TikTok to express her concerns about how "The Entitlement Is Killing Me[her]." The disappointed user uploaded a security camera footage showing a Domino's delivery driver who asked her for a tip before handing over the pizza she ordered.
The video, which has since gone viral on TikTok, generated a debate among netizens about differentiating between gratitude and entitlement. The footage, released on Dec. 11, garnered over 2.7 million views by Dec. 13, with most TikTok users commenting about who to blame.
The video
In the TikTok video, the Domino's employee was seen demanding to be tipped by a customer who declined. To show her displeasure, the delivery driver made a nasty comment that they should drive to get their pizza since they own a car.
The customer, who was seemingly pissed at the sense of entitlement exhibited by the deliveryman, didn't hesitate to fire back at her that she chose to use the delivery service for her own "convenience," and stating the obvious that the Domino's employee is being unprofessional by soliciting for tips.
Netizens' reactions to the Domino's delivery video
TikTok users have taken to the comment section to air their opinions on the issue. Some have cast their blame on the customer for her attitude, while most people blame the Domino's employee. "STG get ur broke ahh on next time & go get it," a user said, criticizing the customer. "That's embarrassing not to tip a driver," another person wrote.
However, people offered their support to the customer as they expressed their disgust at the driver's forward approach to the gratuity grab, which was a turnoff that could have triggered the customer. "I always tip. but the audacity to immediately say 'tip?'?" a TikTok user wrote in defense of the customer. "If someone literally said 'tip?' to me before I had the chance to even reach in my pocket and grab it, I simply wouldn't give it to her anymore," another TikToker commented.
Also, another person claimed that the deliveryman's demand for a tip was unprofessional, "Who asks for a tip BEFORE giving the pizza, though? Lol."
The aggrieved customer has reacted to some of the negative comments directed at her by some TikTok users who criticized her for not giving tips. In a new video she shared on her page, she advised the driver and his supporters to learn "how to code."