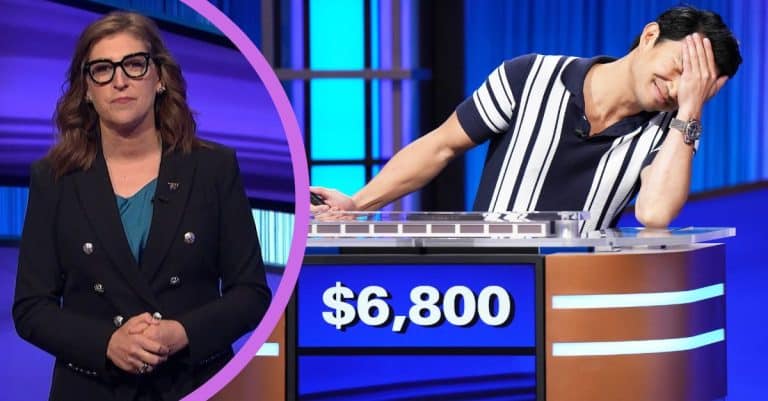 Jeopardy! has expanded in many ways, adding new categories, generating a tournament made up of the best of the best, and hosting celebrities to see which stars know their stuff. While Ken Jennings has returned to hosting Jeopardy!, Mayim Bialik is running Celebrity Jeopardy!, which recently kicked off on ABC.
The first episode, which is known as "Quarterfinal #1," aired on Sunday and saw Simu Liu, Andy Richter, and Ego Nwodim compete for victory. Across this season, there will be 27 celebrities taking place of the usual competitors Jeopardy! sees. Now that viewers have gotten a taste for this new style of the game show, fans have taken to social media to pass their verdicts. How is it measuring up, and what happened?
'Celebrity Jeopardy!' is back
I really enjoyed this new celebrity jeopardy format. An hour of jeopardy is awesome, and lots of chatting with the contestants is fun. https://t.co/pNuyI7vsSc

— Jackie Pepper ✊🏽☮️🌊😷 (@Jackie_Pepper) September 27, 2022
Recruiting celebrities to compete on Jeopardy! goes back decades, with the special session airing on October 26, 1992. It has seen public figures like Ashton Kutcher, Anderson Cooper, and even Stephen King and Carol Burnett, sometimes under different program names. These days, it's going to be hosted by Bialik, who shares the responsibility of running Jeopardy! with Jennings. Both have been compared to the late Alex Trebek, who hosted Jeopardy! for almost four decades, and then they face comparisons between one another.
So, how are fans liking Celebrity Jeopardy! so far? Opinions are mixed. One user took to Twitter saying, "I really enjoyed this new celebrity jeopardy format. An hour of jeopardy is awesome, and lots of chatting with the contestants is fun." Another partially agreed, saying, "I'm really enjoying Celebrity Jeopardy and no disrespect to the great Andy Richter but he shouldn't ever be the biggest celebrity." For another user, however, "It feels like Jeopardy writers are scripting Mayim's jokes here. Just awful."
A rundown of the latest 'Celebrity Jeopardy!'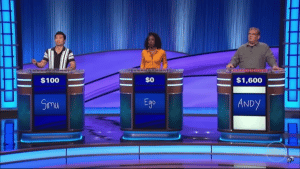 If nothing else, the latest Celebrity Jeopardy! certainly provided a lot of tension and twists. In contrast to the original show, this program was broken into three parts: Jeopardy, Double Jeopardy, and Triple Jeopardy. Like Celebrity Jeopardy! contestants in the past, these pop culture icons competed to win money for a charity of their choice, not unlike what the philanthropic Alex Trebek would have wanted. Liu competed on behalf of Stop AAPI Hate, while Richter wanted to raise money for the Los Angeles Regional Food Bank, and Nwodim played for God's Love We Deliver.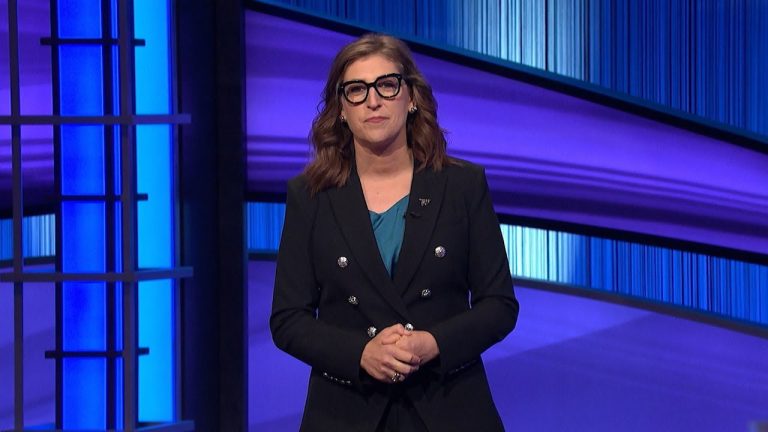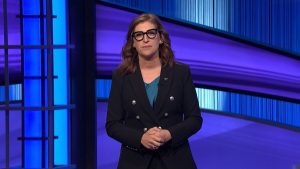 As a former Celebrity Jeopardy! competitor, Richter seemed poised to repeat history and secure another win. By the time they reached Final Jeopardy, Liu had $11,600, while Richter had $21,100. But when presented with the clue, "It's the world's smallest landlocked country in both area and population," Richter answered incorrectly with Lichtenstein. Nwodim did not win anything from that round after answering Togo. But it was Liu who answered Vatican City and brought his earnings up to $23,200, coming for victory from behind.
Did you watch any Celebrity Jeopardy! episodes?