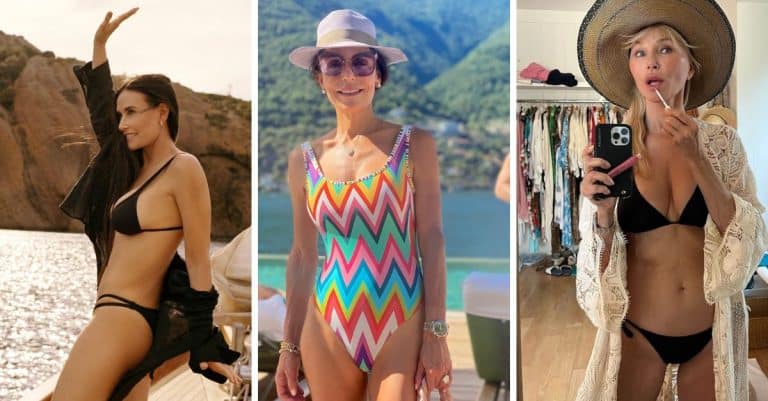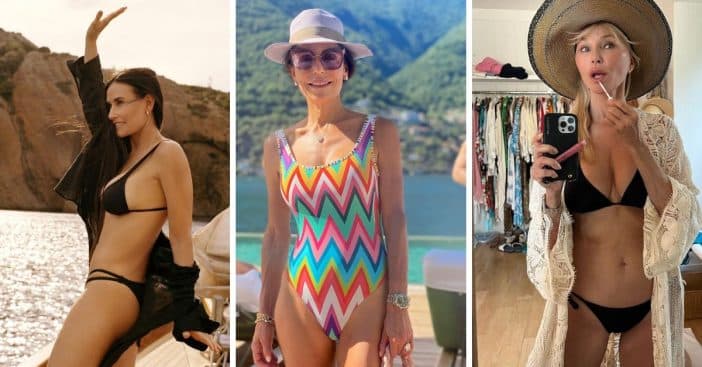 The common saying "age is just a number," as fallacious as it might seem, has been proven right by Hollywood stars who are still showing off dashing bikinis and well-toned bodies either at their backyard pool or on fabulous vacations at the beach. These Hollywood icons who are well above the age of 50, from Cindy Crawford to Sharon Stone, Demi Moore, Christie Brinkley and Bethenny Frankel, are serving their fans with a dose of their hot bodies on Instagram and in real life.
This crop of beautiful Hollywood celebrities are not afraid nor ashamed to share their amazing bodies with the world as they challenge the norm with their daring and confident pictures while rocking swimsuits. And, their actions are generating waves of excitement all over the world among their fans, inspiring them to go for a more fit life.
Demi Moore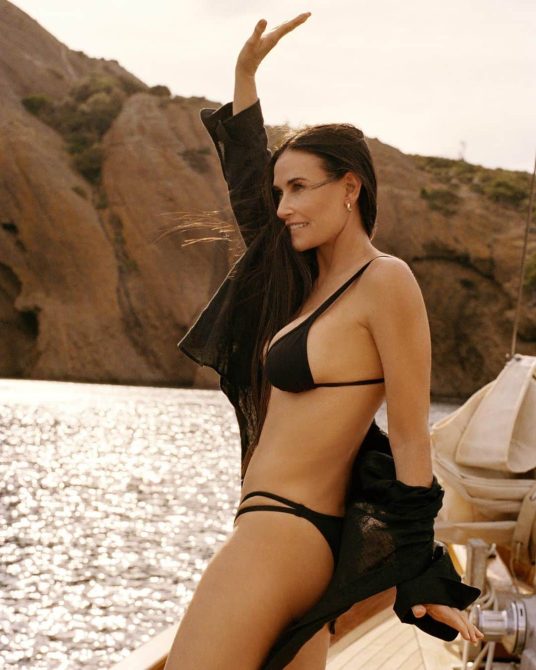 Actress Demi Moore is a natural at rocking swimsuits and her sexy pictures, which she has shared on social media, are a true testament that she could well pass for a supermodel. The Indecent Proposal star has never been frightened to show off her body while clad in a swimsuit, either through her images on Instagram or her pose at the beach.
She uploaded two mirror selfies in July 2021 as she put on a small black two-piece while she was vacationing in Greece. Captioning the post, she wrote, "Getting ready for another day in paradise."
During the trip she was also pictured on the beaches of Mykonos in the company of Rumer Willis, her eldest daughter. The duo looked amazing in their strappy bikinis as they relaxed on beach chairs while basking in the summer sun. The 59-year-old actress, speaking on how she has been able to maintain her trim body, stated that she focuses on a diet that contains raw foods, lots of greens, fruits, and nuts, as well as a daily yoga regimen.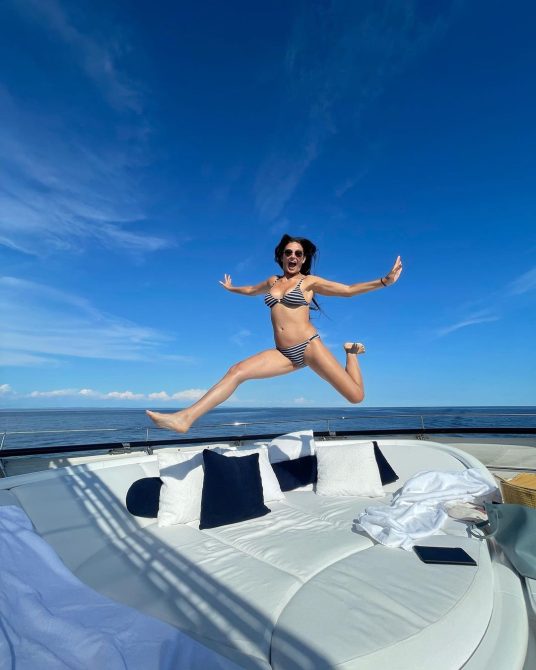 The former wife of Bruce Willis announced a collaboration for a line of swimwear with the brand Andie in July 2022. Speaking with People about the line, she said, "It's changing this idea that women become less desirable as we get older. We don't want to look matronly or not feel sexy."
At the launch of the swimwear line, the Ghost star shared a behind-the-scenes video from the new collection. "BTS of my new collection with @andieswim! So much fun shooting with the Andie team and @drewescriva. (And a cameo by Pilaf [dog emoji]," she captioned the video. A picture of her rocking a black and white swimsuit, as well as a patterned version while holding Pilaf, her dog, on a boat and beside a swimming pool, was also posted on the official Instagram page of Andie Swim.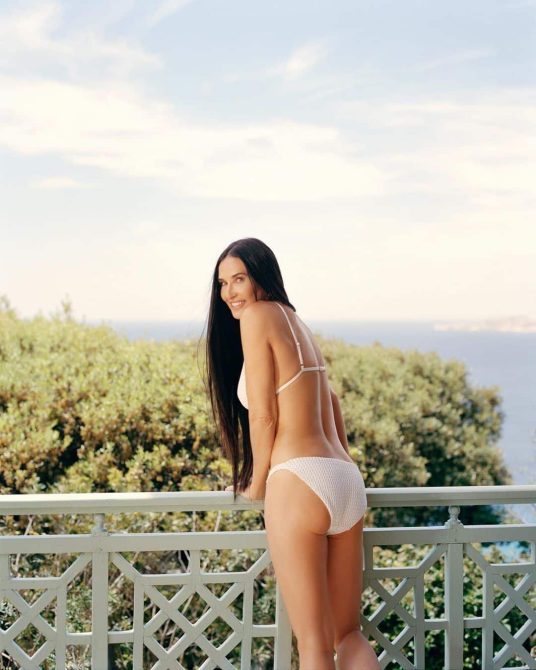 The superstar actress's 60th birthday is coming up in November, and she believes that embracing the fact that she's getting old has been "liberating."
"Not being defined by a number and instead being defined by my experience. You hit 59, and you're already thinking, 'Well, I'm going to be 60.' It feels very liberating. When I think of my grandmother at 60, she, in a way, seemed to be already resigned to being old. But I feel, in so many ways, more alive and present than ever," she said.
Christie Brinkley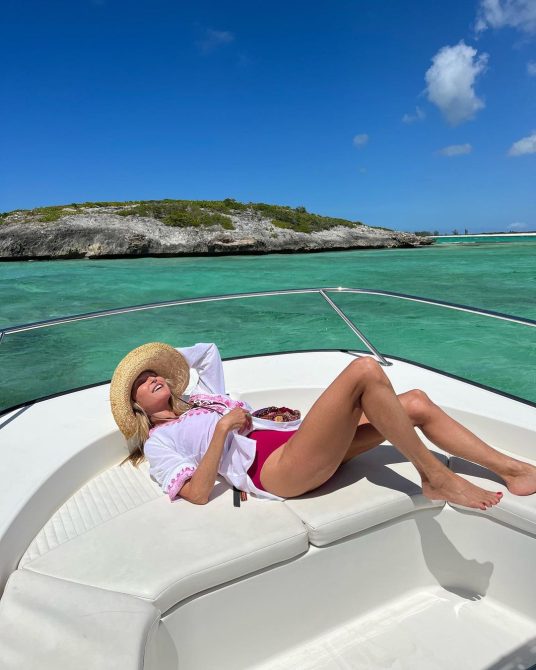 It doesn't look like Christie, now 68 years old, will be getting tired of her bikinis anytime soon. While speaking with Fox News Digital in April, the Hollywood actress disclosed why she has the habit of sharing her swimsuit pictures: "I post these pictures because I hear from women my age all the time that say, 'Thank you for changing the way people think about the numbers.' Back in the day, numbers represented something. I remember people thinking that after 30, you should never wear your hair past your shoulders or your hemline needed to hover your knee caps.
"I've always found those rules so limiting. Everybody's different, everybody's unique. But it's like telling a gymnast she can't do flips past a certain age. It doesn't make sense. If you've got great legs, show them. If there's something about yourself that you really love, celebrate that. Don't be controlled by those numbers," she further explained.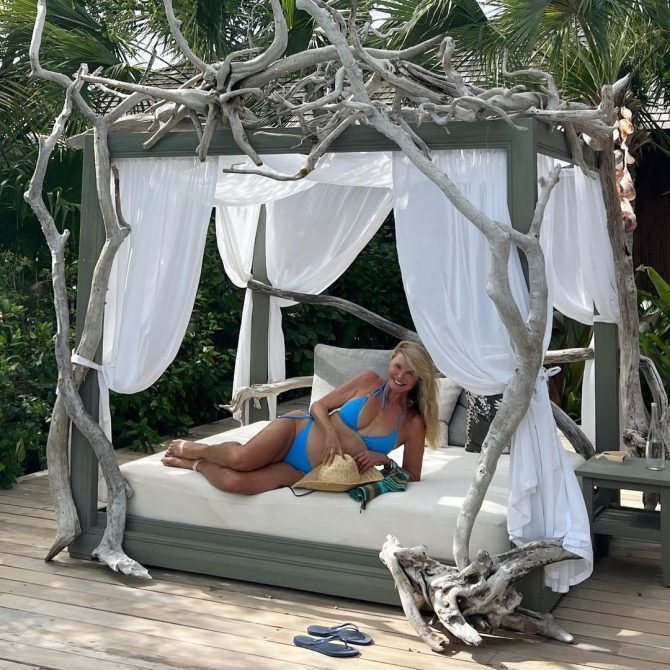 When asked whether she would rock a Sports Illustrated Swimsuit again, she answered, "Hmm, I doubt it. I feel like, been there, done that. I think when I put on my bathing suit again, I want to also have a snorkel and go diving, see the fish."
Previously, when she was 65, the supermodel shared a bunch of pictures from her vacation in Turks and Caicos. In one of the photos was seen rocking a magenta one-piece swimsuit that was strapless and featured a plunging cut-out standing in the sand at the beach and staring at the beautiful sunset.
Bethenny Frankel
Frankel, the founder of Skinnygirl, a lifestyle brand, and a former star of The Real Housewives of New York City, loves posting bikini selfies on Instagram. Sharing a personal message to her fans stating that she finds more happiness now at her age of 51 than she was in her 20s and 30s, she said, "Here's the unfortunate truth. I rarely exercise. I hate water. I prioritize sleep but fail. I eat whatever I want, but I never binge. I run around like a lunatic with endless energy… in my 20s & 30s, I dieted & exercised endlessly and was much heavier and less happy overall with my physical appearance.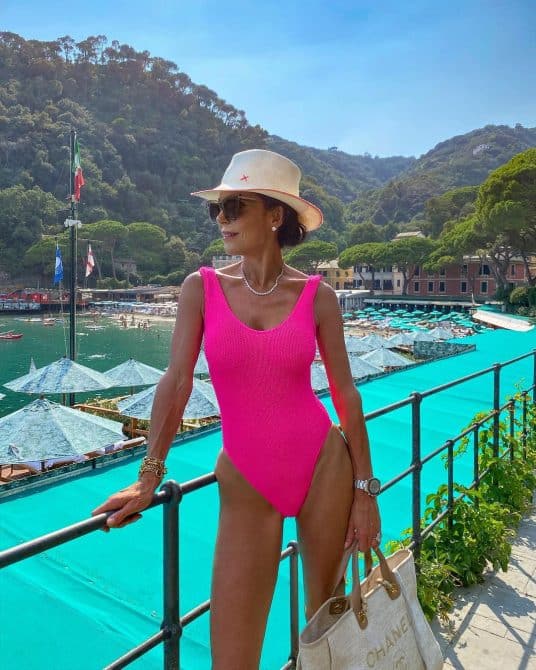 "I have good skin, but I sag in some places and am thin, but not in any notable muscular shape by anyone's standards. I choose balance and happiness and doing the best that I can. When I'm 90, I won't wish I exercised more, that's for sure."
Bethenny Frankel recently went on a vacation in Italy with her fiancé, Paul Bernon, where she was pictured showcasing a variety of beautiful swimsuits, which were probably from Bethenny Swimwear, which she had launched on July 8. She took to her Instagram page to share some of the beautiful moments she created while wearing those swimsuits.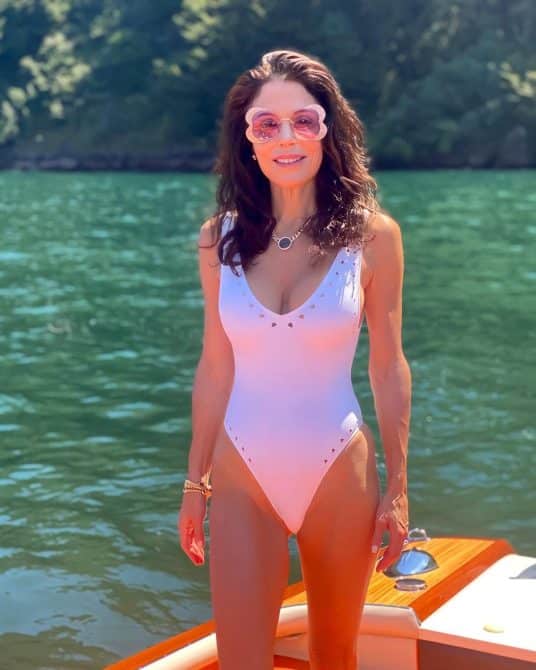 In one of the images, she was seen in a white high-cut one-piece with a cutout design and pink sunglasses, while other photos captured her in a colorful chevron-patterned swimsuit and a flirty ruffled floral bikini. Capturing the post, she wrote, "50 shades of swim" while adding the hashtags "summer in Italy," "Italian summer," "no glam," and "no filter."