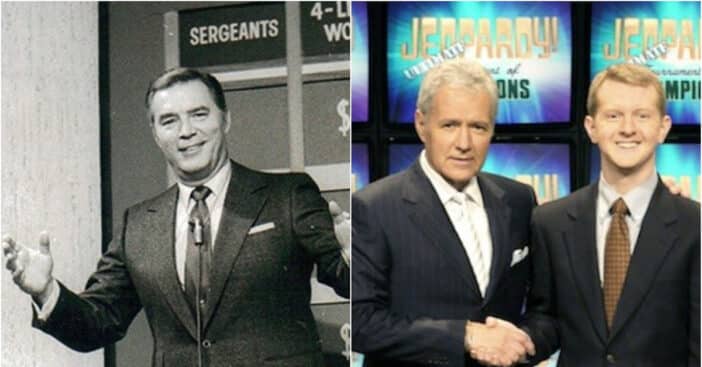 UPDATED 8/4/2022
Answer: It's been on the air for nearly 60 years and hosted at various times by Art Fleming, Alex Trebek, Mayim Bialik, and Ken Jennings.  Question: What is Jeopardy?
There actually is no question that Jeopardy! remains the most popular game show on television, and has been for decades. But what may be surprising to a lot of people is that the road for the show has not always been smooth, with Jeopardy! actually canceled a couple of times along the way.
Jeopardy! was the brainchild of former radio and big band singer turned media mogul Merv Griffin, who also created Wheel of Fortune, would host his own syndicated talk show from 1965 to 1986, and penned the iconic theme song to Jeopardy!
What's the Question?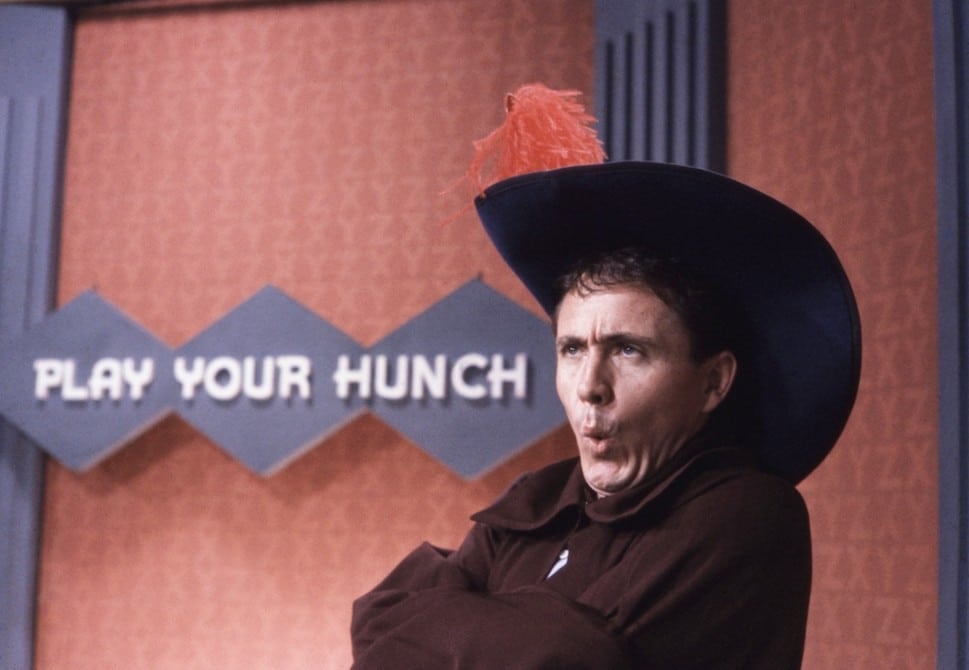 Adam Nedeff, who has spent his career actually working on game shows, writing books about their history and hosts, and is currently Researcher/Archivist for The National Archives of Game Show History, details the show's early days in an exclusive interview.
"Merv was a successful emcee in his own right," he says. "He hosted Play Your Hunch [1958 to 1962], the primetime game show Keep Talking, and was a guest host on The Price is Right and To Tell the Truth. He also started creating game shows, beginning with Word for Word for NBC in 1963. At around that time he was on a flight with his wife and was kind of musing about the fact that quiz shows had disappeared since the scandals of the 1950s. There were certainly lots of game shows on the air, but a straight-up question and answer show had not been on for quite some time, because the network executives were worried about another scandal where contestants were given the answers ahead of time.
"Merv's wife," Adam continues, "said something as if she was kidding initially: 'Why not just give the contestants the answers to start with?' Merv kind of took that as a joke, but she gave him an example with her giving him an answer and Merv supplying the question, and he saw the potential. He went to NBC with it and called it What's the Question?. In the initial run-through, the game was very straightforward with 10 categories and 10 answers in each category. After the run-through, he went up to the NBC executives and asked what they thought and was told that the show needed more jeopardy; that the contestants were not in enough jeopardy. Merv admitted that he became kind of fixated on that word, so he went back and changed the name and changed the game."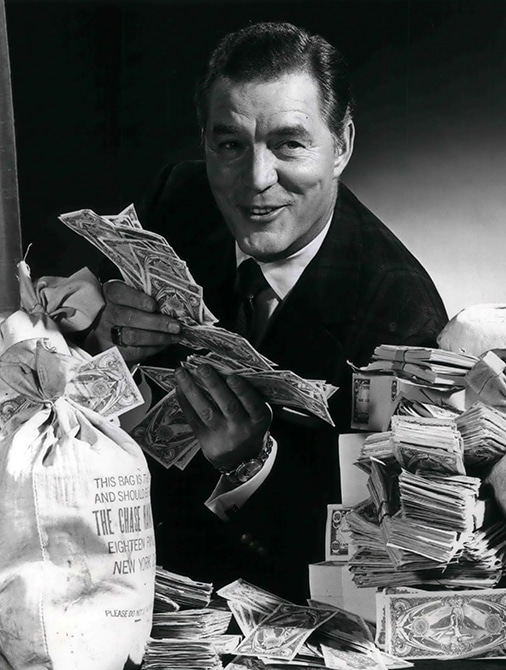 The changes included splitting the game into a "Jeopardy Round" and a "Double Jeopardy Round," with the Jeopardy! coming from ringing in with an incorrect answer, deducting money from the player's score. So he went back to the network with the rejiggered format, adding in the notion of "Final Jeopardy."
Laughs Adam, "Double Jeopardy was originally called Daily Doubles, and that was the one thing NBC objected to — and this shows you how much television has changed — because Daily Doubles was a reference to horse racing and they were afraid the viewers would be offended by the reference, because gambling was considered unsavory."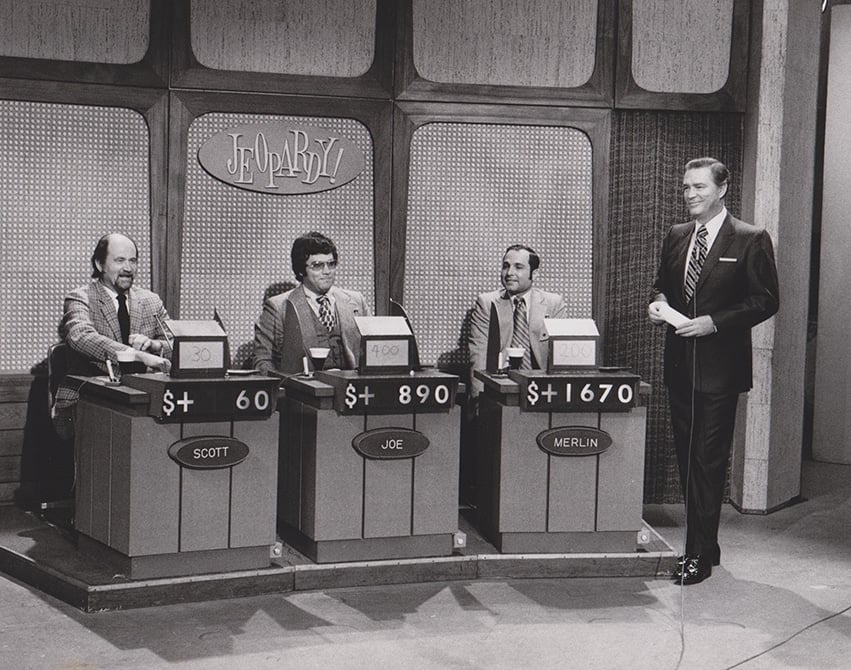 One of the executives, Grant Tinker (who would go on to marry Mary Tyler Moore), pushed for harder questions. After the demonstration, another exec walked up to Merv Griffin and complained that he didn't get one correct answer the entire show, but Tinker, overhearing this, said, "Buy the show."
"They put it on the air March 30, 1964, and for host, they brought aboard Art Fleming, who was actually an actor," notes Adam. "Merv had seen him in a TWA commercial, and he was someone who always went off the board with his host casting. If you look at his entire history, he made odd choices most of the time. And that is kind of an odd choice to watch a commercial and say, 'This guy in the airline commercial would make a great game show host!'"
Where's the Humor?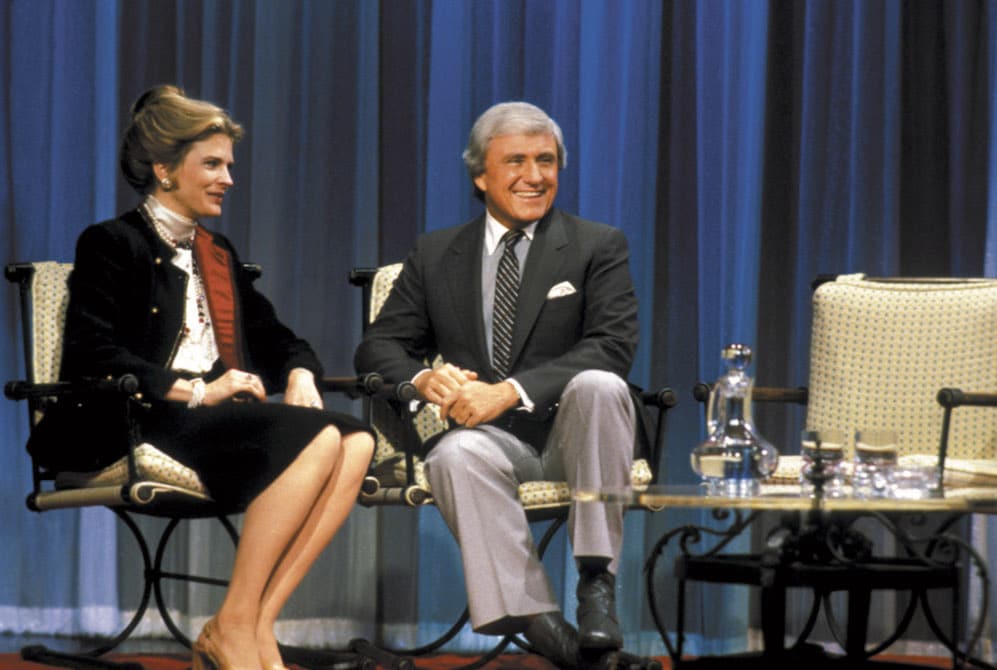 After Jeopardy! began airing, the executives noticed one thing they were hoping for that was missing: humor triggered by the questions, but the reality was that the two didn't necessarily go together. Adding to the "seriousness" was the fact that early on the questions needed to be grammatically correct, but that rule didn't last long.
"Somebody rang in, 'What is Abraham Lincoln?' 'Can you rephrase that?' 'How is Abraham Lincoln?'," Adam points out. "First they thought that people would laugh at that every day, but this was a fast-paced and very straightforward game and they realized they didn't have to go for the grammar there. There was recently a brouhaha because a contestant named Matt Amodio, who went on a long run this season, kept saying 'What?', he would never phrase it any other way. And that was driving a lot of Jeopardy! purists crazy. I had friends reaching out to me and asking wasn't that a rule on the show, but it never really has been, because it slowed things down when they tried it. That was the second change they made.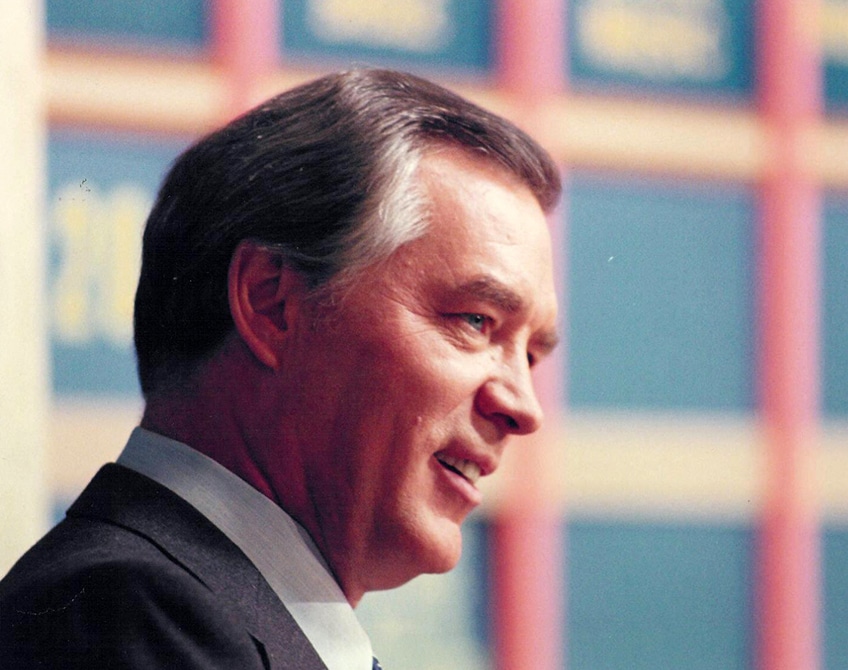 "The third," he elaborates, "is they began casting contestants more carefully. They initially wanted brainiacs, because it was going to be hard, but the problem was the contestants that they initially cast looked way too intelligent. The description that I've seen was that for the first few weeks the contestants all had brooding expressions and they wore black capes to the studio. So NBC and Merv bent and said, 'Okay, let's get some more outgoing and likable people on this, even if they don't play the game as well.' And it went fine."
The cash value on the show was fairly low ($10 to $50 in regular Jeopardy, $20 to $100 in Double Jeopardy), but what got the audience excited was seeing someone go several days in a row. In essence, "bragging rights" was considered more exciting than the cash rewards. All told, the show really connected with the audience, helped in no small way by emcee Art Fleming.
"He was very personable, very likable, very outgoing and very authentic," Adam states. "One of the things that you see when you watch the old shows now was that he openly rooted for contestants who were struggling. He would always cheer for them. He would bellow out, 'Well done!' when somebody gave a correct response. Again, he would openly root for contestants who needed someone in their corner for the moment.
"Art," he says, "had this jack-of-all-trades background. He had grown up in the circus; somehow his parents were circus performers. He had also been a college football player and had done all these little life experiences that sort of rolled together and made him a real man of the world going into Jeopardy!. So there was this feeling that this guy genuinely knows what he's talking about, because he was a Renaissance Man who had dabbled in a little bit of everything. Art said in interviews that one of the hassles he experienced from the public was not for autographs, but people asking him to settle an argument they recently had."
By 1972, ratings were starting to slide, largely because that was the year CBS unveiled The Price is Right, The Joker's Wild and Gambit. Observes Adam, "They were very different-looking and very different-sounding shows. They were taped on the big sound stages at CBS Television City and were doing new things with lighting and music. The stages looked bigger and grander and all of a sudden shows like Concentration and Jeopardy! started to just look old."
Not helping the situation was a change in time slot from noon, where it had been from the start, unbeknownst to the executives that it was actually appealing to college students on lunch breaks. The show was canceled in January 1975, giving Merv Griffin the opportunity his contract provided him to create a new show, and he did: Wheel of Fortune.
A night-time syndicated version hosted by a plaid tuxedo-clad Fleming only lasted from September 1974 to September 1975. A very reinvented version — The All-New Jeopardy! — aired on NBC during the day from October 1978 to March 1979.
Back to Basics
Jeopardy! pretty much returned to its roots for a new syndicated version of the show, and the first not to be hosted by Art Fleming, with Alex Trebek taking over those duties. "I've heard different versions of why Art wasn't involved," offers Adam. "I've spoken to one person on the inside who said, rightly or wrongly, Art was blamed for the 1978 version failing. Of course, the format changes weren't Art's idea, but if you're the face of a show that had been on the air for 11 years and then they bring it back with you, and it's only on the air for several months, your face is now kind of attached to that. I think they felt they needed to give the show a facelift and therefore had to keep Art away from it."
One person who apparently had a strong hand in the new Jeopardy!'s success was Weird Al Yankovic, who made the music video "I Lost On Jeopardy," which hit just at the moment that Merv was trying to interest the networks in a new version. "Merv Griffin later thanked Weird Al for making this music video with Art Fleming," Adam says, "because it kind of put Jeopardy! back in everyone's brains right at the moment when he was trying to get the show back on the air. So it created this desire where there wasn't, strictly speaking, a desire yet."
What's really amazing is the way that the beloved Alex Trebek actually became the host of the show. "This is really how game show hosts got their jobs in those days," laughs Adam. "The way I've had it described to me was game show hosts had their names on a wheel. And whenever a new game show went into production, you just checked the wheel and the job went to whoever the next game show host was who didn't have a show on the air. Alex Trebek at the time didn't have one when they were developing the new Jeopardy!, so it was his turn. It could just have easily been Jeopardy! with Tom Kennedy, but it ended up being Alex and, as it turned out, he was the perfect fit for the show. Like Art, he was genuinely well-read and genuinely a bright guy."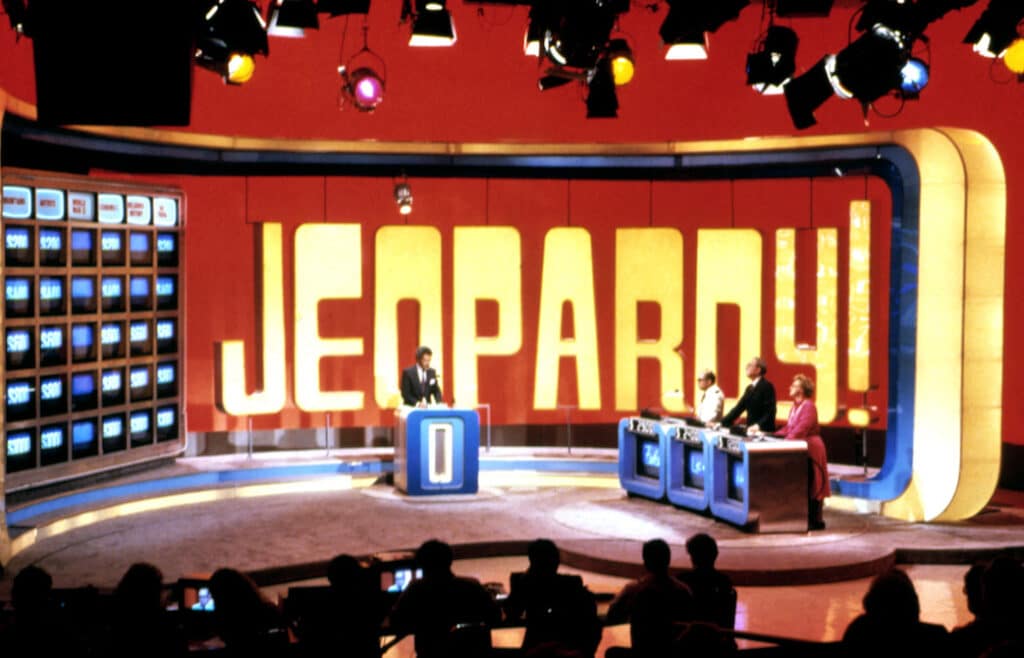 There was one more ingredient that needed to be added in order for Jeopardy! to become the sensation it would become and remains: Merv Griffin pushed for a one-hour syndicated block of Jeopardy! and Wheel of Fortune, which meant that the shows would generally play together each evening at 7:00.
"That," enthuses Adam, "changed the fortunes of the show drastically and actually changed the television landscape drastically. One interesting thing I didn't realize until a few years ago was that it totally altered the CBS Evening News, which used to air at 7:00 but had to change to 6:30 because nobody was watching it in 1986. They were watching Jeopardy!."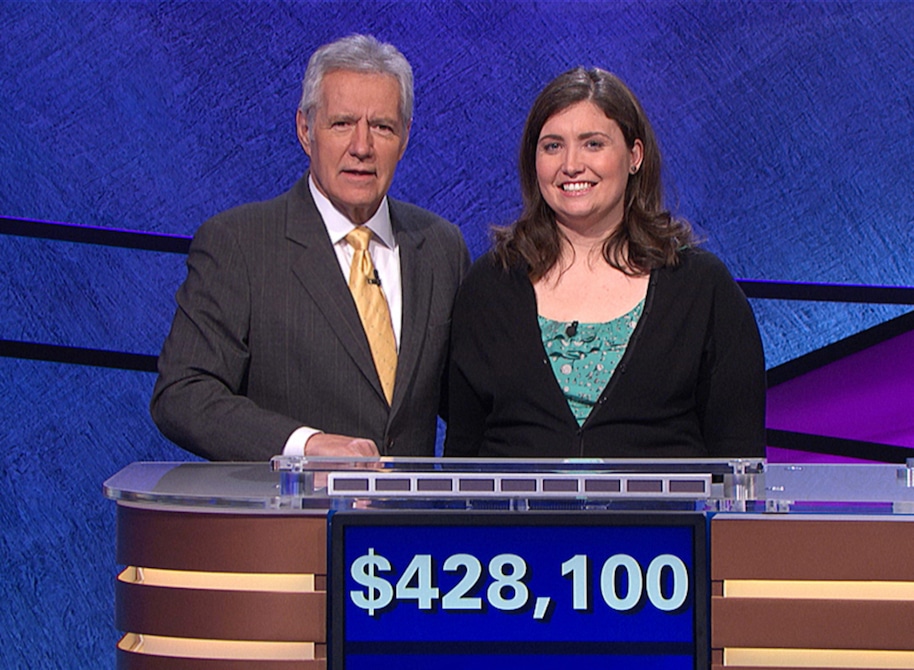 Alex Trebek was the host of the show from 1984 with his last show airing January 8, 2021, he himself having passed away back on November 8, 2020, at age 80. And beyond the loss of him, there was also concern over what impact his passing would ultimately have on the show.
Adam suggests, "When you have something that's a beloved franchise, and especially when you have one that's made as much money as it has and is making as much money for as many people as Jeopardy! does, they absolutely had to be concerned about what to do with this. I think that's why they've decided to take another year on top of the time they've already taken to figure out who their host is going to be, because they want to make sure they get it right."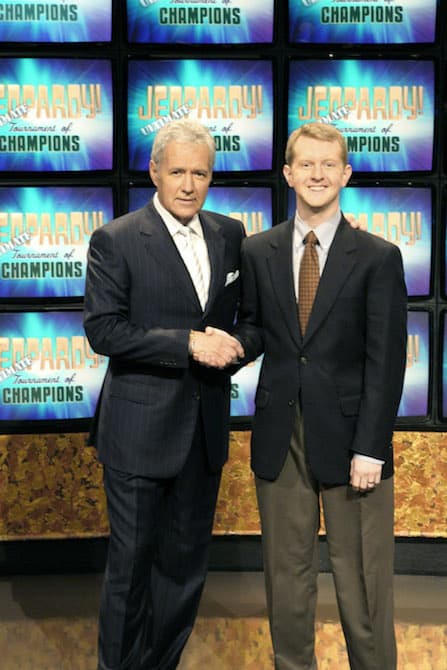 While no final decision has been made as of yet, the choices do seem to have been narrowed down to Mayim Bialik or Ken Jennings, with the odds seeming to be in Ken's favor as Mayim's time is split between Jeopardy! and her work as an actress, most notably her sitcom Kat. But no matter who the final host ends up being, as long as Jeopardy is nurtured the way it has been, it would seem that the audience isn't going anywhere.
"People are still watching Jeopardy! every night," closes Adam. "It's this thing that they love so much, so they're willing to stick with the old technology just to watch it. Anything that has that kind of staying power should be very carefully preserved and taken care of."