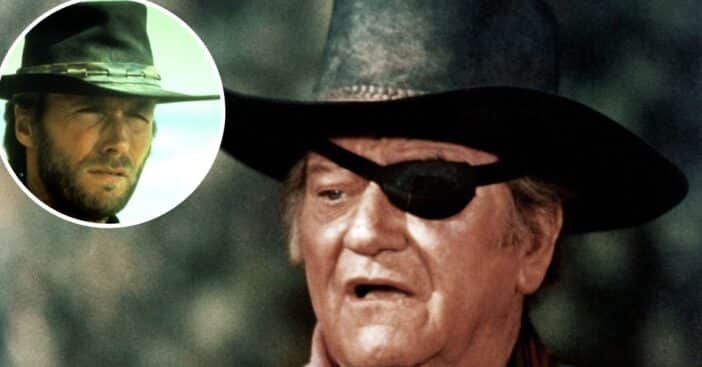 John Wayne and Clint Eastwood are probably the first two names you think of when thinking about iconic Western film stars. However, these two did not get along and John infamously trashed one of Clint's most popular Westerns.
Clint starred in a trilogy of films that ended with the ever-popular The Good, The Bad, and The Ugly. Several years later, he directed his first western called High Plains Drifter and launched the Dirty Harry saga. He was truly on a roll in the '60s and '70s.
John Wayne hated Clint Eastwood's 'High Plains Drifter'
While Clint played Dirty Harry in the series of films, John was actually offered the role first. He ended up turning it down because he hated High Plains Drifter! Clint once explained, "John Wayne once wrote me a letter saying he didn't like 'High Plains Drifter.' He said it wasn't really about the people who pioneered the West. I realized that there's two different generations, and he wouldn't understand what I was doing."
He continued, "'High Plains Drifter' was meant to be a fable: it wasn't meant to show the hours of pioneering drudgery. It wasn't supposed to be anything about settling the West." Years later, the two finally met when Clint visited the set of John's film The Shootist.
It ended up that they got along beautifully because they both had very conservative political views. What do you think about the film High Plains Drifter? Is it a must-see for western fans or do you think you should skip it like John Wayne?