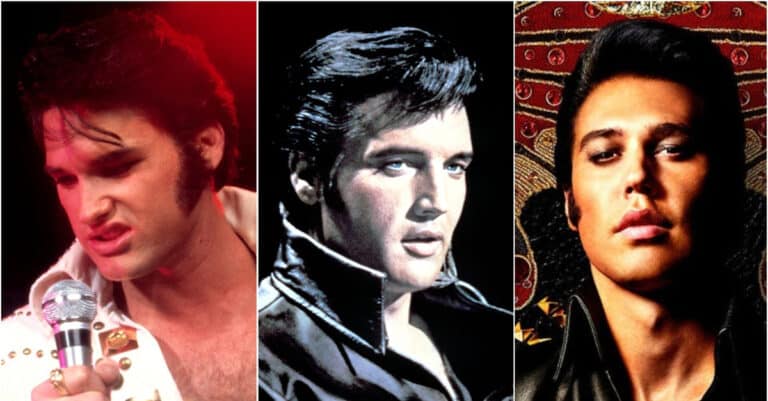 For the past 43 years, there has been a fascination in seeing actors portray Elvis Presley on film, ranging from Kurt Russell starring in the TV miniseries Elvis in 1979 through Austin Butler doing so in the 2022 film of the same name. The latter focuses on the relationship between the King and his manager, Colonel Tom Parker (Tom Hanks).
What follows is a breakdown of 25 actors who have played Elvis in the movies and on television, and be warned: some of these projects are downright weird.
1. Austin Butler (Elvis, 2022)
When Elvis, being released on June 24, 2022, was originally announced, it seemed that the focus was going to be heavily on the King's manager, Colonel Tom Parker (Tom Hanks) with a look at his relationship with Elvis (Austin Butler). However, the focus could be more on the singer, as noted by the official synopsis: "The film chronicles the life and career of singer and actor Elvis Presley, from his early days as a child to becoming a rock and roll and movie star, as well as his complex relationship with his manager, Colonel Tom Parker."
2. Bruce Campbell (Bubba Ho-Tep, 2002)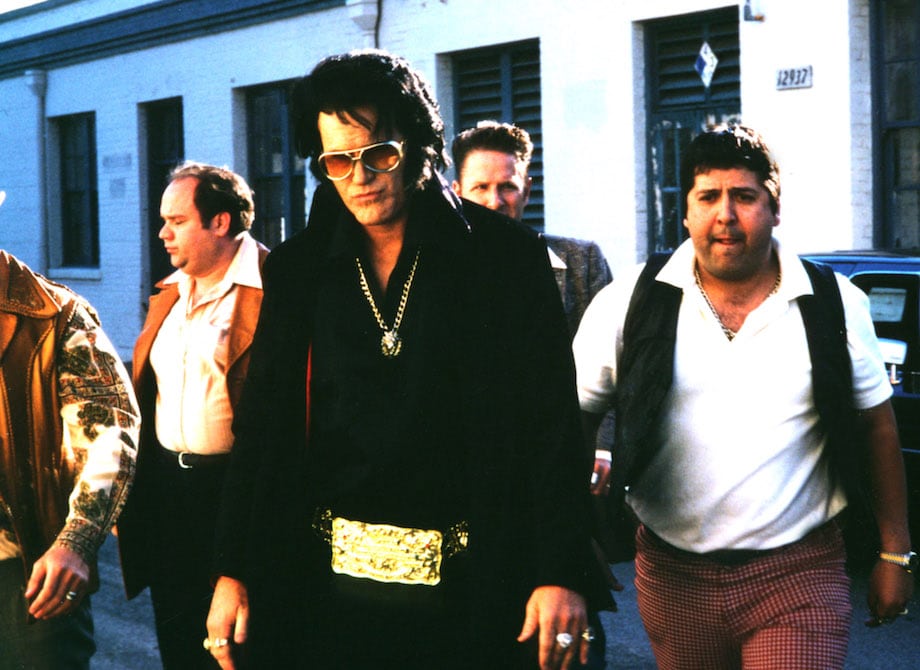 Here's a different take on Elvis: It seems rumors of his death have been greatly exaggerated. He's a resident in a nursing home and not doing well. However, he must rise to the occasion when an ancient Egyptian mummy starts terrorizing the different residents. It sounds really stupid, but is actually much better than you'd think. Playing Elvis is Bruce Campbell, famous for playing Ash in the Evil Dead franchise and seen most recently in Dr. Strange in the Multiverse of Madness.
3. Peter Dobson (Forrest Gump, 1994; Protecting the King, 2007)
Peter first got the chance to play Elvis in Forrest Gump, when Presley stayed at the boarding house run by Forrest's mother. The way the youngster moves actually gives inspiration to Elvis in his own live performances.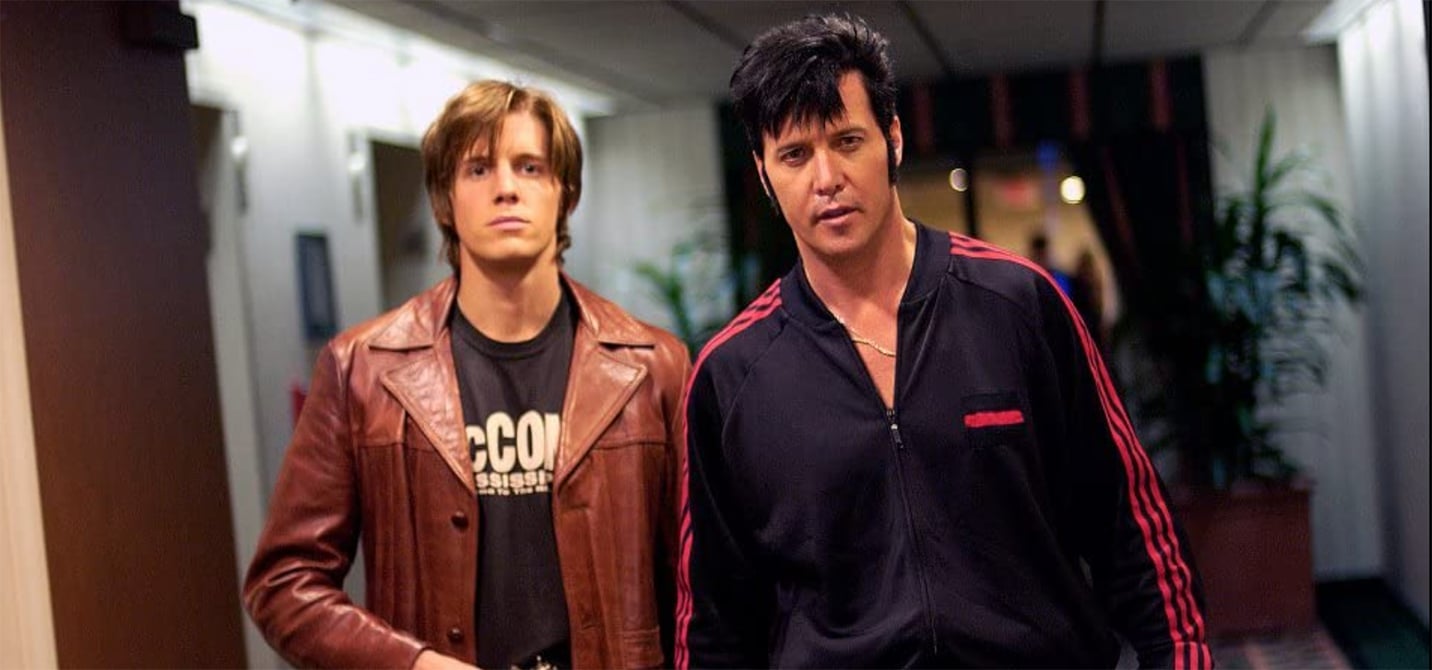 Again, Elvis is in a supporting role in Protecting the King as the focus is actually on David Stanley (played by Matt Barr), the stepbrother and bodyguard of Elvis.
4. Johnny Harra (This is Elvis, 1981)
This was actually a documentary with key moments of Elvis' life featuring reenactments. Impersonal Johnny Harra played Elvis at age 42 for the opening credits and a death scene.
5. Tyler Hilton (Walk the Line, 2006)
The focus is squarely on Johnny Cash and June Carter, telling their story as based on a pair of Cash's autobiographies. His interactions with Elvis are captured in the film, with singer-songwriter Tyler Hilton in the part.
6. Don Johnson (Elvis and the Beauty Queen, 1981 TV Movie)
This one probably caught more than a few people off guard, given that Johnson is known for his work on TV shows like Miami Vice, Nash Bridges, and Watchmen. This TV movie is focused on the King's love affair with beauty pageant contestant Linda Thompson (played by Remington Steele's Stephanie Zimbalist), who would become his traveling companion and live-in girlfriend for four of his final five years.
7. Harvey Keitel (Finding Graceland, 1998)
It's hard to picture Harvey Keitel as Elvis, but the premise of the film makes it more acceptable: he's a drifter who claims to be Elvis and ends up on an adventure with Jonathan Schaech (Byron Gruman) to Memphis.
8. David Keith (Heartbreak Hotel, 1988)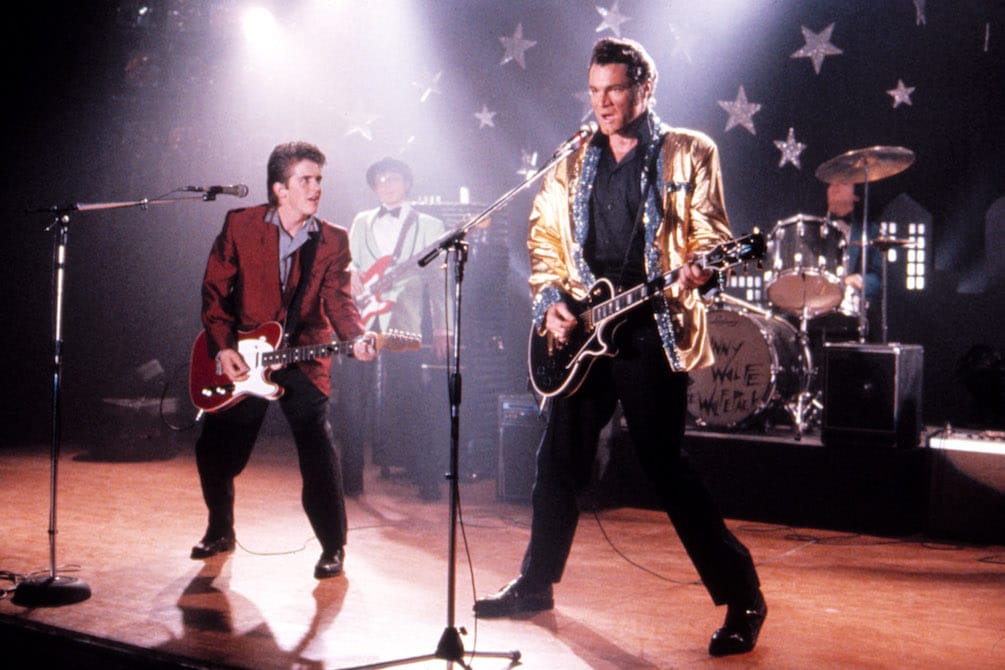 The time is 1972 and Elvis finds himself kidnapped by Johnny Wolfe (Charlie Schlatter) as a birthday gift for his mother, Marie (Tuesday Weld), who is recovering from a car accident. As things turn out, Johnny and Elvis have an impact on each other's lives. Written and directed by Chris Columbus of Home Alone and Harry Potter fame. David Keith's credits include An Officer and a Gentleman, Firestarter, and Daredevil.
9. Val Kilmer (True Romance, 1993)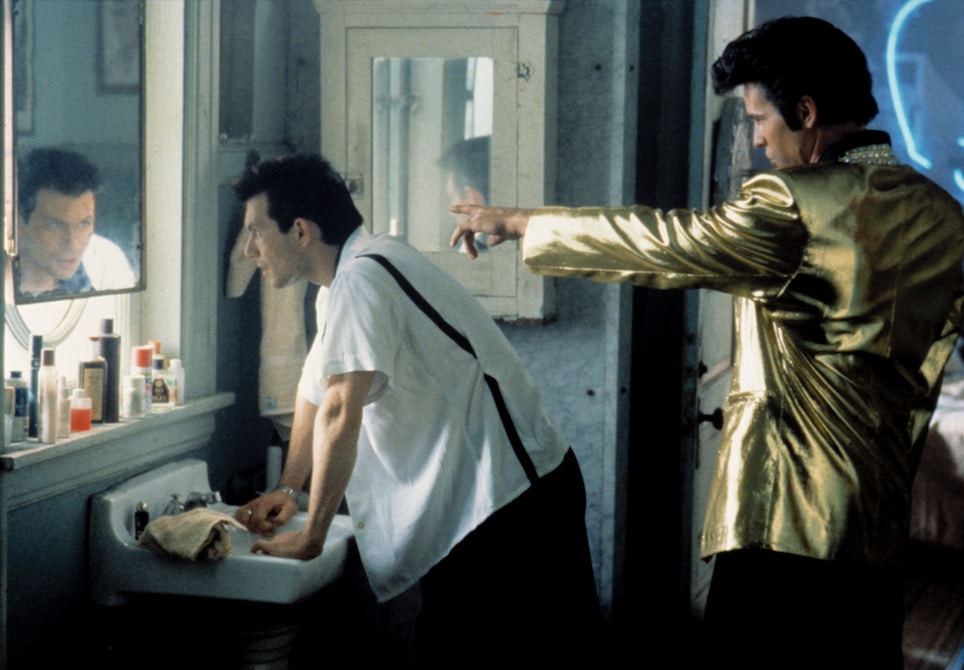 When Elvis Presley fanatic Clarence Worley (Christian Slater) falls in love with hooker Alabama Whitman (Patricia Arquette), he is confronted by the ghost of Elvis Presley (Val Kilmer) who demands that he kill her pimp. How's that for a unique take on the King? Kilmer's credits include Top Secret!, Real Genius, Top Gun, Willow, and Kiss Kiss Bang Bang.
10. Shawn Klush (Vinyl, Season 1, Episode 7: "The King and I," 2016)
Here's how HBO describes this show from Mick Jagger, Martin Scorsese, and Terence Winter: "The music scene in 1970s New York is still awash in sex and drugs, but rock 'n' roll is giving way to an era of punk, disco, and hip-hop. Desperately trying to navigate the changing landscape is American Century Records founder and president Richie Finestra, whose passion for music and discovering talent has gone by the wayside. With his American Century Records on the verge of being sold, a life-altering event rekindles Finestra's professional fire, but it may leave his personal life in ruins." Elvis, in the form of Shawn Klush, shows up in episode seven, "The King and I." Klush is a well-known Elvis tribute artist.
11. Ron Livingston (Shangri-La Suite, 2016)
It's 1974. After falling in love, Karen Bird (Emily Browning) and Jack Blueblood (Luke Grimes) escape from the mental institution they've been confined to and go on a killing spree. Jack gets it in his head that Elvis Presley is evil and sets out to kill him. Ron Livingston (Band of Brothers, The Conjuring) plays Elvis.
12. Gil McKinney (Elvis Has Left the Building, 2004)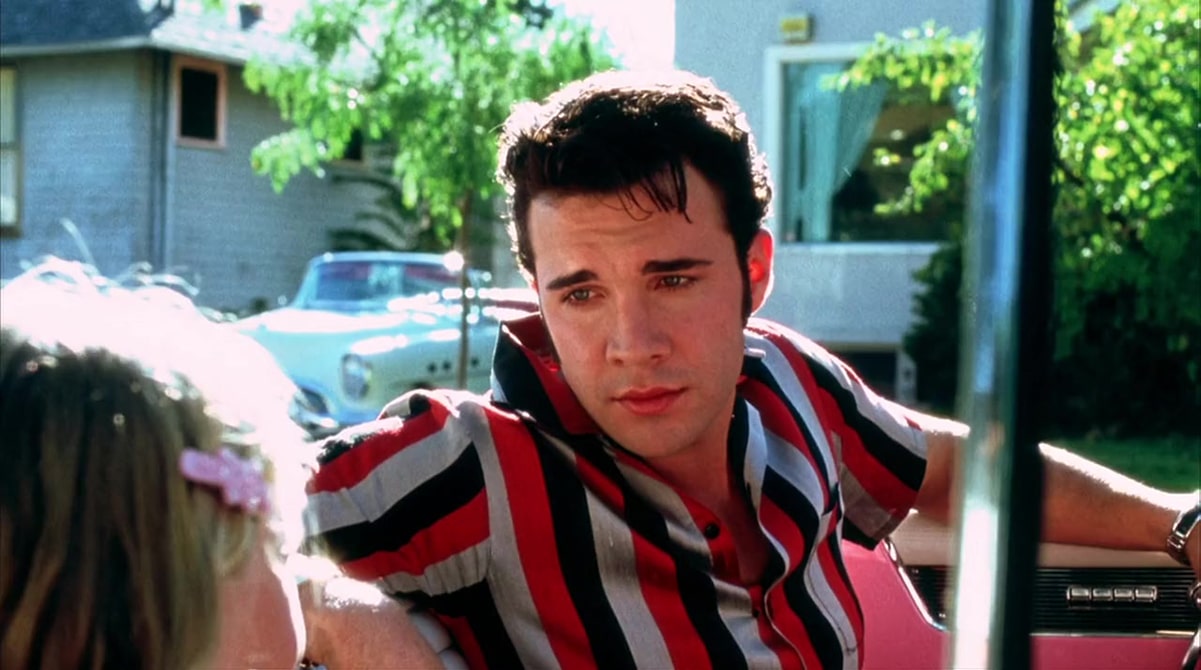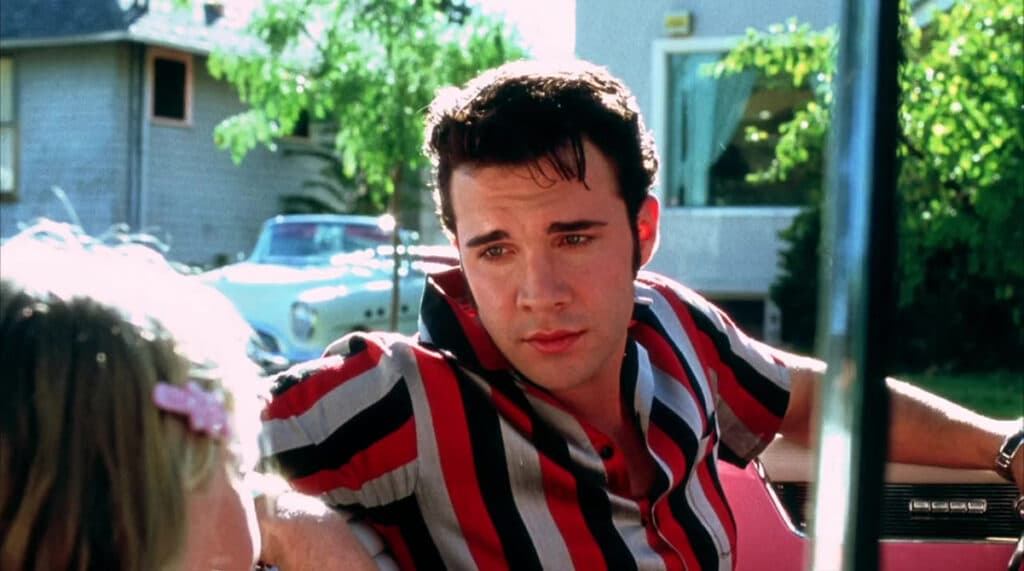 Kim Basinger is Harmony Jones, a cosmetics saleswoman traveling with her boyfriend, John Corbett as Miles Taylor, to a convention in Las Vegas, and inadvertently killing Elvis impersonators at every turn. Gil McKinney is credited as the "Young Elvis."
13. Dale Midkiff (Elvis and Me, 1988 TV Movie)
Courted at 14, Elvis, played by Dale Midkiff (Pet Sematary, Time Trax) and wed to him at 21, Priscilla Presley (Susan Walters of One Tree Hill, The Vampire Diaries, and Teen Wolf) reflects their life, times, and, ultimately, divorce.
14. Drake Milligan (Sun Records, 2017)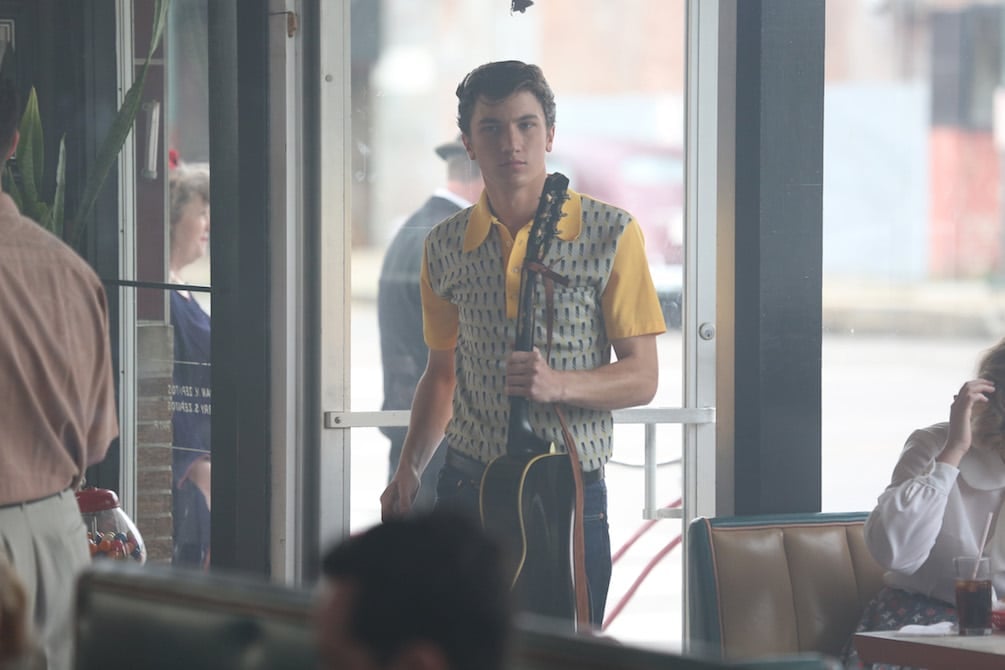 This TV miniseries focuses on the legendary recording studio, Sun Records, and the legendary artists who made music there. Actor, singer, and Elvis impersonator Drake Milligan, who was also a competitor on American Idol in 2021, portrayed Elvis Presley.
15. Robert Patrick (Lonely Street, 2008)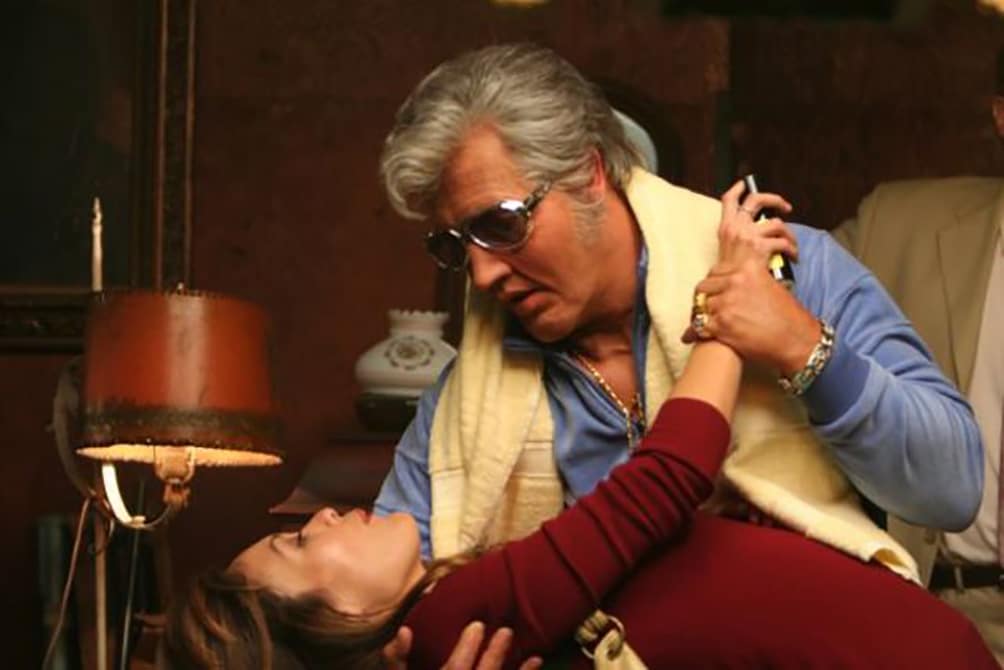 Wikipedia says, "Bubba Mabry (Jay Mohr), a notoriously gullible private detective, is hired to snoop on a tabloid reporter by a mysterious celebrity known only as Mr. Aaron (Robert Patrick, most famously known for T2: Judgement Day). When the tabloid reporter is murdered, Mabry becomes the prime suspect in his death." It's never really clear whether or not Mr. Aaron is the real Elvis.
16. Rick Peters (Elvis Meets Nixon, 1997, TV Movie)
Based on the true meeting between Elvis and President Nixon with the former asking if he could become a deputized member of the Bureau of Narcotics and Dangerous Drugs. There wasn't actually such a position available, but Nixon, in desperately trying to appeal to the youth of America, meets with him anyway.. Rick Peters (Sue Thomas: F.B.Eye and Dexter) stars as Elvis.
17. Jonathan Rhys-Meyers (Elvis: The Early Years, 2005 Miniseries)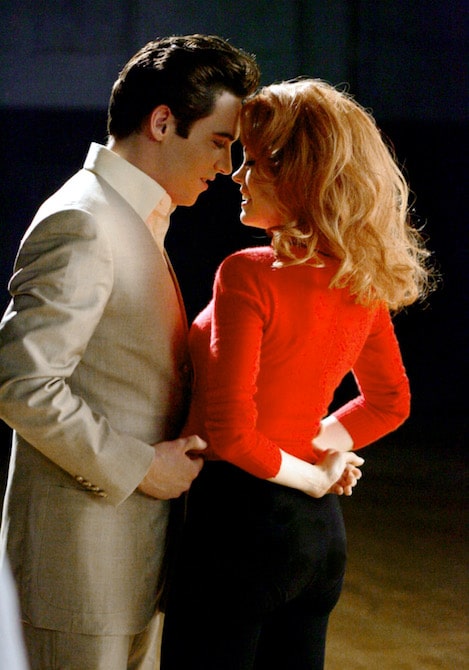 Biopic that traces Elvis from his time in high school through his rise as an international sensation. Rose McGowan plays one-time love interest Ann-Margret while Elvis is played by Jonathan Rhys Meyers, who starred in Mission Impossible III on the big screen and as Bram Stoker's vampire king in the 2013 to 2014 TV series Dracula.
18. Kurt Russell (Elvis, 1979 TV Movie)
Airing on ABC just two years after the King's death, this one has the distinction of being the first biopic telling his story. In the title role, Kurt Russell was a bit of a revelation, really capturing the singer's essence. Russell began his acting career at the age of 12 in the 1963 TV Western series The Travels of Jaimie McPheeters, and hasn't looked back since. Recent film credits include Once Upon a Time in Hollywood (2019), The Christmas Chronicles 2 (2020), and F9 (2021).
19. Michael Shannon (Elvis & Nixon, 2016)
The second telling of Elvis' meeting with Nixon, with Kevin Spacey as the former president and Michael Shannon, who offered a chilling portrayal of General Zod in 2013's Man of Steel and starred in the Hulu series Nine Perfect Strangers, as Elvis.
20. Frank Stallone (Angels with Angles, 2005)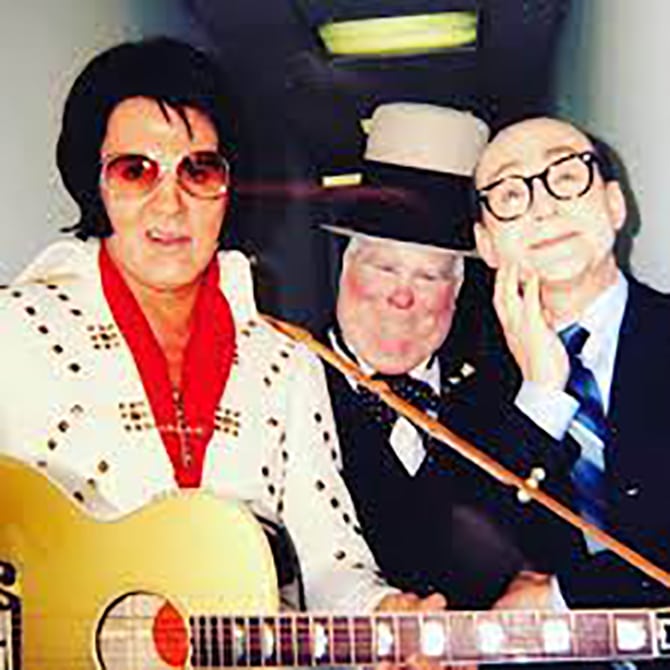 This is an odd one: George Burns (Frank Gorshin) goes to heaven and is not only put off by the fact there's no smoking, but he can't seem to be reunited with his late wife, Gracie Allen. Along the way, he encounters a number of spirits, including that of Elvis Presley. The King is played by Frank Stallone, better known for his music and the fact that he's Sylvester's brother.
21. Michael St. Gerard (Elvis, 1990 miniseries; Great Balls of Fire, 1989, Heart of Dixie 1989)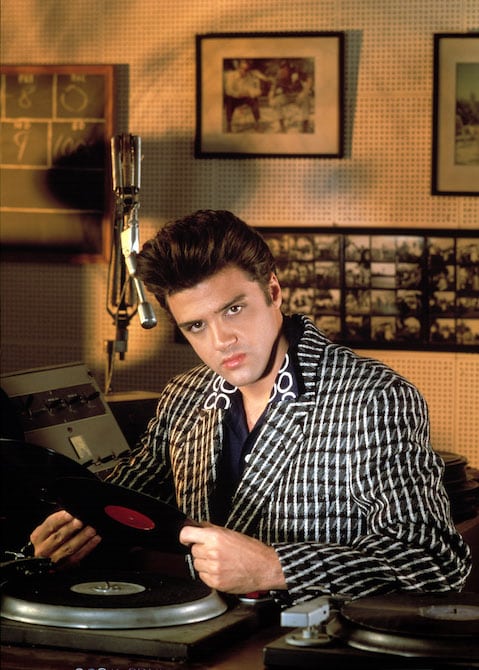 Michael St. Gerard is the only actor credited with playing Elvis three times. The first was Elvis (also known as Elvis: Good Rockin' Tonight), a 13-episode series that chronicles Elvis' early days before achieving true stardom. The second was in 1989's Great Balls of Fire, which starred Dennis Quaid as early rock and roller Jerry Lee Lewis.
His final turn was in that same year's Heart of Dixie, about three sorority women (Ally Sheedy, Virginia Madsen, and Phoebe Cates) at an Alabama college dealing with ethnic strife and integration, and encountering Elvis Presley along the way.
22. George Thomas (Memphis Rising, Elvis Returns, 2009)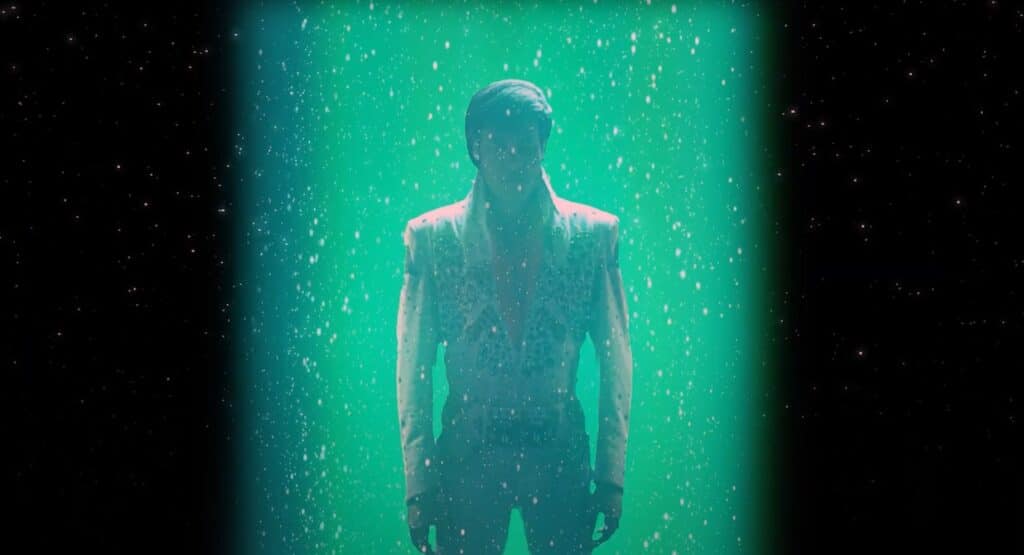 In this film, it's been almost 30 years since the King died. But was he really dead? In 1977, he was whisked away to another galaxy, but now, the King returns. As he doesn't want anyone to know who he really is, he enters an Elvis impersonator contest in Las Vegas. And the trouble begins
23. Jeff Yagher (The Twilight Zone, "The Once and Future King," 1986)
In this episode of the revived version of The Twilight Zone in the 1980s, an Elvis impersonator somehow goes back in time and meets the real Elvis just before his historic breakthrough in the music industry. Jeff Yagher was best known at the time for his role as Kyle Chandler in V: The Series. Other credits include View from the Top, Mr. & Mrs. Smith, and the two-part Atlas Shrugged.
24. Rob Youngblood (Elvis and the Colonel: The Untold Story, 1993 TV Movie)
Like Austin Butler's Elvis, this is a look at the relationship between the King and his lifelong manager, Colonel Tom Parker. Rob Youngblood, who played Elvis in this 1993 TV movie, made a number of TV guest appearances, but his last role on the small screen was in a 2002 episode of NYPD Blue, and on the large in 1993's Kill Zone.
25. Jack White (Walk Hard: The Dewey Cox Story, 2007)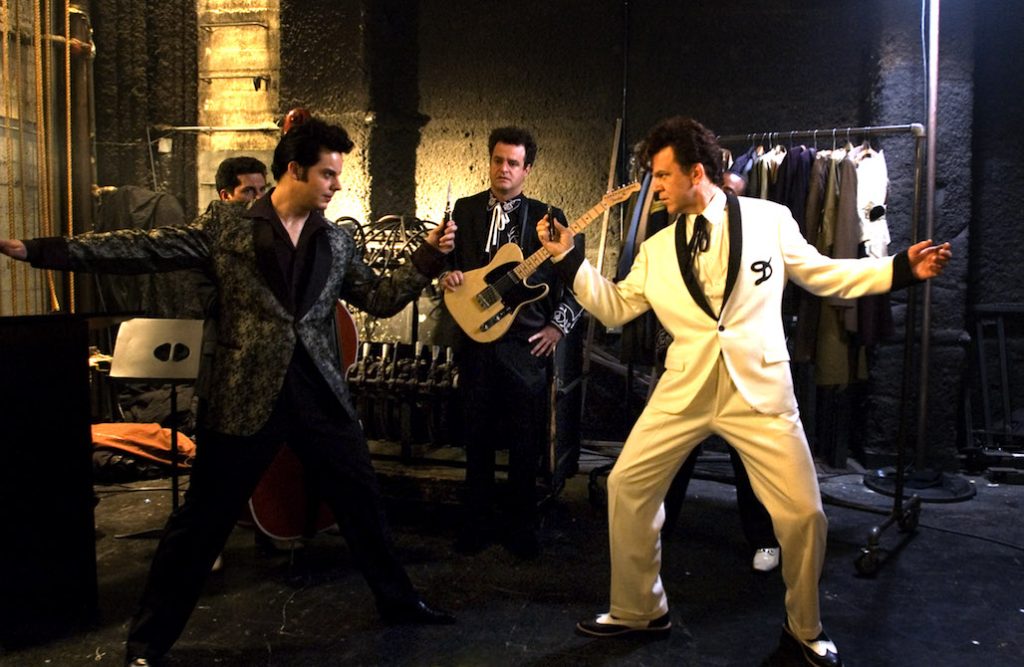 The film is a biopic focusing on a fictional early rock and roll star named Dewey Cox as played by John C. Reilly. In his life, Dewey encounters Elvis Presley, as played by Jack White, a singer-songwriter and producer. He's portrayed himself in a number of films, and with Alicia Keys recorded "Another Way to Die" for the 2008 James Bond film, Quantum of Solace.