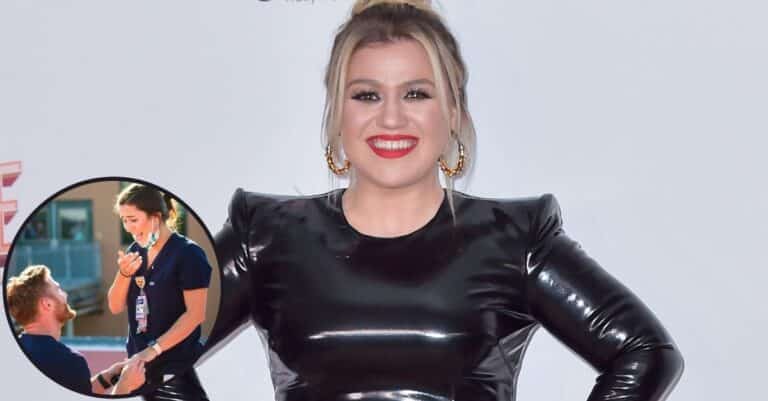 Kelly Clarkson and her team shared some unexpected and exciting engagement news about an ER nurse name Kelsey, whose boyfriend went above and beyond to ask her to marry him. "ER nurse Kelsey got the surprise of a lifetime when she was called to her hospital's rooftop helipad for a patient pickup, but was instead stunned to see her boyfriend Jacob, a fellow nurse, drop to one knee and propose! #whatimliking #nurses #goodnews #proposal," the caption of an Instagram post reads.
In the post, we see a photo of Kelsey being proposed to by her boyfriend, Jacob, still in work scrubs and all. So sweet!
Kelly Clarkson's team can't help but gush over this engagement news!
View this post on Instagram
Fans were quick to comment on the sweet gesture from Jacob and how he went the extra mile to propose to his girlfriend. One person writes, "Aww, this is so sweet." Another writes, "This is so awesome," and a third fan added, "Aww this is amazing."
Clarkson has been running her popular talk show since 2019, earning six Daytime Emmy Awards, including Outstanding Talk Show Entertainment as a result. Clarkson also impressively won Outstanding Entertainment Talk Show Host in 2020 and 2021, and it was announced in December 2020 that her show was renewed for its third and fourth seasons through 2023.
Witth her daytime talk show, Clarkson also balances a music career and hosting duties on the new NBC music competition, American Song Contest alongside rapper Snoop Dogg. In a Q&A series about the new NBC competition, she was asked if she would be treating fans to any dazzling performances. "Oh, well, I don't think this is about me this time around," she humbly said. "I perform five days a week on television if you want to see a song. I'm second-guessing that idea, by the way, from my talk show."
"I perform quite a bit but, this, probably not because this isn't about me. This is about all of these other artists. And even when I'm on The Voice or whatever, I always try to make it about the artist that I'm with because I'm lucky. I'm so blessed. I've had my moment, right?"