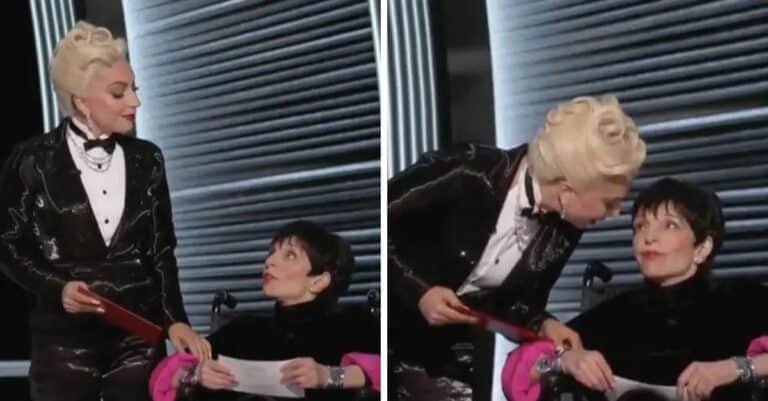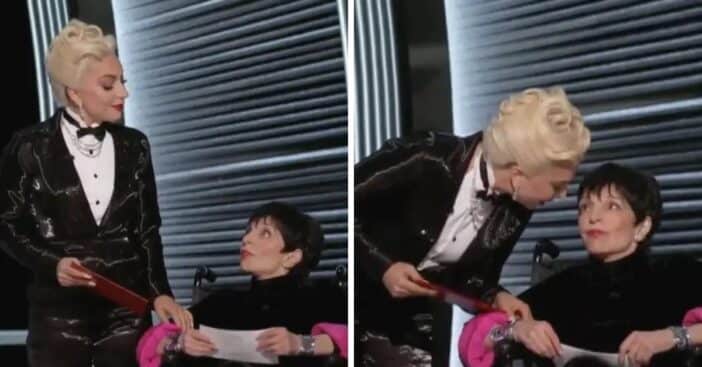 Lady Gaga is being praised for safeguarding and looking after Liza Minnelli during her rare appearance at the 2022 Oscars. Now at 76 years old and after dealing with a number of life-threatening health conditions, Minnelli rarely makes a public appearance anymore, but came out Sunday night for the 2022 Oscars, joined by singer Lady Gaga, to announce this year's winner for Best Picture.
Back in 2000, Minnelli suffered a rare case of viral encephalitis, a life-threatening brain infection, and was warned by doctors that she may never walk or talk again. While she was in a wheelchair at the Oscars appearance, she defied odds by holding her own in terms of speaking to the audience and those watching at home.
Lady Gaga supports Liza Minnelli during the 2022 Oscars
"I couldn't walk and I couldn't talk, and they told me I wouldn't…ever again," Minnelli said to NBC Dateline, ten years after her tragic prognosis. "After I was told that, everybody left the room and I turned my face to the wall and started to go 'A – B – C…'" she continued. "I want to live. I have always wanted to live."
She continued to defy the odds of her doctors, and in 2010, released her most recent album, Confessions, in 2010. Gaga has been outspoken about how much she idolizes Minnelli, calling her an inspiration when it came to pursuing her own career in music.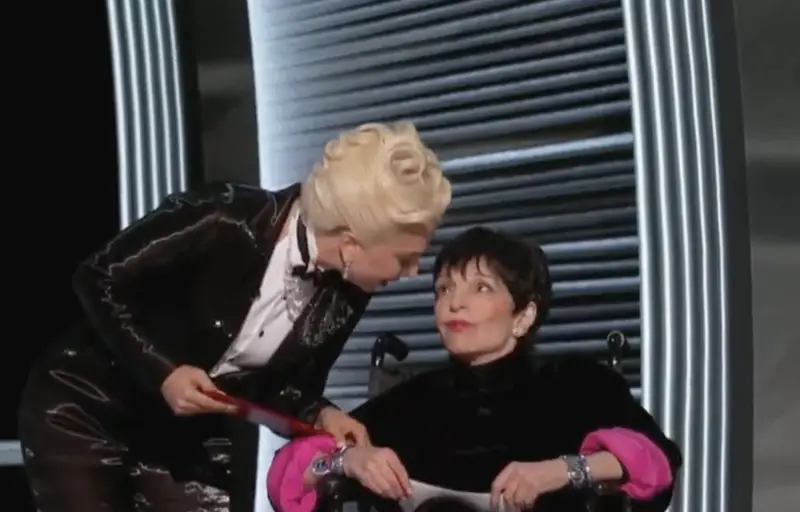 During their presentation of the Best Picture award, Gaga held Minnelli's hand in support as they talked together in an awe-inspiring moment. Even as the audience gave a standing ovation at the sight of Minnelli, Gaga made sure to take a step back to ensure the icon's time to shine. "You see that? The public, they love you," Gaga said to Minnelli.
And in a private exchange picked up by the microphones, the audience was witness to a sweet conversation between the two, where Gaga said, "I've got you," and Minnelli replied, "I know, thank you." People loved that Gaga was able to support Minnelli and safeguard her dignity so masterfully.
Very sweet. How Lady Gaga was able to navigate the situation to keep the show moving and safeguarding Liza's dignity was masterful and shows what a good heart she has.

— Jay Potts (@World_Of_Hurt) March 28, 2022
"It warmed my heart to see how considerate and caring Lady Gaga treated the terribly fragile Liza Minelli without robbing her of her dignity," one fan wrote. Another said, "This is like a lesson in how to facilitate older people while honouring who they are. What a class act by @ladygaga with legend Liza Minnelli. The conferred whispers of 'I gotcha' 'I know' picked up by the mikes make it especially touching."
I just gained an whole new respect for Lady Gaga watching the gentle and dignified way that she interacted with Liza Minnelli. It literally brought tears to my eyes. #Oscars

— Wendy Jones (@jonesnw25) March 28, 2022
Another viewer acknowledged that Gaga was able to support Minnelli without making it "patronizing or awkward." They wrote, "I hope that at some point we can discuss what a class act Lady Gaga is and how well she kept the Best Picture presentation going while still keeping Liza Minnelli grounded and included without ever being patronizing or awkward. Just amazing."