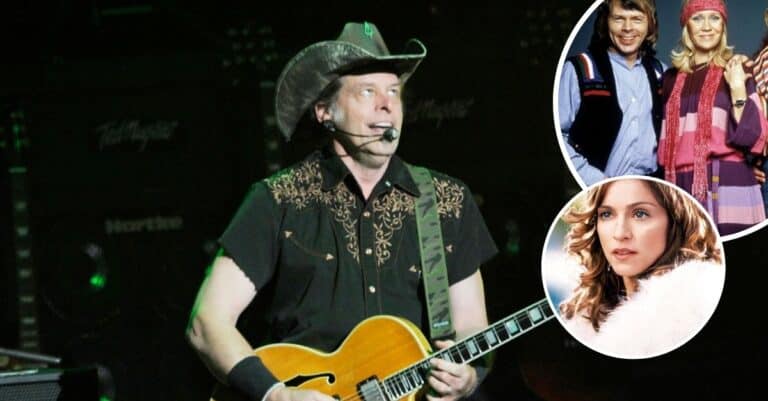 Musician Ted Nugent certainly has his opinions. His latest criticism? The Rock and Roll Hall of Fame. While Ted is not a member of the iconic Hall of Fame himself, he said he doesn't care because he doesn't want to be included in a list that also includes certain artists like Madonna and ABBA.
In a recent interview, he opened up about the artists that he doesn't believe deserve to be honored. He also shared the ones he thought were iconic and deserve to be in the Rock and Roll Hall of Fame. He said, "What a middle finger to the 'real' heroes of rock 'n' roll and rhythm and blues to put in those other people. Grandmaster Flash? Really? Why don't we go down to Chuck Berry's grave and piss on it?"
Ted Nugent says certain Rock and Roll Hall of Fame members "don't deserve it"
He added, "I'm not angry that I'm not in there because I'm having so much fun that it's stupid. Why isn't a band like Triumph in there, but Grandmaster Flash is? That's just dishonest! Why are Patti Smith, ABBA and Madonna in the Rock & Roll Hall Of Fame, but not Styx? Are you kidding me?! You can only explain that is that the people who made those decisions are just plain rotten people! The Rock & Roll Hall Of Fame should genuflect to Chuck Berry, Bo Diddley, Howlin' Wolf, Muddy Waters (and) the Funk Brothers… How dare you put Grandmaster Flash, ABBA and Madonna in that?"
Ted may be trying to drum up controversy to promote his new album. The new album titled "Detroit Muscle" comes out in February including a pro-gun single called "Come and Get It." Now tell us, do you agree with Ted or do you think Madonna and ABBA deserve the recognition?