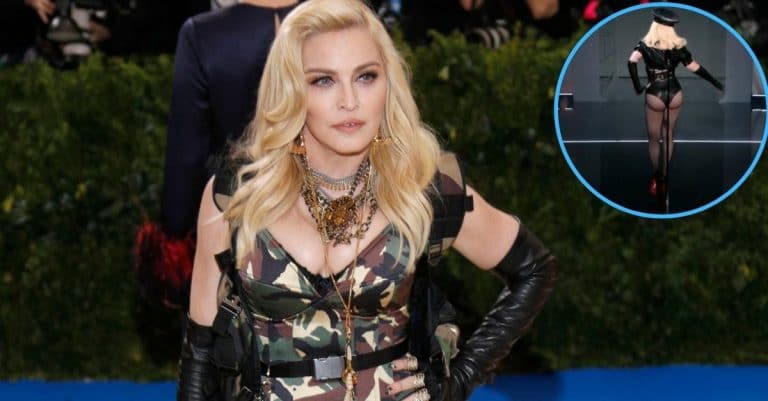 The 2021 VMAs took place this past week and people can't get over how Madonna looks during her surprise entrance. To open the awards show, she donned a black trench coat over a leather puff-sleeve bodysuit and black hat. "And they said we wouldn't last. But we're still here, motherf–kers," she says. "Happy 40th, MTV! Welcome to the 2021 MTV Video Music Awards."
She then turns around to walk back into the wings, showcasing the high-cut backside of her bodysuit, which garnered a slew of reactions both in real life and online. Most notably, people can't get over how great Madonna's butt looks.
Madonna kicks off the 2021 VMAs and people react
The show just started and Madonna already wylin 😭😭😂🤣😂🤣 #VMA pic.twitter.com/chic7ChBX8

— FranckNathan (@FranckNathan1) September 13, 2021
It's become apparent that Madonna's backside has become a topic of conversation in recent years. Back in 2019, the "Like a Prayer" singer performed at the Stonewall Inn in New York City, where fans felt her posterior looked a bit different, as if she received butt implants. In response to the controversy, she posted on Instagram at the time, "Desperately Seeking No Ones Approval………………😂. And Entitled to Free Agency Over My Body Like Everyone Else!!"
RELATED: 62-Year-Old Madonna Shares Photos With 27-Year-Old Boyfriend
And, it's no secret that Madonna's butt is the topic of conversation once again as she was trending on the night of the VMAs, with many different reactions from fans. "The show just started and Madonna already wylin," one fan writes. Another says, "Not Madonna trending already on Twitter when the VMAs just began, messy legend."
madonna walking away after her opening #vmas pic.twitter.com/tnp7EHNoVq

— beefy tomato (@imnothoracio) September 13, 2021
The 2021 VMAs was certainly a night to remember as many of Hollywood's and the music industry's biggest stars took home the gold. Some of the night's biggest winners include Lil Nas X, Justin Bieber, and newcomer Olivia Rodrigo. But, of course, both older and younger generations alike deeply enjoyed Madonna's kickoff to the night's festivities, one of the OGs for sure.