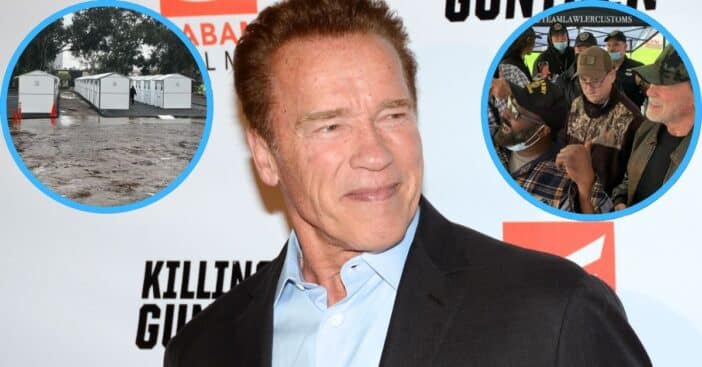 A veteran's battles do not always end once they return home. There are other needs, many pressing, that must be addressed. Actor and former governor Arnold Schwarzenegger helped alleviate some of these burdens by covering the cost to build houses for 25 homeless veterans.
Schwarzenegger, 74, visited a stretch of land in Los Angeles that became the site of over two dozen homes donated by the governor himself that, in total, cost him $250,000 in donations. This helped equip them with electricity, heating, and air conditioning, optimizing them for each season and climate.
Arnold Schwarzenegger donates to provide 25 houses to 25 homeless veterans
View this post on Instagram
Last week, Schwarzenegger posted to social media announcing his participation in providing housing for homeless veterans. "Today, I celebrated Christmas early," he announced of the houses that now stand in L.A. Schwarzenegger went to the lot where the houses have been built and met personally with veterans who would finally get to call these places home. He called it "fantastic to spend some time with our heroes and welcome them into their new homes."
Schwarzenegger then thanked Village for Vets, whose mission is to "fill critical gaps in support for at risk Veterans and are committed to ending Veteran homelessness in Los Angeles," based on their social media pages. The nonprofit provides essential needs such as meals and temporary housing so veterans can transition into a more stable living situation safely. Schwarzenegger called the group a "fantastic partner" that arranged the houses; he further thanked the Secretary of Veteran Affairs, AMVETS (American Veterans), and everyone who participated in completing this project.
Logistics behind endeavors like this
We are blown away by the response to @Schwarzenegger's donation to our organization. We can not thank everyone enough for the donations, follows, likes, comments, and support. Thank you to everyone who has helped shine a light on Village for Vets! pic.twitter.com/NMZ6d3uV4J

— Village for Vets (@VillageforVets) December 28, 2021
This project proved to Schwarzenegger that "when we all work together, we can solve any problem." He also urges others to follow this example. "All of you have the power to do something for someone else this holiday season," he stated. "It doesn't have to be big. Just give a few minutes of your time to help someone else."
The houses in question are "tiny homes," rapidly built to take up 64 square feet. They have become increasingly popular in Los Angeles; reportedly, 63,706 people are experiencing homelessness in Los Angeles County, 3,900 of which are reported to be veterans. Hope of the Valley, which also enjoyed strong patronage from the late Alex Trebek, states that the tiny homes are equipped with two beds and a desk. Veteran Bruce Henry Cooper has called the structures "a life-saver."