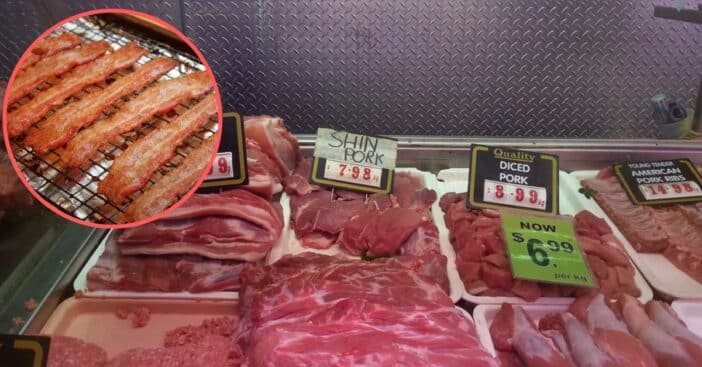 A farm animal welfare law, also called the bacon law, is causing grocery stores and restaurants to fight back. The law now causes uncertainty in the availability of bacon and other fresh pork products once the new rules take effect on New Year's Day.
As a coalition of California grocers and restaurants team up for a lawsuit against this new law, it's worth noting the three-year process of enacting these rules was "overwhelmingly" approved by voters, according to Yahoo!.
Everything to know about the new bacon law, going into effect in the new year
To get more into the details of how it was approved, voters went on to approve Proposition 12 by a 2-to-1 ratio back in November 2018, which will cover the humane treatment of animals that provide meat for the California market.
RELATED: Vegans Want People To Stop Saying Things Like 'Bringing Home The Bacon'
Many hog producers have yet to make changes to comply with the new law, and now, a coalition of business owners are seeking out a two-year delay or more. "We're saying this is not going to work," says Nate Rose, a spokesman for the California Grocers Association.
What does this law mean?
Now, in terms of the law itself, put simply, it requires that breeding pigs, egg-laying chickens, and veal calves be given enough space to stand and turn around. This law has a lot to do with the conditions in which the animals are raised before they are slaughtered, and many pro-vegan organizations such as PETA have been speaking out against these conditions (and more) for years.
Producers of egg and veal appear to be compliant with the new law already, but hog farmers are arguing that the changes would be too expensive and couldn't be carried out until the state approves final regulations for the new standards.
The state of California holds the largest meat market for pork and producers in major hog states such as Iowa provide more than 80% of the roughly 255 million pounds that California's restaurants and groceries use each month. And now, with the possibility of a massive supply shortage, it reminds unclear of the state that consumes 13% of the nation's pork supply will have what it needs to meet demands.